Holiday Dessert Recipes
Neighbors Enjoying a Holiday Picnic at Rice Lake in 1942
(Source: ©Don Bell)
Grandma's holiday dessert recipes can help you to prepare delicious desserts that will make those wonderful family occasions extra special. You'll find links to the special holiday pages further down the page. Use the old fashioned recipes on this site to make delicious treats for all your parties and family get-togethers.


The History of Holidays
Our modern word "holiday" comes from the Anglo-Saxon halig daeg, or "holy day." That's because the first holidays were days set aside to honor a favorite saint or sacred event. They revolved around services of worship and special feasts which always included "sweetmeats," or desserts.
Nowadays, in our busy, increasingly secular society, holidays are often viewed as simply a day off work, but there are many who still observe holy days like Christmas, Good Friday and Easter.
Traditional foods are a big part of these special celebrations, and tasty treats like Christmas puddings, Easter candy, and Thanksgiving pumpkin pies have become identified with the occasions.


Canadian Holidays
Enjoying a Canada Day Swim circa 1930
(Source: ©Don Bell)
Everybody loves to celebrate special holidays, and Canadians are no exception. We look forward to those days when we can lay aside our everyday work and concerns, and celebrate a special event, or simply relax and have fun.
In Canada, we celebrate 12 statutory holidays:

New Years Day, January 1


Family Day, third Monday in February


Good Friday, the Friday before Easter Sunday


Easter Monday, first Monday after Easter


Victoria Day / The Queen's Birthday, Monday on or before May 24


Canada Day, July 1


Civic Holiday, first Monday in August


Labour Day, first Monday in September


Thanksgiving Day, second Monday in October


Remembrance Day, November 11


Christmas Day, December 25


Boxing Day, December 26


We also celebrate several other nonofficial, fun occasions:

Robbie Burns Day, January 25


St. Valentine's Day, February 14


Flag Day, February 15


Commonwealth Day, second Monday in March


St. Patrick's Day, March 17


Earth Day, April 22


Mother's Day, second Sunday in May


Father's Day, third Sunday in June


National Aboriginal Day, June 21


Halloween, October 31


National Family Week, week before Thanksgiving Day

Our American friends enjoy similar holidays, while our friends in other countries have their own celebration days. Wherever you live, you are sure to find some unique holiday recipes on this site that you can use for celebrating.


Declare Your Own Holiday
Creating Holiday Memories
(Source: ©Don Bell)
Declare a holiday of your very own! Why not?
After all, you deserve one, don't you?
There are times when we don't need the excuse of an official holiday, we can simply create our own holiday and take a Saturday or Sunday off to go on a picnic, attend a family gathering at the beach, or organize a neighborhood block party.
Desserts always make these occasions extra special, and with the help of these holiday dessert recipes, you can make the best old fashioned holiday desserts imaginable.


Holiday Dessert Recipes
Here's the holiday recipe pages that will help you to make old fashioned cakes, pies, cookies, puddings, candies, and other desserts that can be used throughout the year to make your meals or events special.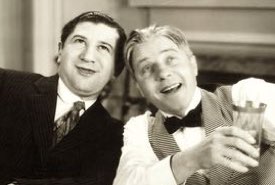 Enjoy Fun & Nostalgia

As an Amazon Associate I earn from qualifying purchases.