Old Fashioned Cupcake Recipes

You will find Mom's old fashioned cupcake recipes and frostings so very easy to make. Nothing beats the comforting aroma of homemade cupcakes warm from the oven and cooling on a wire rack.
These vintage cupcakes are definitely a favorite comfort food. Who can resist them when they're thickly iced with homemade frosting? I know I can't. And I always save the frosting for eating last!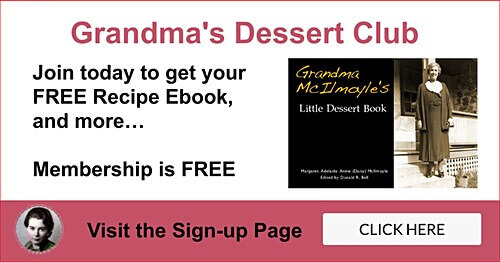 Get Old Fashioned Cupcake Recipes

Make Old Fashioned Cupcakes From Scratch
(Source: ©ArturVerkhovets/Depositphotos.com)
Old Fashioned Cupcake Recipes From Mom's Recipe Box

Mom's Recipe Scrapbooks (c. 1920s)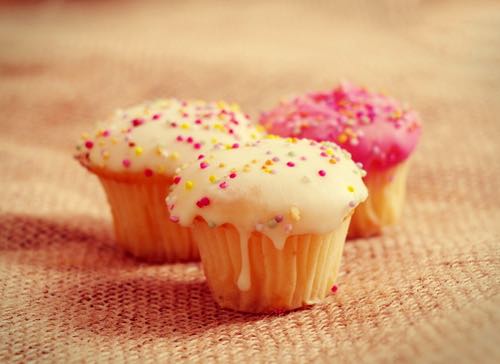 Make These Deliciously Frosted Cupcakes Today
(Source: ©goglik83/Depositphotos.com)
You will appreciate the all-natural ingredients that these recipes call for when making them. The old fashioned cupcakes are absolutely delicious and make the perfect comfort food. Make a bunch today!

Hint of Lemon Cupcakes

2 cups sugar
3/4 cup butter
3 eggs
3 cups flour
1 teaspoon cream of tartar
1/2 teaspoon baking soda
1 cup milk
Pinch of salt
Enough lemon juice to flavor
Beat the butter and sugar to a cream. Add the eggs well beaten, then the milk in which the soda has been dissolved. Add the flour with the cream of tartar and a little salt sifted together.
Beat all together well, and flavor with lemon and-or top with lemon zest to suit. Bake in a fairly quick oven (400°F).

Zesty Orange Cupcakes
2 Cups cake flour
4 Teaspoons baking powder
2 Tablespoons butter or shortening
1 Cup white sugar
1 Egg, unbeaten
1 Tablespoon grated orange rind
1/4 Cup milk
1/2 Cup orange juice
Sift flour once, measure, add baking powder, and sift together three times. Cream butter, add sugar, and cream together thoroughly.
Add egg and beat until light and fluffy. Add orange rind. Add flour, alternately with milk and orange juice, a small amount at a time. Beat after each addition until smooth.
Pour batter into muffin pans, filling them 2/3 full. Bake in moderate oven (350°F) 25 minutes. Makes 1 dozen large or 1-1/2 dozen small cupcakes.

Almond Cupcakes

1/2 cup shortening, 1 cup white sugar, 2/3 cup milk, 1 teaspoon almond extract, 2 cups pastry flour (or 1-3/4 cups bread flour), 3 teaspoons baking powder, 1/2 teaspoon salt, 3 egg whites (well beaten).
To make this old fashioned cupcake recipe from scratch, cream shortening, add sugar and continue creaming until light. Sift flour, measure and sift with baking powder and salt, then add alternately with milk to first mixture.
Add the almond extract. Fold in stiffly beaten egg whites. Bake in greased square tin in moderate oven (350°F to 375°F) for 20 minutes.
When cold, cut in triangles, squares, rounds, or fancy shapes suitable for the occasion.
Or, bake in fluted paper cupcake cases or small muffin tins. Ice the teacakes before serving. These are perfect for fancy afternoon teas.

Cupcakes With Currant Jelly Meringue
Homemade cupcakes always look special when served on a fancy dessert tray, but these with their pink currant jelly meringue toppings look extra special.
Be sure to try this old fashioned cupcake recipe. These jelly cupcakes are always sure to be noticed.
Ingredients:

4 tablespoons butter, 1 cup sugar, 2/3 cup milk, 1 egg, 2 cups flour, 3 teaspoons baking powder, 1/8 teaspoon salt, 1 teaspoon orange extract, grated rind of 1 orange.
Easy Directions:

Cream shortening (or butter); add sugar slowly beating well; add milk gradually; add beaten egg; sift flour, baking powder and salt together, and add to mixture; add flavoring and grated orange rind; mix well.
Bake in greased and floured individual cake tins in moderate oven (375°F) 15 to 20 minutes. When cool, cover cupcakes with a meringue made of the white of 1 egg and 1/2 cup currant jelly.
Put egg white and jelly together into bowl and beat with egg beater or wire whip until stiff. Spread on top of cupcakes before serving.

Chocolate SURPRISE Cupcakes

1/2 cup shortening
1 cup sugar
2 eggs
1-3/4 cups all-purpose flour
2 teaspoons baking powder
1/4 teaspoon salt
1/2 cup milk
1 teaspoon vanilla
2 squares unsweetened chocolate, melted
1 dozen large marshmallows (optional)
Cream together shortening and sugar. Add beaten eggs and mix well. Mix and sift flour, baking powder, and salt, and add alternately with milk to first mixture. Add melted chocolate and vanilla and beat thoroughly.
Pour into greased cupcake tins. Bake in quick oven (425°F) 15 to 20 minutes.
To add the SURPRISE ingredient, take from oven, and while still hot remove a little of center from top of each cupcake and put a large marshmallow in the hole to melt.
Put cupcakes aside for later and serve as is, or serve hot with whipped cream or ice cream, or serve cold with a suitable hot chocolate sauce. Makes 12 medium-sized cupcakes that are sinfully delicious.

Chocolate Vanilla Cupcakes

1/2 cup shortening
1 cup sugar
2 eggs
3/4 cup milk
2 cups pastry flour (or 1-3/4 cups bread flour)
2 teaspoons baking powder
1/4 teaspoon salt
1/4 teaspoon baking soda
1 teaspoon vanilla extract
1-1/2 squares unsweetened chocolate
Cream shortening; add sugar slowly; add well-beaten egg yolks. Sift dry ingredients together and add, alternately with milk, to first mixture. Add vanilla and melted chocolate; fold in egg whites beaten stiff.
Put batter into greased muffin tins and bake in moderate oven at 375°F about 25 minutes. Eat as is or cover with rich chocolate frosting topped with a red cherry. Delicious!

Old Fashioned Cupcake Recipes

The White House Cook Book (1913)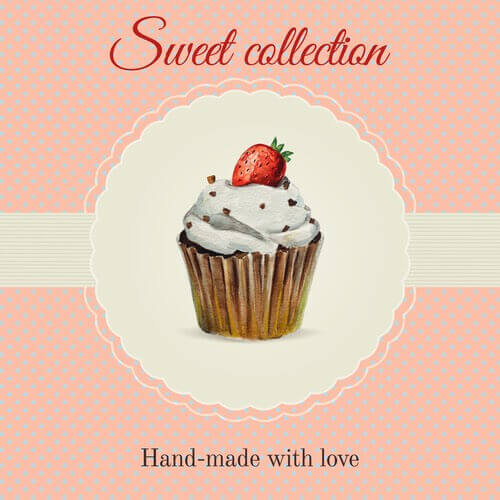 Make Sweetly Old Fashioned Cupcakes Tonight
(Source: ©awispa/Depositphotos.com)
Moist Cupcakes with Fruity Flavors

Two cups of sugar, one cup of butter, one cup of milk, three cups and a half of flour and four eggs, half a teaspoon of soda, large spoon cream of tartar.
To make this old fashioned cupcake recipe from scratch, stir butter and sugar together and add the beaten yolks of the eggs, then the milk, then flavoring and the beaten whites. Put cream of tartar in flour and add last.
Bake in buttered cupcake tins, or drop the batter, a teaspoonful at a time, in rows on flat buttered tins.

Make Cupcake Variations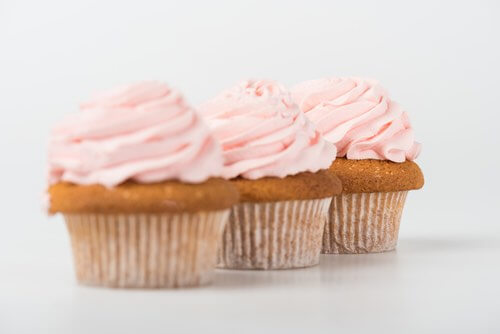 Frosted Homemade Cupcakes — True Comfort Food
(Source: ©EdZbarzhyvetsky/Depositphotos.com)
To the old fashioned cupcake recipe (above), may be added a cup of currants or chopped raisins; and another variety of "cake" may be made by adding a half cup citron sliced and floured, a half cupful of chopped almonds and lemon extract to flavor.

Easy Cupcake Frosting Recipe

Mom's Recipe Scrapbooks (c. 1920s)

Cupcakes Always Taste Best With Frosting
(Source: ©chiociolla/Depositphotos.com)
Fancy Frosting for Cupcakes

Ingredients: 4 level tablespoons butter, 2 cups icing sugar, 4 tablespoons milk, 1 teaspoon vanilla.
Cream butter thoroughly, gradually add sugar and milk alternately; add vanilla flavoring and beat frosting until quite smooth.
Divide frosting mixture into 3 parts: To 1st part add 2 drops red food coloring to make delicate pink. To 2nd part add a little melted chocolate. Leave 3rd part white.
Spread frosting thickly and evenly on cupcakes and decorate the pink frosting by gently rolling in shredded coconut; roll the chocolate in finely chopped walnuts, placing a red maraschino cherry in center.
Finally, roll the white in chopped pistachio nuts; or use almonds, blanched, delicately browned in oven and rolled fine with rolling pin.
This fancy frosting may be used to compliment any old fashioned cupcake recipe featured on this page.

About Mom's Old Fashioned Cupcake Recipes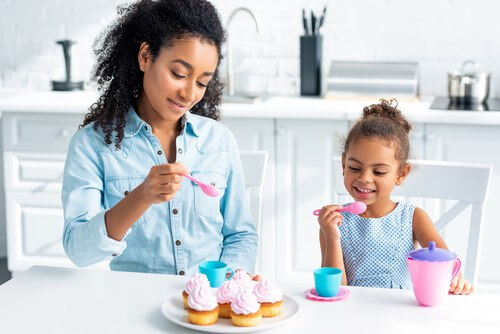 It's Always Fun to Make Cupcakes From Scratch
(Source: ©AllaSerebrina/Depositphotos.com)
It's a personal preference, but I enjoy my cupcakes without icing when I can top them with fresh or preserved fruit. However, they do taste absolutely wonderful when thickly iced with a favorite frosting.
I especially liked Mom's chocolate SURPRISE cupcakes, and her orange flavored ones too, with their fluffy jelly meringue topping. Both recipes are given above on this page.
Mom's cupcakes can be beautifully decorated for festive occasions. Be sure to check out the helpful decorating ideas presented in the links above.
The decorated flower cupcakes are especially eye catching. Flower cupcakes can be creatively displayed on a cupcake stand as an edible bouquet.
I can recall seeing Mom's cupcakes topped with thick chocolate icing at birthdays, and with colorful frosting and silver sprinkles at family wedding showers. However, you needed to get first in line because they were known to be delicious and quick to disappear!
Whether you're young or young at heart, cupcakes are really special. It's like having a tiny cake all to yourself.
You Might Like These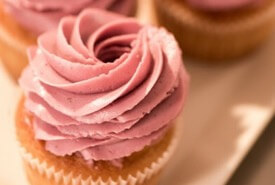 Return to Cupcake Menu