Soft Drink Recipes
Enjoy Vintage Soft Drinks from Soda Fountains
(Source: ©alexeys/123RF Stock Photo)
Old Fashioned soft drink recipes are fun to try, especially when they're authentic. Thanks to these vintage recipes from old time soda fountain operators, you'll be able to make all manners of refreshing beverages.
Your friends will be amazed when they get to taste them, and you'll have the satisfaction of making something normally only bought. The following beverages are surprisingly easy to make and so good tasting.


Home Soda Fountain Setup

Why not set up an old time soda fountain in your family room? A home soda fountain setup is very affordable and certain to impress your guests. Also, it's the perfect addition to any home theater!


Create a Home Soda Fountain
Brew Your Own Sodas

Learn how to make and brew your own carbonated beverages the old fashioned way by using all-natural carbonation methods.


Make Soda Fountain Syrups
Old time soda fountain operators made refreshing sodas by adding special flavoring syrups to carbonated water. Use these vintage fountain syrup recipes to create your own fizzy beverages.


Old Fashioned Soft Drink Recipes
Get ready to experience the wholesome, refreshing, delicious soft drinks and sodas your great-grandparents enjoyed as children. Simply follow the old fashioned soft drink recipes and don't be afraid to experiment.


Soft Drinks for Holidays and Parties
Egg Safety Tip. Some no-bake recipes might call for raw, uncooked eggs or egg whites. To avoid any health risk, please visit my Eggs and Salmonella page for simple instructions on how to safely adapt the old fashioned recipe.
About the Old Fashioned Soft Drink Recipes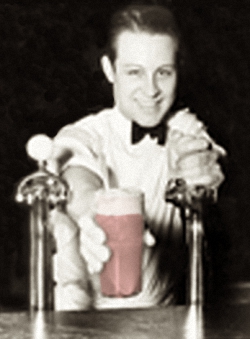 Soda Jerk (Source: Library of Congress LC-USZ62-113825)
The original recipes for these non alcoholic drinks were first published back in the 1800s, but it's likely that some are much older. Families often used them for generations before they first appeared in print.
Now, they're yours to try!
You'll find the taste of beverages made using the old fashioned soda fountain recipes to be unique, refreshing, and superior to most store-bought beverages.
Homemade soft drinks are not as sweet and contain no harmful additives and chemical preservatives — only fresh, all-natural ingredients. You get to control the sweetness, and you get to choose the organic ingredients. That's why these drinks are actually wholesome.
Make yourself an old time soft drink and experience the taste of history today. Believe me, once you taste it, you will love it.


My Dad's First Soda Pop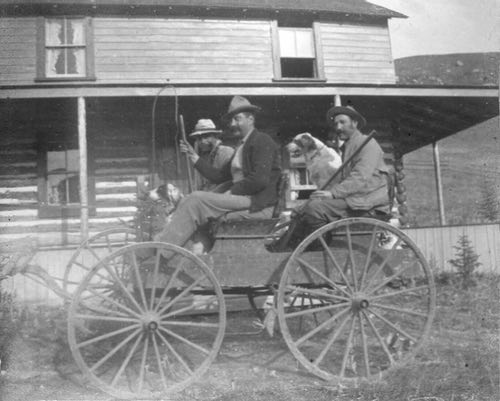 L to R - John Ware, Ernest Leopold Bell, and Friend, c. 1912
(Source ©Don Bell)
I can recall Dad telling me of the time he tasted his first soda pop. It was in 1912, when he was four years old and growing up on the Alberta prairie.
He accompanied his father Ernest Leopold Bell and D. P. McDonald, a close friend of his father's and owner of the Mount Royal Ranch, to Cochrane to attend a horse auction. More ranchers joined them, and the men entered the local saloon to talk.
The old bartender asked whether the boy would have a sarsaparilla. The LARGE glass of fizzy dark-colored liquid took some time to drink, and young Billy could not understand why the men's drinks came in such TINY glasses!
Ever since I heard that family story I wondered what that sarsaparilla would have tasted like. Now, thanks to these old fashioned soft drink recipes, I know. It was delicious!


Affordable Soda Fountain Supplies


Prairie Moon Has Everything You Need
Get all your home soda fountain supplies and flavored syrup concentrates from The Prairie Moon Company, your one-stop source. Reliable low cost shipping to U.S. and Canadian customers. I highly recommend them!
Disclosure: This is an affiliate link, which means that if you purchase a Prairie Moon product through this link, I receive a small compensation to help support this site — at no extra cost to you.