Christmas Squares Recipes
Christmas Squares Recipes

Grandma's old fashioned Christmas squares recipes will make wholesome, delicious holiday treats. Enjoy the crumbly chewy dessert squares and bars that our family has always enjoyed at Christmas and New Years.
Mom always made plenty of squares to have on hand for when company arrived, and I would suggest you do the same. I kid you not, they are beyond delicious!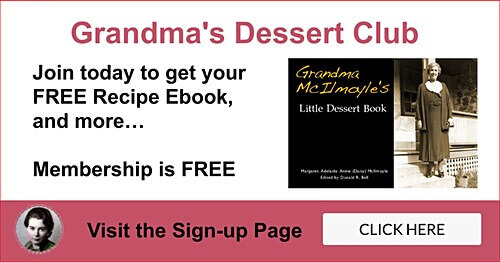 Grandma's Christmas Squares Recipes

Mom's Recipe Scrapbooks (1920s)

Cranberry Oat Squares

Cranberry Oat Squares for Christmas
(Source: ©manyakotic/Depositphotos.com)
2 cups rolled oats
1 cup brown sugar
1 cup flour
1 teaspoon baking powder
3/4 cup melted butter
2-1/2 cups cooked, sweetened cranberries
Combine rolled oats, sugar, sifted flour, and baking powder. Add melted butter and mix ingredients well. Press half of mixture over bottom of greased 8x12-inch baking pan. Spread with cooked, sweetened cranberries, reserving a small quantity to mix with the oat topping, if desired. Top with remaining rolled oat mixture.
Bake at 350°F for about 30 minutes. Remove pan from oven and cut into squares for serving.
Holiday Cherry Squares

1/2 cup butter
1 cup white sugar
2 eggs, well beaten
3/4 cup all-purpose flour
1/2 teaspoon baking powder
3/4 cup chopped maraschino cherries (save juice for icing)
1 cup chopped walnuts
Cream butter and sugar together. Add well-beaten eggs. Add flour and baking powder. Mix well. Add chopped cherries and walnuts.
Grease 8-inch-square pan, pour in batter. Bake in 300°F oven about 20 minutes or until done. Cool, then ice with butter icing and cut into squares or bars.
Butter Icing

1-1/2 cups icing sugar
2 tablespoons butter
1/4 cup maraschino cherry juice
1 teaspoon almond flavoring
Mix icing sugar, butter, maraschino juice, and almond flavoring together to make a spreadable pink icing that goes part and parcel with this old fashioned Christmas squares recipe.
Christmas Snow Squares

2/3 cup butter or margarine
1/3 cup lightly packed brown sugar
1-1/3 cups all-purpose flour
2 envelopes unflavored gelatin
1/2 cup water
1-1/3 cups white granulated sugar
1/2 cup maraschino cherry juice
1 teaspoon almond flavoring
1/2 cup chopped maraschino cherries
1/2 cup slivered toasted almonds
Cream butter with brown sugar. Mix in flour. Press into ungreased 7x12-inch pan. Bake pastry in 325°F oven for 15 to 20 minutes, or until golden brown.
Soften gelatin powder in water. In saucepan, combine sugar and maraschino cherry juice. Bring to a boil and boil for 2 minutes. Add softened gelatin and stir to dissolve.
Remove from heat and whip at high speed with mixer until stiff, about 5 minutes. Beat in almond flavoring, then fold in cherries and almonds.
Spread mixture over baked pastry; allow to cool. Store in refrigerator or freezer. Cut into squares with a moistened knife for serving.

Apple Kuchen Squares
The squares made from this old fashioned Christmas squares recipe are cake-like, but they are absolutely delicious and offer a pleasant change from the usual fare.

1/2 cup butter, softened
1 package yellow cake mix
1/2 cup flaked coconut
2-1/2 cups pared and sliced apples
1/2 cup sugar
1 teaspoon cinnamon
1 cup sour cream
2 egg yolks or 1 egg
Mix butter, cake mix, and coconut. Spread over 13x9-inch baking pan. Bake 10 minutes at 350°F.
Add apple slices and spread over warm crust. Mix sugar and cinnamon and spread over apple slices. Mix sour cream and egg and spread over all. Bake an additional 25 minutes. When cool, cut into squares.

Gumdrop Jewels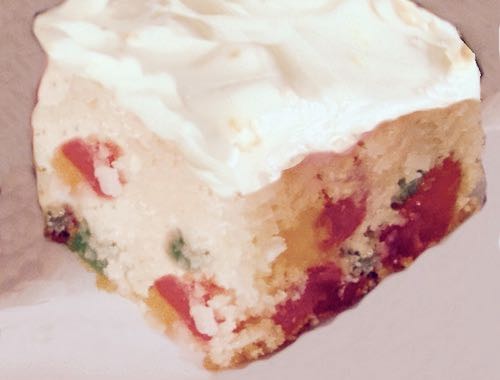 Christmas Dessert Squares a.k.a. Gumdrop Jewels
(Source: ©Don Bell)
Evaporated Milk

To substitute 1 cup evaporated milk, use 1 cup heavy cream, or gently simmer 2-1/4 cups whole milk in a saucepan until reduced to 1 cup.

3/4 cup evaporated milk
1 cup gumdrops, chopped
1/2 cup butter or shortening
1/2 cup white sugar
1 egg
1 teaspoon vanilla
1 cup flour
1 teaspoon baking powder
1/4 teaspoon salt
1/2 cup walnuts, chopped
Vanilla icing
Method:
To begin this old fashioned Christmas squares recipe, pour evaporated milk over chopped gumdrops and let stand for 30 minutes. Beat shortening, sugar, egg, and vanilla together. Add gumdrop mixture, then add flour, baking powder, salt, and nuts.
Spread in square greased pan. Bake at 350°F for 25 minutes. Frost while still warm, with vanilla icing. Cut in squares for serving.
Coconut Pecan Christmas Squares

Caramel Crust:
1/2 cup butter
1/2 cup dark brown sugar
1 cup flour
Grease an 8x8x2-inch square pan. Set oven to 360°F.
For the crust, cream butter and sugar well. Add flour. Mix well. Press into prepared pan, spreading the batter evenly into the corners. Bake 20 minutes (360°F).
Coconut Pecan Squares Mixture:
2 eggs
1 cup light brown sugar
1 cup coarsely chopped pecans
1/2 cup flaked coconut
2 tablespoons flour
1 teaspoon vanilla
Pinch of salt
While the crust is baking, toss together the flour and coconut. Set aside in a cup. In a bowl, beat eggs until frothy. Gradually add light brown sugar and beat approximately 4 minutes until very thick. Add nuts and coconut-flour mixture. Add vanilla and salt. Stir well.
Spread squares mixture over baked crust. Bake for 20 minutes more or until well browned.
When cool, dust with confectioner's sugar. Cut into 1-inch squares or small bars for serving. —M. Prescott

Christmas Party Bars

Pastry as for a Pie Crust
Jam — plum, grape, or raspberry flavors
1/2 cup butter
1/2 cup white sugar
2 well beaten eggs
2/3 cup rice flour
Food coloring, red and green
Begin this Christmas squares recipe by lining an 8x8x2-inch pan with pastry. Bake for a few minutes like a pie shell.
Let pastry cool and spread evenly and thinly with jam of choice. In a bowl cream together butter, sugar, eggs, and flour. Mix like batter. Spread evenly on top of jam.
Streak batter with red and green food coloring for festive decoration.
Bake at 350°F for about 35 minutes. Ice with a favorite butter icing flavored with almond.
Alternate Crust
These Christmas Party Bars are also delicious when made with the Caramel Crust from the Coconut Pecan Christmas Squares recipe.
Christmas Day Greeting Card From the 1920s
(Source: ©Don Bell)