No Bake Christmas Treats Recipes
No Bake Christmas Treats Recipes

Grandma's no bake Christmas treats recipes are perfect for making those delicious dessert squares and nostalgic desserts that are so popular over the Holiday Season, and for serving on special occasions throughout the year.
You will love the traditional goodness and festive flavors and what's more, these old fashioned treats are quick and easy to make.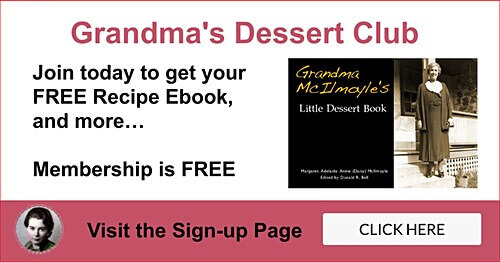 Grandma's No Bake Christmas Treats Recipes
Mom's Recipe Scrapbooks (1920s)

Special Christmas Squares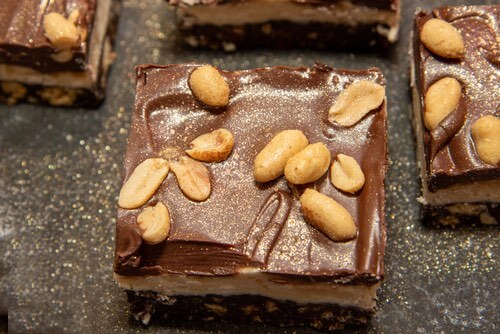 Enjoy Making Special Christmas Squares
(Source: ©duncanuk77/Depositphotos.com)
Your taste buds will agree that these no-bake Christmas Squares really are SPECIAL.
1/2 cup butter
1/4 cup white sugar
3 tablespoons coca powder
1 large egg, beaten
1 teaspoon vanilla
1 cup coconut, desiccated
2 cups graham wafers, rolled
1/2 cup nuts, chopped
Method:
Place in double boiler butter, white sugar, and cocoa. Stir until smooth and add beaten egg and vanilla flavoring. Remove from heat.
Add coconut, graham wafers, and chopped nuts. Spread mixture in a 9-inch pan. Refrigerate to cool before adding vanilla filling and chocolate topping.
Vanilla Filling

1/4 cup butter
2 cups icing sugar
2 tablespoons vanilla pudding powder
3 or 4 tablespoons milk
For the vanilla filling, mix the ingredients as listed above until smooth enough to spread. Spread evenly over first mixture in pan and return to refrigerator to cool and firm up before adding topping.
Chocolate Topping

2 squares semi-sweet or dark chocolate
1 tablespoon butter

Melt 2 squares of chocolate in 1 tablespoon butter. Spread carefully over vanilla filling in pan, then allow to set in refrigerator before serving.
Sprinkle extra nuts or coconut on chocolate topping for decoration, if preferred.

No Bake Peppermint Whip

14 chocolate sugar wafer cookies
1/2 pint whipping cream
1-1/4 cups miniature white marshmallows
1/2 cup crushed peppermint candy canes
Crush chocolate wafers into fine crumbs. Using half of the crumbs, cover bottom of 9-inch square pan evenly.
Whip cream, fold in marshmallows and crushed peppermint candy. Carefully spread whipped cream mixture onto crumbs in pan. Sprinkle remaining crumbs on top and refrigerate for 12 hours before serving.
Alternative Method

Using small muffin cups and the same method as indicated above, fill and freeze individually. Defrost a few minutes before you need them for a fast dessert that's sure to please.
Cherry Cha Cha
1-1/2 cups graham cracker crumbs
1/3 cup butter or margarine, melted
1 can cherry pie filling
4 cups white miniature marshmallows
1/2 pint whipping cream
Mix together the graham cracker crumbs and melted butter. Pack 3/4 of crumb mixture into a 9-inch square pan having its bottom lined with aluminum foil. Whip the cream and add marshmallows.
Put half of this cream mixture on top of graham crust. Cover that with cherry pie filling. Spread remaining cream mixture evenly on top.
Sprinkle with remaining graham cracker crumbs. Cover with plastic wrap and place in refrigerator overnight.

Cherries in the Snow
1 can cherry pie filling
1 small jar green Maraschino cherries
1 small package chopped pecans
1/2 bag miniature marshmallows
1 container whip topping, thawed
Instructions:
Place cherry pie filling in a large mixing bowl. Mix in green Maraschino cherries. Add chopped pecans and miniature marshmallows. Fold in whip topping while making sure to mix well so all ingredients are incorporated together. Cover and refrigerate until ready to serve.
Chocolate Strawberry Balls

1 cup chocolate chips
1 (8-ounce) package cream cheese, softened
15 sugar wafer cookies (vanilla or chocolate), crushed
1/3 cup strawberry jam
Finely chopped toasted almonds
Toasted coconut
Instructions:
Melt chocolate chips until completely melted and smooth in texture, then slightly cool. Place cream cheese in a large mixing bowl. Pour melted chocolate over cream cheese and mix until very smooth. Fold in wafer crumbs being sure to cover all the crumbs with the chocolate mixture.
Refrigerate 3 hours, or until chocolate mixture is firm. Once firm, shape into balls. Roll half the candy balls in the toasted almonds and the other half in the toasted coconut. Store in the refrigerator to keep candy treats firm before serving.
Marshmallow Roll
4 ounces unsweetened chocolate
4 tablespoons butter
2 small eggs, beaten
1 cup icing sugar
1/2 cup crushed graham wafers
10 ounces colored miniature marshmallows
1 teaspoon vanilla
Melt chocolate and butter, slowly. Add eggs, icing sugar, and graham wafer crumbs. Mix. Add marshmallows and vanilla flavoring. Divide into 3 parts. Roll each part in chopped nuts or coconut or chocolate sprinkles. Refrigerate. Slice when served.
This no bake Christmas treats recipe makes about 3 dozen portions that everyone will rave about.