German Dessert Recipes

Enjoy Traditional German Dessert Recipes
(Source: Don Bell)
Traditional German dessert recipes are prized by those who love delicious desserts. The extravagance in the ingredients called for in the old recipes is balanced by their deliciously wholesome Old World taste. Calorie counting isn't permitted folks. These are desserts meant to be enjoyed!


Traditional German Dessert Recipes

Enjoy Traditional German Desserts

The Book of Household Management (1861)


Traditional German Pears a l'Allemande
(Source: ©stephanie-frey/123RF)
Pears a l'Allemande
Just imagine the authentic Old World taste of Pears a l'Allemande. Absolutely delicious! Are you hungry yet?
Ingredients: 6 to 8 pears, water, sugar, 2 oz of butter, the yolk of an egg, 1/2 oz of gelatin.
Mode: Peel and cut the pears into any form that may be preferred, and steep them in cold water to prevent them turning black; put them into a saucepan with sufficient cold water to cover them, and boil them with the butter and enough sugar to sweeten them nicely, until tender; then brush the pears over with the yolk of an egg, sprinkle them with sifted sugar, and arrange them on a dish.
Add the gelatin to the syrup, boil it up quickly for about 5 minutes, strain it over the pears, and let it remain until set. The syrup may be colored with a little prepared cochineal (red food coloring), which would very much improve the appearance of the tasty dish.
From 20 minutes to 1/2 hour to stew the pears; 5 minutes to boil the syrup. Sufficient for a large dish.


About the Traditional German Dessert Recipes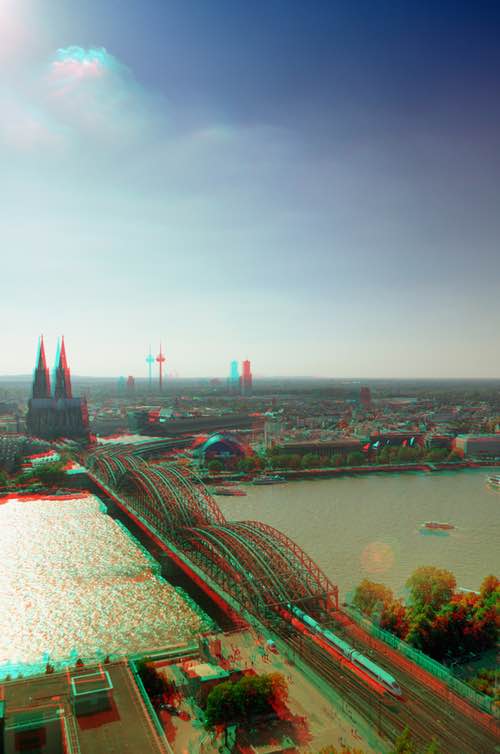 3D Anaglyph Image of Cologne City, Germany
(Source: ©ifeelstock/Depositphotos.com)
Since German meals can be bountiful feasts, the desserts served are often lighter fare such as cream puddings, rich custards, or a fresh fruit dish.
However, at Kaffee (coffee time) traditional Kuchen (cake), tortes, and cookies are often brought out to be enjoyed.
Bordering on nine countries, Germany's position in the heart of Europe has influenced its cooking to create the great diversity of classic dessert dishes for which  it is famous.
The traditional German dessert recipes featured on this page help us to appreciate the rich and wonderful history of Germany's foods.
Good food is truly part of Germany's heritage.
Essen und Trinken halten Leib und Seel zusammen is an old German saying which means, "Food and drink keep body and soul together!"


German Children's Grace

Jedes Tierlein hat sein Fressen,
Jede Blume trinkt von Dir,
Lass auch uns Dich nicht vergessen,
Lieber Gott wir danken Dir.
English Translation
Every animal is given food,
Each flower gets a drink,
Don't let us forget Thee either,
Dear Lord, we thank thee.