German Dessert Recipes

German Dessert Recipes
The German dessert recipes are prized by those who love delicious desserts. The extravagance in the ingredients called for in the old recipes is balanced by their wholesome, delicious taste. Calorie counting isn't permitted folks. These are treats meant to be enjoyed!


Traditional German Dessert Recipes

Try These German Dessert Recipes

The Book of Household Management (1861)


You can't beat the delicious taste of traditional German foods. Just imagine the authentic Old World taste of a true Pears a l'Allemande or a German almond custard or a lemony German pudding smothered with a rich brandy sauce. All yummy and absolutely delicious! Are you hungry yet?


German Pear Dessert (Pears a l'Allemande)
Traditional German Pears a l'Allemande
(Source: ©stephanie-frey/123RF)
Ingredients: 6 to 8 pears, water, sugar, 2 oz of butter, the yolk of an egg, 1/2 oz of gelatin.

Mode: Peel and cut the pears into any form that may be preferred, and steep them in cold water to prevent them turning black; put them into a saucepan with sufficient cold water to cover them, and boil them with the butter and enough sugar to sweeten them nicely, until tender; then brush the pears over with the yolk of an egg, sprinkle them with sifted sugar, and arrange them on a dish.

Add the gelatin to the syrup, boil it up quickly for about 5 minutes, strain it over the pears, and let it remain until set. The syrup may be colored with a little prepared cochineal (red food coloring), which would very much improve the appearance of the tasty dish.

From 20 minutes to 1/2 hour to stew the pears; 5 minutes to boil the syrup. Sufficient for a large dish.


German Pudding with Lemon and Brandy
Ingredients: 2 teaspoonfuls of flour, 1 teaspoonful of arrowroot, 1 pint of milk, 2 oz of butter, sugar to taste, the rind of 1/2 lemon, 4 eggs, 3 tablespoonfuls of brandy.

Mode: Boil the milk with the lemon rind until well flavored; then strain it, and mix with it the flour, arrowroot, butter, and sugar. Boil these ingredients for a few minutes, keeping them well stirred; then take them off the fire and mix with them the eggs, yolks and whites, beaten separately and added separately.

Boil some sugar to candy; line a mold with this, put in the brandy, then the mixture; tie down with a cloth, and boil for rather more than 1 hour. When turned out, the brandy and sugar make a nice sauce. Sufficient for 4 or 5 persons. Seasonable at any time.


German Cherry Sauce for Sweet Puddings
Ingredients: 1 lb of cherries, 1 tablespoonful of flour, 1 oz of butter, 1/2 pint of water, 1 wineglassful of port wine, a little grated lemon rind, 4 pounded cloves, 2 tablespoonfuls of lemon juice, sugar to taste.

Mode: Stone the cherries, and pound the kernels in a mortar to a smooth paste; put the butter and flour into a saucepan; stir them over the fire until of a pale brown; then add the cherries, the pounded kernels, the wine, and the water. Simmer these gently for 1/4 hour, or until the cherries are quite cooked, and rub the whole through a hair sieve; add the remaining ingredients, let the sauce boil for another 5 minutes, and serve.

This is a delicious sauce to serve with boiled batter pudding, and when thus used, should be sent to table poured over the pudding. Sufficient for 4 or 5 persons.


German Almond Custard Recipe

The White House Cook Book (1913)


Add to a pint of good, rich, boiled custard an ounce of sweet almonds, blanched, roasted, and pounded to a paste, and half an ounce of pine nuts or peanuts, blanched, roasted, and pounded; also a small quantity of candied citron cut into the thinnest possible slips; cook the custard as usual and set it on the ice for some hours before using.


About the German Dessert Recipes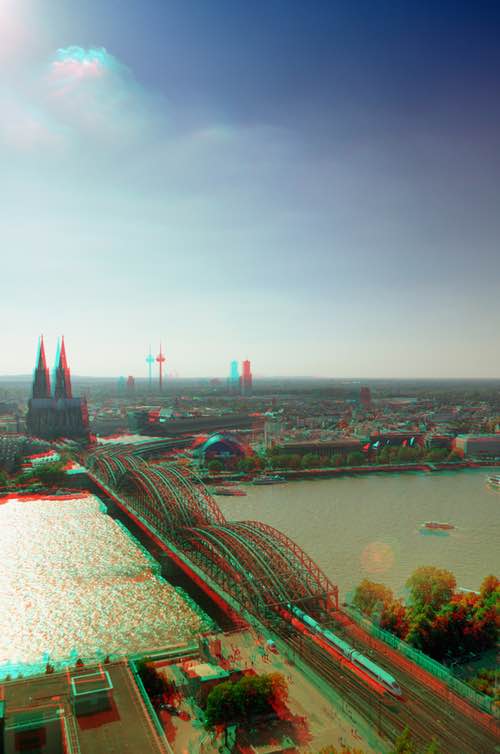 3D Anaglyph Image of Cologne City, Germany
(Source: ©ifeelstock/Depositphotos.com)
Since German meals can be bountiful feasts, the desserts served are often lighter fare such as cream puddings, rich custards, or a fresh fruit dish.

However, at "Kaffee" (coffee time) traditional Kuchen (cake), tortes, and cookies are often brought out to be enjoyed.

Bordering on nine countries, Germany's position in the heart of Europe has influenced its cooking to create the great diversity of classic dessert dishes for which  it is famous. The traditional German dessert recipes featured on this page help us to appreciate the rich and wonderful history of Germany's foods.

Good food is truly part of Germany's heritage: Essen und Trinken halten Leib und Seel zusammen is an old German saying which means, "Food and drink keep body and soul together!"


German Children's Grace
Jedes Tierlein hat sein Fressen,
Jede Blume trinkt von Dir,
Lass auch uns Dich nicht vergessen,
Lieber Gott wir danken Dir.

English Translation

Every animal is given food,
Each flower gets a drink,
Don't let us forget Thee either,
Dear Lord, we thank thee.

Enjoy a

Laugh

to Brighten Your Day!


Listen to Bud Abbott and Lou Costello's "Who's On First?" skit from the World War 2 Special Services Division V-Disk.


(5: 54 min.)


As an Amazon Associate I earn from qualifying purchases.