Springerle Cookie Recipe

Here's a traditional Springerle cookie recipe for making those spectacular German Christmas cookies that everyone raves about at Holiday time.
The festive anise-flavored biscuits called Springerle have been a Christmas tradition in Bavaria and Austria as far back as the 14th century. Frohe Weihnachten und ein glückliches Neues Jahr!

Traditional Springerle Cookie Recipe
Mary at the Farm and Book of Recipes (1915)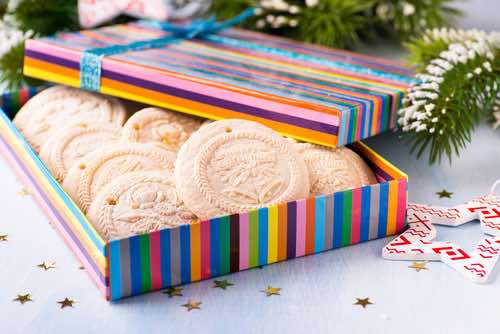 German Springerle Cookies Boxed for a Christmas Gift
(Source: ©belayakaterina/Depositphotos.com)
Springerle Cookies

4 eggs
1 pound sifted pulverized sugar
2 quarts flour, sifted twice
2 small teaspoonfuls baking powder
Beat whites and yolks of eggs separately, mix with sugar and beat well. Add flour until you have a smooth dough. Roll out pieces of dough, which should be half an inch thick.
Press the dough on a floured form or mold, lift the mold, cut out the cakes thus designed and let lie until next day on a floured bread board.
The next day grease pans well, sprinkle anise seed over the pans in which the cakes are to be baked; lay in cakes an inch apart and bake in a moderate oven (375°F) to a straw color.
The form used usually makes six impressions or cakes 1-1/2 inches square, leaving the impression of a small figure or flower on surface when dough is pressed on form.

How to Make Springerle Cookies
Wooden Springerle Roller Mold
(Source: ©Don Bell)
Traditional Springerle cookies are made by pressing a mold onto the rolled out cookie dough and letting the impression dry before baking.
Mold impressions are easier to make if the dough is chilled beforehand. The drying of the dough overnight preserves the delicate detail of the mold's impression.
Springerle cookie molds are traditionally carved from wood, though modern-day materials are now sometimes used. A carved Springerle rolling pin can also be used to stamp or impress the dough with festive symbols.
The baked Springerle cookies tend to be hard like biscotti and best packed away in containers to ripen for a couple of weeks to become tender. Making these Old World cookies can be fun for the whole family.
Watch the first of her four-part video series as Patrice Romzick of "Springerle Joy" gives step-by-step instructions plus an easy Springerle Cookie Recipe for making the special Springerle dough that consists of only four common kitchen ingredients.

Here's the ingredient list for the homemade dough, just in case you couldn't copy the Springerle cookie dough recipe down fast enough from Partice's YouTube video:
4-1/2 large eggs
1 pound powdered sugar
1 pound cake flour (by weight)
1 teaspoon lemon flavoring oil

About Making Springerle Cookies

Visit Springerle Joy on YouTube to watch Patrice Romzick's series of four videos featuring tips, tricks, and full instructions:

Making Springerle Cookie Dough (shown above)

Molding Springerle Cookies

Baking Springerle Cookies

Painting Springerle Cookies

Visit the Springerle Joy Website where Partice offers a huge selection of authentic Springerle molds, many of which are exact replicas of traditional European cookie molds from past centuries.
You'll also find a wonderful selection of books, cutters, tools, flavoring oils, and food coloring offered. Everything you'll need for this creative baking hobby.

Related Pages You Might Like