International Dessert Recipes
Enjoy International Dessert Recipes
(Source: Chinese-Japanese Cookbook 1914)
Thanks to Grandma's favorite international dessert recipes, you'll get to make many best-loved desserts from other lands and enjoy delicious old fashioned treats. If you like trying traditional foods from other countries, you've come to the right place. Each pleasurable dish is made from scratch using authentic methods and all-natural ingredients to tempt the taste buds.


International Dessert Recipes

Greek Baklava Recipe

Submitted by Pam, South Africa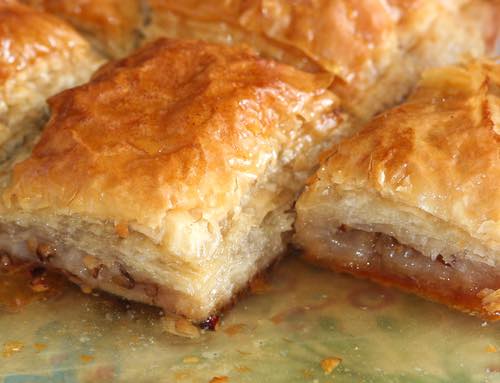 Homemade Greek Baklava with Walnuts
(Source: ©ctppix/Depositphotos.com)
This is a Greek Baklava recipe that a friend of mine gave to me. I would definitely use store-bought Filo pastry — I'm not that dedicated! ;-) However, there's a recipe for Filo Pastry should you want to make it from scratch.

Ingredients:

Filo pastry
2-1/2 cups Butter
350 grams (12 ounces) Walnuts, coarsely chopped
420 grams (1-1/4 cups) Sugar
1/2 cup Water
Lemon juice

Method:

Cut the filo pastry to fit the baking dish. Place 2 sheets on at a time, brush with butter and sprinkle with nuts. You will need about 12 sheets for each dish. Cut into serving pieces and then bake in a moderate oven (180°C) for about 45 minutes, until golden. Drain off the excess fat twice during baking.

Syrup:

Prepare a syrup using the sugar, water, and lemon juice. Spoon this syrup over the baklava immediately after removing from the oven and draining off the fat.

Allow to cool before removing from the pan.

Filo Pastry:

Ingredients:

350 grams (12 ounces) flour
1 cup water
1 tablespoon Salt

Method:

Mix all ingredients together and knead until smooth. Put dough aside and rest for 1 hour. Proceed to roll and stretch (beat with a rolling pin and lash against the table). When the dough is paper-thin, brush it with melted margarine.

Enjoy.


Traditional Dessert Origins
In cooking, much of our legend and lore, to say nothing of good eating, comes from The Old Country. For many of us, that's the country our ancestors emigrated from, and the source of our family dessert recipes.

However, the vast majority of today's cooks no longer use brick ovens. They don't run to the spring for water. Nor do they cook in stone fireplaces. Many don't even pick their own fruits anymore. Yet, even in today's gleaming, modern kitchens, many a cook strives for the old time texture and flavor of the desserts featured below.

My Grannie Bell came to Canada from Scotland, and she made the most delicious homemade scones you ever tasted. I loved to eat them when they were warm from the oven and smothered in her thick, homemade orange marmalade. You cannot simply buy scones like that in a bakery shop. You have to make them yourself from the original recipe.

You may be trying for nothing more than a creamy pudding such as "mother used to make" or a freshly baked pie "like Grandma once set on the table," but like as not the taste you seek goes far back beyond your mother's or grandmother's time. We crave the comforting traditional flavors!

Many of these favorite family dishes can be traced back to the European continent, the origin of so many Canadian and American peoples, and their time-honored recipes. That's true of the international dessert recipes featured on this site, and the amazing desserts you'll be able to make.


Enjoy a

Laugh

to Brighten Your Day!


Listen to Bud Abbott and Lou Costello's "Who's On First?" skit from the World War 2 Special Services Division V-Disk.


(5: 54 min.)


As an Amazon Associate I earn from qualifying purchases.