Shortbread Rounds Recipe
Choose a traditional shortbread rounds recipe from Grandma's collection this holiday season. Your friends and family will love eating your homemade rounds and bars, so be sure to make plenty. Traditional Scottish shortbread also makes an edible Christmas gift that's always appreciated.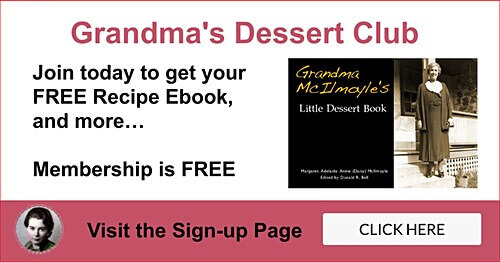 Scottish Shortbread Rounds Recipes
Mom's Recipe Scrapbooks (1920s)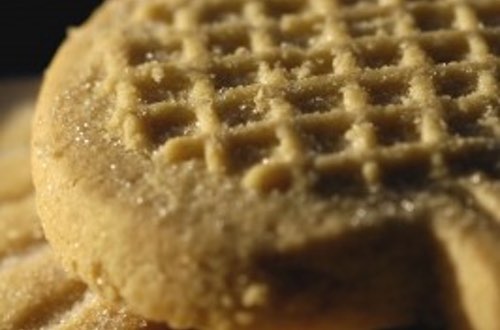 Homemade Shortbread Rounds for Christmas
(Source: ©steve-mann/123RF.com)
Here are several of Grandma's favorite old fashioned recipes for making shortbread rounds and bars that are traditionally enjoyed at Christmas and New Year celebrations, and on other special occasions.

Aunt Grace's Shortbread Rounds

1 pound butter
1 pound shortening
3 cups brown sugar
1 teaspoon baking soda
9 cups bread flour
Cream butter, add sugar gradually, and cream mixture well. Mix baking soda with flour and saving 1-1/2 cups flour for board and knead as usual.
Shape dough into a round, prick with fork, and bake in 250°F to 300°F oven (prefer 250°F) for about 30 minutes or less until done. Ingredients may be halved for a smaller recipe.

Christmas Shortbread Bars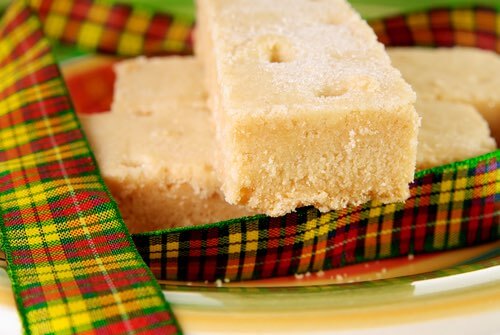 Enjoy Buttery Homemade Shortbread Bars This Christmas
(Source: ©vetasster/Depositphotos.com)
3 cups flour
1 cup icing sugar
1 cup butter
Cream shortening until soft, then work in sugar. Tip sugar mixture onto flour and work in well. Press mixture into a greased pan and bake 30 minutes in a moderate oven (325°F). Cut into bars and let cool on rack.

Easy Scottish Shortbread Bars

One pound butter and one cup brown sugar beaten to a cream, then add five and a half cups of flour, using the other half cup on board while kneading, which must be very thorough.
Roll out half-inch thick, prick with a fork, cut in small bars, and bake in a slow oven (250°F). —Mrs. S. Trotter

Traditional Shortbread Rounds Recipe
Mrs. Goodfellow's Cookery as it Should Be (1865)

Here's a fine example of a traditional Scottish Shortbread Round featuring diced bits of candied citron, orange peel and caraway seeds.
Traditional Shortbread Rounds

Mix two pounds of flour, dried and well-sifted, with a pound of powdered sugar, three ounces of candied citron and orange peel cut into dice, and half a pound of caraway comfits; mix these with half a pound of butter melted in a saucepan.
Then make the paste, roll it out the thickness of half an inch, cut it into round cakes, place them on white paper, prick, and bake them (250°F) of a pale color.

History of Scottish Shortbread Rounds

The history of shortbread goes back to the sixteenth century and Mary, Queen of Scots. It seems that Queen Mary of Scotland enjoyed eating Petticoat Tails flavored with caraway seeds, a traditional shortbread cookie that's baked as a round shortbread and then cut into triangular shaped wedges.
The wedges were called Petticoat Tails because their shape resembles the triangular fabric pieces used to make women's petticoats during the Elizabethan Era.
Traditional Scottish shortbread was also made in individual round-style cookies known as shortbread rounds, and rectangular slabs were cut into thin pieces known as shortbread fingers, or bars.
Shortbread was traditionally made with fresh butter and ground oatmeal, but eventually fine flours were used. Small comfit candies and thin slices of candied orange and lemon peel were added when it was served at Christmas and New Year feasts. A sprinkle of caraway seeds was customary.
Since its ingredients were expensive for all but the rich, shortbread was a considered luxurious treat served mainly at Christmas time, Scottish Hogmanay (New Years Eve), and on special family occasions such as weddings and birthdays.
Shortbread's name came into being because Scottish bakers classed short-cookies as "bread" to avoid paying the baker's tax placed on cookies and fine pastries.
Enjoy making delicious shortbread rounds and bars using the Christmas shortbread rounds recipes.
Homemade shortbread makes a wonderful treat for any occasion year-round, not just for serving at New Years and at Christmas time.