Homemade Dessert Recipes Blog
Discover What's New
The Homemade Dessert Recipes Blog is the quick and easy way to find all the latest recipes and information on this website. Don't miss out on new recipes, updates, and features.
Whenever I add a new page or update an old one, I always release it through RSS feeds. I also post items of interest from time to time.
It's like having my website come directly to you. Whenever old fashioned recipes are added, you will get to see them first. The updates are short, making it easy to decide whether to read the full article.
Get Your FREE RSS Updates
It's easy to subscribe to the Homemade Dessert Recipes Blog. No email address is needed. Just click on the orange RSS button
next to the heading
Recent Articles
on any page, then follow the simple instructions to add Homemade Dessert Recipes to your personal RSS feed.
If you are still unsure how RSS subscriptions work, please read
What Is RSS?
Enjoy Reading What's New
Traditional Apple Strudel Recipes Loved by Grandma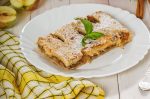 These old fashioned apple strudel recipes will make homemade strudels bursting with the delicious taste of ripened apples. Easy to make and oh, so good.
Continue reading "Traditional Apple Strudel Recipes Loved by Grandma"
Enjoy a

Laugh

to Brighten Your Day!


Listen to Bud Abbott and Lou Costello's "Who's On First?" skit from the World War 2 Special Services Division V-Disk.


(5: 54 min.)