French Dessert Recipes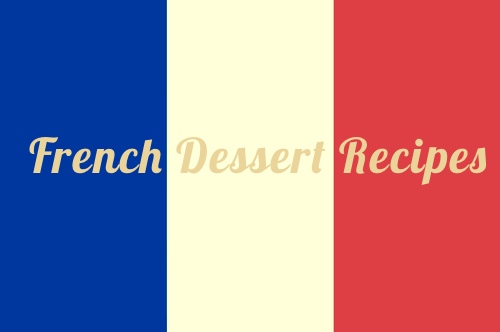 French Dessert Recipes
With the help of this unique collection of traditional French dessert recipes, you'll enjoy making delicious desserts perfect for serving on any occasion. The French people have long enjoyed a reputation for their skill and refinement in the preparation of quality desserts, and these are some of their best.


Great French Dessert Recipes

Traditional French Crepe Recipe
Mom's Recipe Scrapbooks (c. 1920s)


French Crepes Garnished with Strawberries
(Source ©liv-friis-iarsen/123RF)
3 eggs (yolks), 1 cup milk, 1/2 teaspoon salt, 1 teaspoon sugar, 1/2 cup flour. Mix yolks, milk, salt, sugar, and pour one-third of the mixture on 1/2 cup flour and stir to a smooth paste; then add the remainder of the mixture and beat well. To this add 1/2 teaspoon of salad oil. Pour enough of the batter into a hot-buttered frying pan to just cover the pan. When brown, turn and brown the other side.

Spread with butter and jelly or add fresh fruit such as strawberries, roll up and sprinkle with powdered sugar.


Mrs. Beeton's French Crepes

The Book of Household Management (1861)


Mrs. Isabella Beeton, the inventor of this recipe, was the 19th century's Martha Stewart of cooking. It's guaranteed to be delicious!

Ingredients: 2 eggs, 2 oz of butter, 2 oz of sifted sugar, 2 oz of flour, 1/2 pint of new milk.

Mode: Beat the eggs thoroughly, and put them into a basin with the butter, which should be beaten to a cream; stir in the sugar and flour, and when these ingredients are well mixed, add the milk; keep stirring and beating the mixture for a few minutes; put it on buttered pie plates, and bake in a quick oven for 20 minutes.

Serve with a cut lemon and sifted sugar, or pile the pancakes high on a dish, with a layer of preserve or marmalade between each. Sufficient for 3 or 4 persons.


Recette de Croute au Madere / French Toast

La Cuisine Francaise (1893)


Here's a classic French toast recipe made with either Madeira or Rum. Thanks to this traditional French dessert recipe, you get to enjoy an amazing French toast once made for European royalty! This sophisticated dish tastes amazingly good, and it's easily made too.

Ingredients: 1/2 pound bread, 3 tablespoonfuls butter, 2 glassfuls apricot sauce, 1/2 glassful rum or 1 glassful Madeira.

Preparation: Slice the bread, fry it in butter, arrange the slices in a crown on a dish and when ready to serve pour over a sauce made as follows: Mix 2 glassfuls apricot sauce with 1 glassful madeira or 1/2 glassful rum. Proportions for five persons.


About the French Dessert Recipes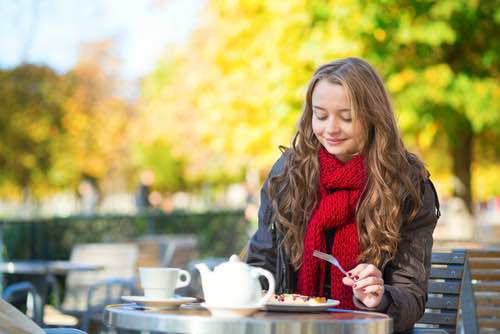 Enjoying Crepes in a Parisain Outdoor Cafe
(Source: ©encrier/Depositphotos.com)
"The Creator by obliging men to eat to sustain life," said Brillat Savarin, "invites him by the appetite and rewards him by the pleasure."

And the reward of pleasure you will receive from eating or serving one of these delicious dishes will be huge.

Whether it's a traditional pudding, a classic French cake, or a rich French crepe, you'll impress your family and friends when you make these amazing desserts from France's wonderful past. Ces desserts sont tres delicieux!

Let's begin with some authentic French crepe recipes (above). These French dessert recipes are quite easy to make, and the delicate crepes have the delicious Old World taste you love. Whenever I think of France, I think of crepes.

Eat them anytime for a dessert or as a fun, comfort food on their own. Crepes are perfect for your brunch or an evening meal. Believe me, they'll make your day seem extra special. It's the perfect comfort food.


Enjoy a

Laugh

to Brighten Your Day!


Listen to Bud Abbott and Lou Costello's "Who's On First?" skit from the World War 2 Special Services Division V-Disk.


(5: 54 min.)


As an Amazon Associate I earn from qualifying purchases.