Christmas Dessert Recipes
Grandma's old fashioned Christmas dessert recipes will let your family experience a traditional Christmas filled to the brim with delicious treats.
Surprise your loved ones this Holiday Season with homemade Christmas cakes, cookies, puddings, pies, and melt-in-your mouth candies — all made right in your own kitchen using these marvelous recipes.

Old Fashioned Christmas Dessert Recipes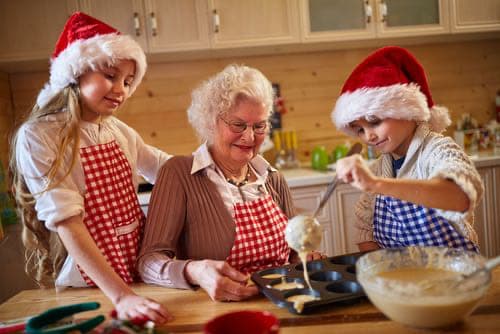 Children Enjoying Christmas Baking with Grandma
(Source: ©luckybusiness/Depositphotos.com)
I recall Christmas and New Years being a reunion of friends and family. Our living room, dining room, and farm kitchen were filled with people talking, playing board games, and enjoying Mom's homemade treats.
Our dining room sideboard was loaded with Mom's Christmas baking: delicious pies, yummy tarts, crumbly squares, and colorful sugar cookies — all manners of tasty cakes and dessert treats. For us kids, and the grownups, it was impossible to resist.
We stuffed ourselves! Now, you can use the same recipes to make the same delicious treats. Your next party will be truly memorable!
Christmas is always a wonderful time for gathering with family and friends to celebrate the Holidays.
And what better way to celebrate than with traditional treats made from the same old fashioned Christmas dessert recipes that Grandma used.

International Christmas Recipes

Christmas Decorating Ideas

Remembering Mom's Christmas Baking
Mom used Grandma's old fashioned Christmas dessert recipes to prepare delicious baked goods for the Holiday Season. Afterwards, she carefully stored her Christmas baking in the kitchen pantry. I so loved the sweet aroma of that little room.
There were tins bursting with sugar cookies, holiday squares, fancy cupcakes, mincemeat pies, and plum puddings all carefully placed on high shelves beyond my reach — until I sneaked in with a kitchen stool to sneak a few Christmas squares.
Secure on the top shelf and wrapped in several layers of brown paper was her Christmas fruitcake faithfully made from Grandma's recipe. She was so proud of her Christmas cake. It was bursting with fruit, perfectly moist, and absolutely delicious.
Throughout the Christmas holidays, whenever visitors had dropped by, they were treated to trays of homemade goodies, and they could never leave without first sampling a piece of Mom's Christmas cake. I have many happy memories associated with Mom's Christmas baking.
Now, you can use Grandma's old fashioned Christmas dessert recipes to make your own pies, cakes, cookies, and candies — all the trimmings of a traditional family Christmas. You'll get to create your own happy memories.

These goodies make edible Christmas gifts too. Imagine giving that special someone a tin of traditional shortbread, or an assortment of fancy sugar cookies, or a box of homemade Christmas candy. They will love it and love you for it.

Share the Christmas Blessing

Young Children Singing Christmas Carols, c. 1890
(Source: Library of Congress Prints and Photographs Division Washington, D.C., LC-USZ62-112653)
By remembering our kinship with all men;
By well-wishing, friendly speaking, and kindly doing;
By cheering the downcast, and adding sunshine to daylight;
By welcoming strangers (poor shepherds or wise men);
By keeping the music of the Angels' Song in this home;
God help us every one to share the Blessing of Jesus,
In whose Name we keep Christmas. —Henry Van Dyke
Bless your family and friends with an old fashioned Christmas this year, and as Tiny Tim said, "God bless us every one!"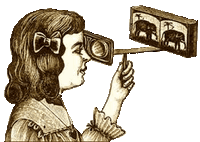 How to View Vintage 3D Photos: The double image is an old time stereoscopic photograph. It can be viewed by leaning close and staring through the images while slightly crossing the eyes until the two images converge to form one 3D picture in the center. Some people find this method easier to do than others, but it is always fun to try.


Canadian Christmastide in the Early 1800s
An Early Canadian Christmas Story relates an Anglo-Canadian's fond memories of a Canadian Christmas in the early 1800s.
Christmas Stories and Articles are featured on Dr. Ralph Wilson's Joyful Heart Ministries website. (This link opens onto a new page while leaving this page available for your convenience.)

Christmas Morning Excitement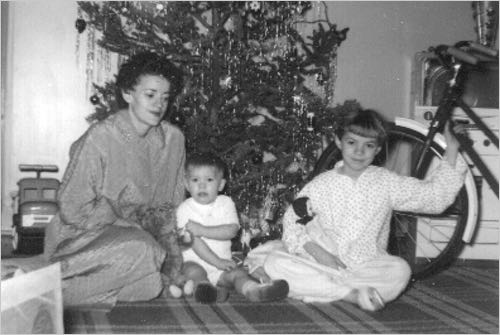 The Excitement of a 1960 Christmas Morning
(Source: ©Don Bell)
Do you remember how exciting Christmas mornings were when you were young? Getting that special present you dreamed about is something you never forget.
My wife Vicki was just a little girl when the above photo was taken, and she wasn't letting go of her new bike for anything.
Did you ever hunt for your presents before Christmas? I often hunted for them without success. But, I did find a present by chance one Christmas.
My Uncle Max arrived on Christmas Eve to spend the holidays with us. He hid my present behind the chesterfield in the living room, planning to wrap it early on Christmas morning before I woke up. However, things didn't go as planned.
I was playing with my Dinky Toys on Christmas Eve while the grownups talked, and one of my toy cars rolled behind the chesterfield. While retrieving it, I found my present.
It was a band-new baseball bat, and I tripped over it, landing on my behind. I can still hear Uncle Max laughing and slapping his knees.
Just thinking about the old fashioned Christmas dessert recipes always brings back fond memories.

An Old Gaelic Rune
I saw a stranger yestreen;
I put the food in the eating place,
Drink in the drinking place,
Music in the listening place;
And, in the sacred name of the Triune,
He blessed myself and my house,
My cattle and my dear ones,
And the lark said in her song:
Often, often, often, Goes the Christ in the stranger's guise;
Often, often, often, Goes the Christ in the stranger's guise. —Anon