Christmas Party Appetizer Recipes
Christmas Party Appetizer Recipes
Grandma's old fashioned Christmas party appetizer recipes are just what you've been wanting. Use them to make unique holiday appetizers with an attractive festive appearance and a wholesome homemade taste.
Perfect for serving to your party guests at Christmas, New Years, and throughout the Holiday Season. Great for serving at dinners, parties, and evening lunches too.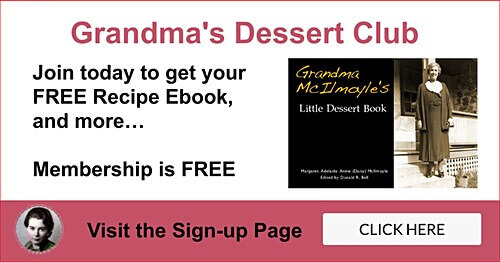 Christmas Party Appetizer Recipes
Mom's Recipe Scrapbooks (1920s)

Make a Fruit Covered Christmas Tree Appetizer
(Source: ©rainbow33/123RF)
Edible Christmas Tree

The colorful fruit-covered Christmas tree pictured above is easily made by pinning the selected fruit to a Styrofoam cone using common wooden toothpicks.
Guests love to pick their choice of fruit from the edible Christmas table decoration, making it a perfect appetizer.

Cranberry Fanchonettes / Tarts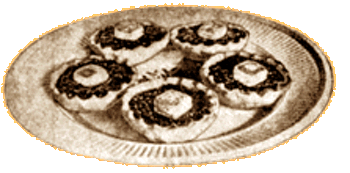 Homemade Cranberry Fanchonettes
Nothing could be more Seasonal than this old fashioned Christmas party appetizer recipe for making tempting tarts with a delicious cranberry filling. Here's how you make it:
Invert patty pans and cover outside with plain pastry; prick the pastry on top and sides with a fork, set the small tins on a baking sheet and bake in a quick oven (400°F). Then remove pastry from tins and fill with Cranberry Filling:
Mix 1/4 cup cornstarch with 2 cups sugar; pour over 1 cup of boiling water, and stir until boiling, then add 1/2 cup molasses, 1/2 teaspoon salt, 1 tablespoon butter, and 1 quart cranberries, chopped fine; cook on stove for 15 minutes.

Roll plain pastry in a rectangular sheet 1/2 inch thick; spread with creamed butter; roll as jelly roll; stand on end, pound gently, and roll into a thick sheet; cut in one-inch squares; bake in a quick oven (400°F) and use as decorations for the prepared fanchonettes.

Colorful First Course Appetizer
For an attractive Fruit Cocktail serve pear and melon balls, some tinted green (with a few drops of vegetable coloring), in pineapple juice, topped with a red cherry.
And a bright spot of seasonal color is achieved by using red caviar (salmon roe) on the little puff biscuits designed for this purpose.

Colorful, Frozen Nippy Cheese
What's Christmas without a nippy cheese dish? Excellent for serving between courses. It almost tastes like a cream cheese ice cream. Plus, this Christmas party appetizer recipe is easy to make.
One nippy cheese, 1/2 cup cream, 8 olives chopped, 1/2 pimento cut in strips. Work the cream into the cheese with a fork. When smooth, add the olives and pimento. Place in suitable serving dish and freeze one hour.

Green Olive and Beet Appetizer
This Christmas party appetizer recipe makes a colorful dish that bears the traditional Christmas colors of red and green.
With a small round or scalloped cookie cutter, shape slices of cooked beet and allow to stand in French dressing or vinegar for 1 hour.
Remove pimento from large stuffed green olives and cut a piece from the bottom of the olives so that they will stand erect. Place the olives in French dressing also and allow to stand 1 hour.
When ready to serve, arrange a bed of crisp watercress on individual plates. In the center place a slice of beet and on the beet set an olive.
Fill the olives with mayonnaise and stick a tiny piece of watercress in each to decorate.

Stuffed Rosette Potatoes
3 cups lightly mashed potatoes, 1 cup turkey meat leftovers (or 1 small can deviled ham), 1 hard-boiled egg, 1 teaspoon flour, 1/2 cup milk.
Mash potatoes with a little hot milk and butter, seasoning to taste, and making them rather softer than usual. Let cool, then put through the pastry tube, one row upon another, until a nest is formed about three inches high. Stand in icebox (refrigerator) to firm.
Make a cream sauce of flour and milk and stir in the turkey and egg chopped fine. Fill potato molds with the mixture, set in oven on a baking sheet and bake until tinged with brown. Garnish with red cranberry sauce for Christmas time.

Sweet Christmas Party Sandwiches

This Christmas party appetizer recipe is always in vogue. Fancy sandwiches are sure to make the foundation of most successful parties.

The general rules for sandwich making are well known:
To have the bread not too fresh to cut in thin slices, to cream the butter with a spoon before spreading so that it will spread easily, and if the sandwiches have to be made sometimes before they are to be used, to wring a clean towel out of cold water, wrap it around the plate of sandwiches and set in a cool place.
Among the sweeter sandwich fillings we have:

Prune and nut finely chopped and mixed with honey to taste.

Whipped cream (slightly sweetened) with finely chopped candied fruit, or toasted nutmeats.

Marmalade and jelly with or without crushed walnuts.

Sweet chocolate melted and spread between bread; chopped nuts or minced, preserved ginger may be added.

Equal parts of crushed maple sugar and finely chopped nuts moistened with heavy cream on well buttered bread.

Chopped dates mixed with cream cheese.

Raisins and nuts chopped finely and moistened with grape juice or jelly.

And of course, there's the always popular triangles of cinnamon toast. Mix 1 tablespoon of cinnamon with 1/2 cup sugar, preferably fruit sugar, and sprinkle on hot buttered toast.
The only explanation to make about the sandwiches with the nut garnish is that any sandwich in which the filling is suitable to use with nuts, may be cut in triangular shape and garnished with half a walnut stuck on with a little bit of butter.
These fancy, easy-to-make sandwiches will make colorful appetizers for any holiday occasion.

Hot Nuts or Laughing Nuts

This old fashioned Christmas party appetizer recipe makes HOT little snacks that will prove to be a big hit with your guests. Be warned, they are HOT.

1 pound of gingerbread dough, 3 ounces of butter, 3 ounces of sugar, 1 ounce of hot cayenne pepper. Mix all together, roll out in a sheet, one-eighth of an inch thick.
Cut them out the size of a British penny. —The Bread and Biscuit Baker's and Sugar Boiler's Assistant, 1890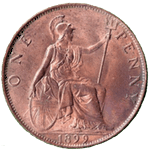 The British Large Penny has a diameter of 1.2 inches (30.8 mm), about the size of an American half dollar and a bit larger than the Canadian Loonie dollar coin.

Christmas Snow Balls With Fruit

1/2 cup butter, 1 cup sugar, 1/2 cup milk, 2-1/2 cups flour, 2-1/2 teaspoons baking powder, 4 egg whites.
Cream the butter and sugar, add milk, then flour and baking powder sifted together. Add stiffly beaten egg whites. Steam for 35 minutes in buttered cups and serve with preserved fruit, or fruit sauce.

Raisin Pinwheels
Two cups flour, 1/2 teaspoon salt, 1 cup milk, 2 teaspoons baking powder, 1 cup raisins, 2 tablespoons lard or butter, 1 cup brown sugar.
To make this Christmas appetizer recipe, sift together the flour, salt, and baking powder. Rub in the shortening with the tips of the fingers, then mix to a little stiffer than biscuit dough with the milk.
Roll out into a sheet, spread with the sugar and chopped raisins; then roll up like a tight jelly roll. With a sharp knife cut into thin slices about 3/4 inch thick.
Lay on a greased baking pan and bake quickly at 375°F. These are best when served hot.

Frozen Christmas Sherbet

Cook together 1 cup of granulated sugar and 1-1/2 cups of water for ten minutes, counting from the time it begins to boil.
Soak meantime 1 tablespoon of gelatin in 1/2 cup cold water, then stir into the syrup.
Partially cool and add 2 cups of juice strained from a can of loganberries, 1 tablespoon of lemon juice and 1 cup of orange juice.
Chill and freeze. It will be a beautiful crimson color. Perfect for serving on its own, or between courses.

Christmas Mousse
1 cup whipping cream, 4 tablespoons icing sugar, 1 teaspoon vanilla, 3/4 cup candied fruit, 1/2 cup nutmeats.
Beat the cream until stiff, add the sugar and vanilla and fold in cut fruit and chopped nuts. Pour into refrigerator tray and freeze.

Frozen Cranberry Whip
For this Christmas party appetizer recipe, cook 1-1/2 cups cranberries in the same amount of water, and when soft, strain them.
Add 3/4 cup sugar to the strained juice, and boil hard for 2 minutes, then cool. Add 1 tablespoon lemon juice, and place on refrigerator tray in freezer.
When frozen to a mush, fold in 1 cup whipped cream and continue freezing before serving.

About the Christmas Party Appetizer Recipes

This year, why not take a chance and serve something unique? These old fashioned appetizers are delicious and tempting to the taste, yet they are wonderfully wholesome too. Your guests will love eating them.
Mom often used these Christmas party appetizer recipes for family gatherings, and she always received compliments for the food. Let your guests experience an old fashioned Christmas with festive food and fun.
As the old rhyme says:
Christmas comes but once a year,
And when it comes, it brings good cheer!