Old Fashioned Cake Recipes to Bake Dessert Cakes Like Grandma's

Thanks to Grandma's old fashioned cake recipes, you can make the most delicious dessert cakes you can imagine. Cakes that are chock full of moist flavor and wholesome goodness!
If you've grown tired of eating the common store-bought variety, you are in for a real treat. You can easily make these cakes yourself from scratch thanks to these proven recipes and baking tips.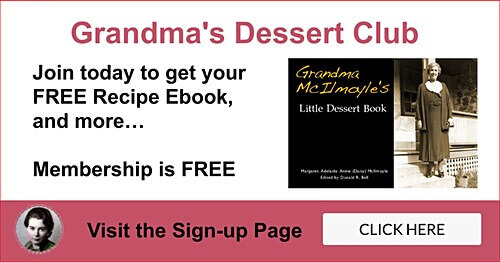 Old Fashioned Cake Recipes From Scratch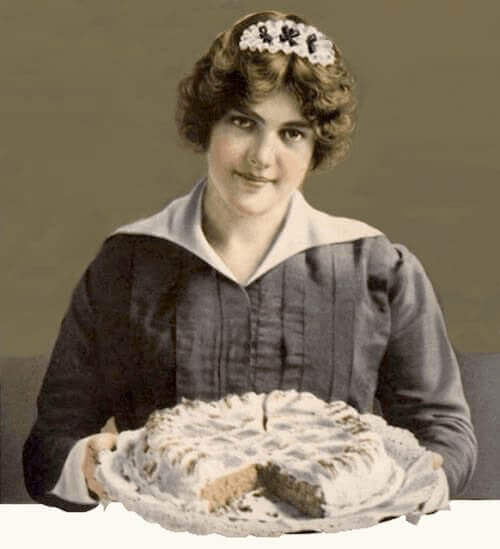 You Can Make Amazing Homemade Cakes From Scratch
(Source: Adapted from a c.1900 Illustration)
How to Make Cakes From Scratch

Also check out the International and Holidays categories in the TOP MENU for similar old fashioned recipes.

Bake Delicious Dessert Cakes Like Grandma's

These dessert cakes are just what you've always dreamed of making and more — full of old fashioned, melt-in-your-mouth goodness.
No cake mixes. No processed, cardboard taste. These cakes are the real deal — the same cakes my Grandma made! You must try them and see for yourself how good they really are!
Mom would often choose one of Grandma's old fashioned cake recipes and make a delicious cake for our supper-time treat. As a young boy, I stood beside our old kitchen stove as she carefully opened the oven door and inserted a wire cake tester into the cake to see whether it had finished baking.
Mouthwatering aroma flooded the large farm kitchen making it almost impossible to wait until mealtime. Her cakes were amazing. They were simply busting with homemade flavor.
Imagine. You can bake a cake like Grandma's that will delight your loved ones. They are easy cakes to make from scratch. The fact is most will take only a few minutes longer to make than those made from a mix, yet the results taste so much better. Absolutely delicious!
Choose one of the vintage flavors and enjoy the unbeatable aroma of a freshly baked dessert cake. And be sure to check out the cake icing recipes found on this page too. Kids of all ages love the rich mouthwatering icing!

Just found your website today — a big breath of Internet fresh air. Homemade is so much better than mixes! —Mary, USA

A Brief History of Cakes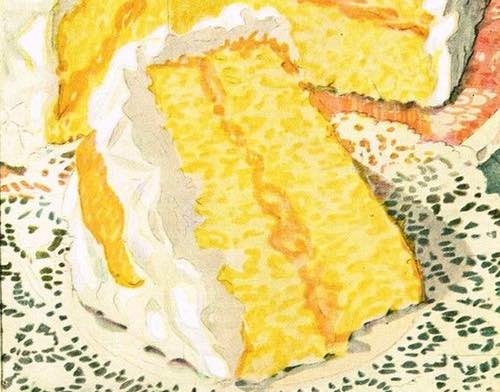 Tempting Slice of Orange Cream Cake c.1920s
(Source: Adapted by Don Bell)
Cakes have been around for centuries, but the simple cakes that were baked in the Early Ages didn't resemble the fancy varieties we enjoy today. In fact, they were more like breads. The words "bread" and "cake" were often used interchangeably in Medieval England, but confectionery cakes were thought of as flour-based sweet foods or sweetmeats, similar to what we now call fruit breads.
In essence, these flour-based sweetmeats were simply breads sweetened with sugar or honey and filled with combinations of preserved fruit, nuts, seeds, and spices. They were sometimes decorated with comfit candies or simply glazed over with sugar and white of egg.
It wasn't until around the 1650s that cakes similar to today's first appeared. Round cake molds and pans for baking cakes became quite popular, as did thick layers of sugar icing for decoration. Two centuries later, by the 1850s, Victorian cooks were using baking powder and finely refined flours.
Victorian cakes are unbeatable for their rich, light-as-a-feather texture and delicious good taste. These old fashioned cake recipes have stood the test of time because they are not only delicious but also easy to make and versatile in their ingredients.
What sets Victorian-era cakes apart from modern-day ones is their simplicity yet sophistication in flavor profiles. They relied on natural ingredients like whipped sugar frosting made from scratch as opposed to artificial flavors found in today's store-bought desserts.
One thing that has remained constant throughout history is that people love sweets no matter what form it comes in — whether it's a loaf cake or an elaborate layer cake decorated with intricate designs made out of fondant sugar paste.
As cookery advanced so did our ability to create different types of cakes including sponge cake which uses whipped eggs instead of yeast as its leavening agent making it lighter than traditional cakes.
In the late 19th century, cake became a symbol of wealth and social status. The more elaborate the cake, the higher one's social standing. Cakes were often displayed at important events like weddings and birthdays to showcase one's wealth and culinary skills.
Moving into the 20th century, dessert cakes became even more popular with the invention of affordable electric ovens, allowing easier baking at home. With new ingredients like chocolate chips and food coloring coming onto the market, bakers could experiment with creating even more decadent desserts.
Despite all these advancements in technology and ingredients over time, there is still something special about old fashioned cake recipes that have been passed down from generation to generation. These recipes offer a glimpse into a simpler time when people relied on natural ingredients to create delicious desserts that brought families together.
As we continue our journey through this site of old fashioned desserts, we'll explore different eras in history and discover how cakes evolved over time while still maintaining their timeless charm. So let's dive deeper into the world of cakes — where each bite tells a story of our past and present love affair with sweets.