Thanksgiving Dessert Recipes

You'll love Grandma's old fashioned Thanksgiving dessert recipes. Make perfect pies, cakes, and delectable desserts that you'll take pride in serving to your Thanksgiving guests and to family and friends throughout the year.


Old Fashioned Thanksgiving Dessert Recipes

The desserts featured below are traditionally identified with the fall harvest. Some dishes are truly unique, and you might not have seen them before, yet all are farmhouse-style delicious and certain to earn you compliments.


History of Thanksgiving Day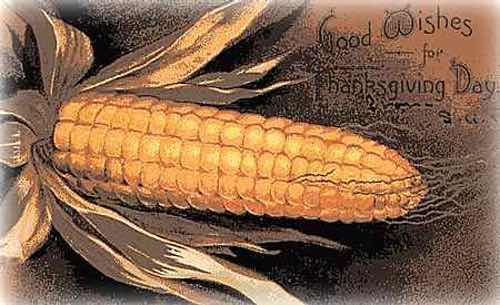 Good Wishes for Thanksgiving Day
(PD Source: Adapted by Don Bell)
The holiday of Thanksgiving is related to the harvest festivals long held in European countries. The first true Thanksgiving in North America is credited to the English Explorer Sir Martin Frobisher. He established a settlement in what is now the Canadian Province of Newfoundland and Labrador where he held a service to give thanks to God in 1578.
Beginning in the 1500s, French Canadian settlers with explorer Samuel de Champlain routinely held large feasts to thank God for His provisions. Such feasts became common in the autumn among the early settlers, and in 1876 Thanksgiving Day was proclaimed by Canada's Parliament as a national holiday:
"A Day of General Thanksgiving to Almighty God for the bountiful harvest with which Canada has been blessed... to be observed on the 2nd Monday in October."
Our Americans neighbors look to a Pilgrim feast at Plymouth Plantation, Massachusetts in 1621 as their first Thanksgiving. From that time on, Thanksgivings were intermittently held at various locations and dates until 1863, when President Abraham Lincoln proclaimed November 26th a day of Thanksgiving to celebrate a year "filled with the blessings of fruitful fields and healthful skies."
The following year, Lincoln again declared the last Thursday in November a day of Thanksgiving when General Sherman captured Atlanta in 1864. Following Lincoln's death, Thanksgiving Day became an annual tradition in the U.S., and in 1941 Congress declared it a national holiday.
The American Thanksgiving tends to be more commercialized than Canada's, with a four-day weekend, large sponsored parades, and the televising of professional football games. It is generally considered a day set aside to count one's blessings.
For both countries, it's an important family gathering centered around a large meal of roast turkey and stuffing, harvest vegetables, fruit and nuts. Each family has favorite old fashioned Thanksgiving dessert recipes to make the traditional pumpkin pies, cakes, and other treats that celebrate the autumn holiday.


Enjoy a Short Thanksgiving Story

This short entertaining tale by Mary E. Wilkins is centered around a 19th century rural New England family's fond remembrances of a Thanksgiving Dinner that didn't turn out quite as expected.


Enjoy this Thanksgiving Story
How to Enjoy Your Thanksgiving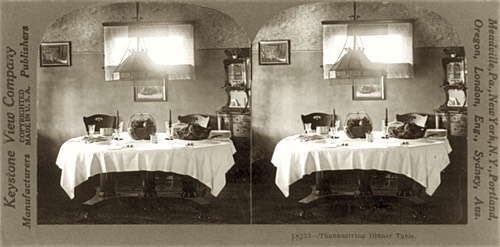 Vintage Thanksgiving Dinner Setting, c. 1923
(Source: Library of Congress Prints and Photographs Division Washington, D.C., LC-USZ62-41852)
There's often not just one celebration day for Thanksgiving, but an entire weekend of family gatherings to plan for. Before you start worrying about old fashioned Thanksgiving dessert recipes to select and prepare, pause for a moment and give a thought to yourself and to the meaning of the occasion.
Remember, quality family times shouldn't rely on lavishness and expense, but by the old fashioned warmth of heart and graciousness which you welcome your guests and give them of yourself. Grandma always encouraged her children to take time out to enjoy Thanksgiving Day and be thankful for family. So, allow yourself time for some fun and fellowship.
Try to cut your food preparation times as short as possible. Attempt no more in the way of holiday dessert preparation than your home, your pocketbook, and your stamina permit, but do that well and with all the charm and ceremony that this joyous time deserves, and it will be a perfect occasion to remember.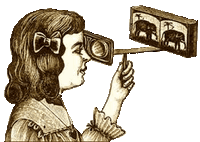 How to View 3D Photos: The double image is an old fashioned stereoscopic photograph. It can be viewed by leaning close and staring through the images while slightly crossing the eyes until the two images converge to form one 3D picture in the center. Some people find this method easier to do than others, but it is fun to try.