Grandma's Old Fashioned Dessert Recipes That You'll Love to Make

Browse Grandma's old fashioned dessert recipes and enjoy the friendly nostalgia. If you're searching for a food blog that's refreshingly different you've arrived at the right place!
Enjoy a delightful trip down memory lane to rediscover the desserts you remember so fondly from childhood. These delicious homemade desserts are the true comfort foods!
Enjoy Old Fashioned Desserts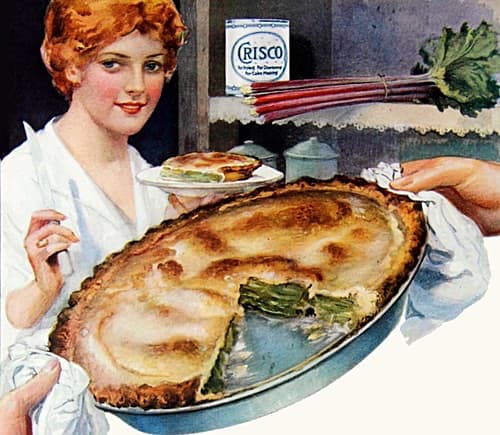 You Can Make the Best Old Fashioned Desserts!
(Crisco® by Smucker's)
There's a reason why this recipe site has proven itself popular over the years. These delicious comfort foods will satisfy your sweet tooth and bring to mind fond memories of wonderful times spent with family and friends.
These homemade dessert recipes call for easily available ingredients such as chocolate chips, maple syrup, dark chocolate, cream cheese, real whipped cream, dairy butter, brown sugar, and maraschino cherries. Shut your eyes, and you can imagine how good they taste.

It's a mystery why the rich history of desserts is often neglected by today's food blogs and TV chefs. There's simply so much to be discovered by trying the proven desserts handed down from earlier generations.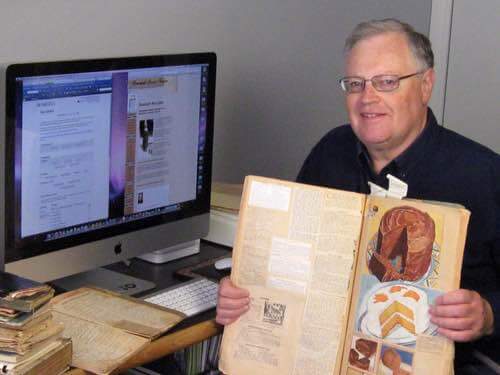 Welcome to My Collection of Homemade Dessert Recipes
(Source: ©Don Bell)
I grew up in the 1950s and enjoyed family gatherings with all sorts of homemade desserts. There were seasonal fruit pies with fluffy meringue toppings, crumbly cookie bars, apple crisps baked to perfection, melt-in-your-mouth icebox cookies, rich chocolate cake, and cupcakes topped with colorful swirls of buttercream.
Everything was lovingly prepared by Mom and her sisters. Can you imagine the sight of the dessert table? It was a dessert lover's dream!
I still have Mom's old recipe box, her handmade recipe scrapbooks, and her collection of vintage cookbooks, and I can hardly wait to share their contents with you. You will tempt the taste buds with delicious desserts you'll never forget.
This website is dedicated to Mom and to dessert lovers like yourself who can appreciate old fashioned dessert recipes that deliver wholesome country-kitchen flavors that always delight.

Enjoy your visit and get ready relish every spoonful!
Sincerely,

Celebrating Grandma's Old Fashioned Dessert Recipes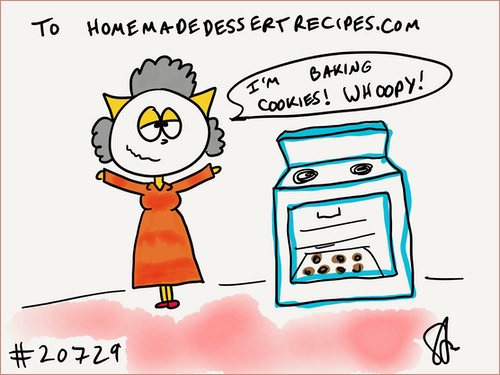 An Original "I Want to Draw a Cat for You" Drawing by Steve Gadlin, as Seen on ABC's Shark Tank Series
Many recipes featured on this site were invented by the famous celebrity chefs of Grandma's day, while others evolved from humble farmhouse kitchens. You are sure to find a delicious dessert that's easy to make for that special occasion.
Don't fall into the trap of ignoring vintage recipes simply because they were written in paragraph form without step-by-step photos. Recipes from Grandma's day tend to be easy to follow, so you'll can expect good results.
And since these old fashioned dessert recipes were written for home kitchens without the electric mixer and modern appliances we enjoy today, you'll be able to make the mouth watering dishes in half the time that Grandma did!
Take advantage of these old fashioned dessert recipes and get ready to enjoy amazing desserts that somehow fell through the cracks of time. These forgotten dishes will draw rave reviews from appreciative dessert lovers of all ages.
What Members Are Saying
Thank you so much for these wonderful recipes. They always bring back such cherished memories. —Sharon, USA

You Will Love Grandma's Most Loved Dessert Recipes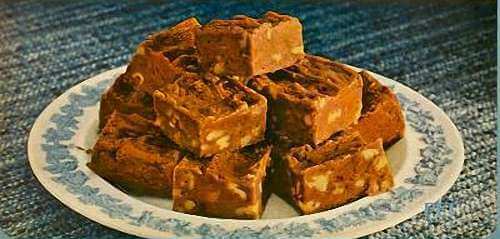 Freshly Made Chocolate Nut Fudge
(Source: ©Don Bell)
Everybody loves Grandma's chocolate fudge recipes, and by using her reliable old-time sugar testing methods, no candy thermometers are needed.
Also make your own dessert sauces and ice cream toppings including a luscious caramel sauce, and an irresistible marshmallow cream. And just imagine being able to make the following classic desserts:
Old Fashioned Cake Recipes including favorites such as Pound Cake, Coffee Cake, Lemon Chiffon Cake, and German Chocolate Cake.

Old Fashioned Pie Recipes including favorites such as traditional Apple Pie, Creamy Custard Pie, Banana Cream Pie, and Chocolate Pie.

Old Fashioned Cookie Recipes including favorites such as Sugar Cookies, Hermit Cookies, Vanilla Wafers, and Oatmeal Cookies.

Old Fashioned Pudding Recipes including favorites such as Old Time Bread Pudding, Creamy Banana Pudding, Old Time Rice Pudding, and Sticky Toffee Pudding.

And that's only a small sample of over 1,000 delicious homemade recipes found on this site!

Imagine the joy of serving wholesome desserts so unlike the typical fare found on other recipe sites. Your friends will be begging to know how you made something so unique and so delicious.
Not only will you bake pies, and puddings to die for, you will learn how to make all manner of desserts as Grandma did by using her handed-down tips and baking techniques.
Easily make a simple cake with basic batter, decorate cupcakes like a pro, and bake amazing to-die-for cheesecakes. Discover how simple it is to make perfect cookie dough, homemade pie filling, and a creamy vanilla custard.
Add Grandma's old fashioned dessert recipes to your recipe box and share this unique recipe site with friends and family. They'll all agree that Grandma's homemade dessert ideas really are the best.
What Members Are Saying

I love this website. So nostalgic and cosy! —Judy, USA

Choose Your Favorite Old Recipes

As I search through Grandma's old recipe box with its recipe cards, I'll publish her favorite dessert recipes. You'll get to read them word-for-word EXACTLY as they were written, so you can have the fun of reading and preparing them as she did.
Use the top navigation Menu to browse this site for great ideas and whenever you spot an old fashioned dessert recipe you like, either print the page or bookmark it in your browser to keep it handy.
Be sure to browse the Holiday and International sections too. You'll discover a world of tempting cakes, cookies, and all manners of baked goods. Some will be familiar, others might seem unusual, but all will taste wonderfully delicious.
What Members Are Saying

Thanks for providing the world with a nice dessert website that looks as nice as the desserts themselves! —Rick, U.S.A.

Delicious Vintage Dessert Recipes

Homemade Cake with Fresh Berries and Whipped Cream
(Source: ©Don Bell)
Doesn't the homemade cake look delicious with its fresh fruit topping? You can make vintage cakes like this! There's nothing like a large slice of warm cake to enjoy on chilly evenings.
You will also want to make the chocolate pudding, the lemon icebox cake, the delicious cookie recipes, and pies with flaky, buttery crusts that crumble just as you bite into them. It's all on this site!
There's even instructions for making your own refreshing soft drinks with simple syrup, flavored fountain syrups, and homemade root beer extract.
Get Grandma's Dessert Recipes
Try Grandma's Easy Baking Tips
Experiment With Timeless Household Tips
Make Authentic Renaissance Desserts

Discover Forgotten Victorian Crafts

Remember the Good Old Days

Pour yourself a cup of your favorite beverage, get comfy in your chair, and browse this unique collection of Grandma's old fashioned dessert recipes. Please don't hurry! Take some time to read and enjoy the heartwarming nostalgia too.
What Members Are Saying

I absolutely adore your recipe site. I had to say thank you for sharing your Grandma's wonderful recipes and I can't wait to try them.
I love how everything is set up. It's so easy to move around in, not like other sites that are cluttered and unorganized.
I also enjoy the articles about the recipes and their history. Just had to let you know I will be returning here again and again! —Maggie, U.S.A.
Let's Keep in Touch


BOOKMARK THIS PAGE in your browser. I am always adding new dessert recipes, and items of interest and nostalgia, so visit often.

GET A FREE MEMBERSHIP in Old Fashioned Desserts. Instantly download your FREE Recipe Ebook and receive regular news of new recipes and updated pages delivered FREE to your inbox.

Grandma McIlmoyle's Little Dessert Book

GET A FREE RSS SUBSCRIPTION to Old Fashioned Dessert Recipes Blog. Read about new recipe pages in your favorite RSS feed reader the instant they go live.


SHARE THIS WEBSITE with friends and family. Add it to your Facebook page, Tweet it, and Pin it by using the handy social buttons below. Thank you!