Old Fashioned Cheesecake Recipes

These old fashioned cheesecake recipes are perfect for lovers of rich-tasting cheesecakes. Traditional cheesecakes are best made in a leak-proof spring-form pan, but you can adapt them to a deep-dish pie pan or cake pan if needed.
Homemade cheesecakes are very easy to make, but they may continue to bake for a short while after they've been taken from the oven, because of their density, so allow time for sufficient cooling before cutting and serving.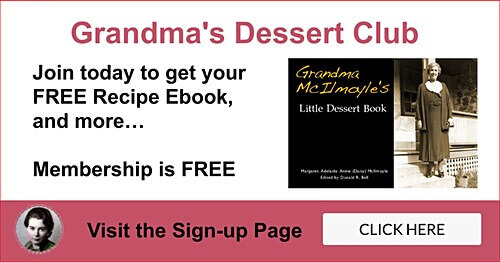 Get Old Fashioned Cheesecake Recipes
Old Fashioned Cheesecake With Cherry Topping
(Source: ©stevemc/Depositphotos.com)
Enjoy Grandma's Old Fashioned Cheesecake Recipes

Mom's Recipe Scrapbooks (c. 1920s)

Enjoy Basic Cheesecake With a Graham Crumb Crust
(Source: ©MSPhotographic/Depositphotos.com)
Basic Cheesecake With Graham Crumb Crust

As a basic cheesecake recipe, this one's easy to make.

No Bake Graham Crust:
3 tablespoons butter, melted
3/4 cup Graham crumbs
1 tablespoon sugar
To make this old fashioned cheesecake recipe, combine all ingredients as listed above. Press into bottom of greased 9-inch spring-form pan. Chill for 10 minutes.
Cream Cheese Filling:
1 pound cream cheese, softened
3 eggs
2/3 cup sugar
2 tablespoons lemon juice
1/2 cup sour cream
Preheat oven to 350°F. Beat cheese until light and fluffy. Add eggs, sugar, and lemon juice. Beat until smooth. Stir in sour cream.
Pour batter on top of chilled crust. Bake 30 to 35 minutes at 350°F or until cheesecake is puffed and trembles slightly when shaken.
Sweet Topping:
1 cup sour cream
3 tablespoons sugar
2 tablespoons lemon juice
For the topping, combine all ingredients as listed above. Spread carefully over cheesecake. Return to oven for 5 minutes. Remove and cool to room temperature.
Refrigerate overnight and top with either fresh fruit or a favorite pie filling before serving. Cherry, blueberry, peach, strawberry, or almost any pie filling complements this basic cheesecake.

Maple Syrup Cheesecake
Pecans Make a Delicious Crunchy Cheesecake Topping
(Source: ©MSPhotographic/Depositphotos.com)
Ingredients:
2 8-ounce packages cream cheese
1 4-ounce package vanilla pudding mix
2/3 cup dry milk powder
1 cup maple syrup
1 cup whipped cream topping
1 6-ounce graham cracker pie crust
1 teaspoon coconut extract
2 tablespoon flaked coconut
2 tablespoon chopped pecans
Directions:
Bring cream cheese and whipped cream to room temperature. In a large bowl, add pudding mix, milk powder, and maple syrup. Mix well. Add and gently blend in 1/4 cup whipped cream. Spread evenly in pie crust and refrigerate.
In a small bowl, combine remaining 3/4 cup whipped cream and coconut extract. Mix well and spread on top of cream cheese filling.
Sprinkle top with coconut flakes and chopped pecans. Refrigerate overnight, or at least 3 hours until firm.

Mini Mocha Chocolate Chip Cheesecakes
Delicious Mini Mocha Cheesecakes
Source: ©180442011/Depositphoto.com)
Ingredients:
1 cup chocolate sandwich cookie crumbs
2 tablespoons melted butter
1 cup semisweet chocolate chips, divided
2 8-ounce packages of cream cheese, softened
1/2 cup granulated sugar
2 teaspoons vanilla extract
2 eggs
2 tablespoons all-purpose flour
1 cup evaporated milk
Instructions:
Crush about 10 chocolate cookies with icing filling to make 1 cup cookie crumbs. Combine cookie crumbs and butter in medium bowl; continue stirring until moistened.
Press 2 teaspoons of cookie mixture into each of 18 greased, paper-lined muffin cups. Sprinkle tops evenly with 1/2 cup chocolate chips.
Beat cream cheese, sugar, and vanilla in large mixer bowl until smooth. Beat in eggs and floor. Gradually beat in evaporated milk. Pour into individual muffin cups, filling 3/4 full.
Bake in preheated 300°F oven for 25 minutes or until set. Remove from oven and allow to cool on wire racks for 10 minutes; sprinkle remaining chocolate chips over tops of mini cheesecakes; chill in refrigerator for 2 hours or until firm.
Alternative Topping:

Remaining chocolate chips can be melted by setting cup in hot water for several minutes while gently stirring with a small spoon, and then drizzle melted chocolate over tops of mini cheesecakes to decorate. Makes 18 individual cheesecakes. —South Carolina Department of Agriculture

Grandma's Tips for Perfectly Baked Cheesecakes
Before mixing, let your cream cheese, eggs, and other ingredients sit on the counter for about 30 minutes to make sure they are at room temperature, so they will blend smoothly.
Be careful not to over beat your cheesecake filling. Over beating will incorporate too much air in the batter and that will affect its texture when baked.
Use a spring-form pan that has its bottom and the sides lined with aluminum foil to avoid leaks in the oven, and always place it on a baking sheet
Place a shallow pan of water on a rack below the cheesecake to keep the oven moist.
Don't peek! Keep the oven door shut during the first 30 minutes of baking.
Your cheesecake is ready to remove from the oven when you can tap the side of the pan with a spoon, and the center barely jiggles which means it's almost set. It will solidify as it cools, and the result will be creamy and smooth in texture.
Use a thin table knife dipped in hot water to carefully loosen your cheesecake away from the edges of the spring-form pan when it comes out of the oven. This will help keep the surface uniformly smooth as cheesecake slightly reduces in size as it cools. It also helps prevent unsightly cracks, and edges that are higher than the center of the surface.
Allow your cheesecake to cool completely before removing rim of pan and let it chill thoroughly before serving.
You Might Like These
Return to Cheesecake Menu