St Patrick's Day Dessert Recipes
Thanks to these easy St Patrick's Day dessert recipes, you needn't be Irish to enjoy a festive dessert. It has been said that on March 17th there are only two kinds of people in the world — those who are Irish and those who wish they were!
That being the case, here are some of the best recipes for St Patrick's Day party treats: homemade cake, cookies, pie, candy, and beverages — all fun desserts. Sweet treats to fill your dessert table with an end of the rainbow spread on St Paddy's Day.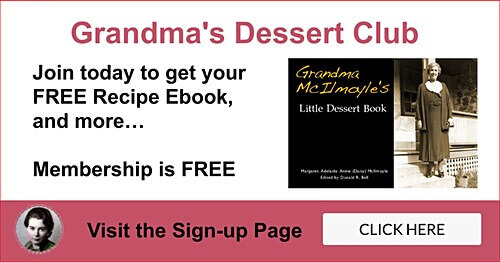 Easy St Patrick's Day Desserts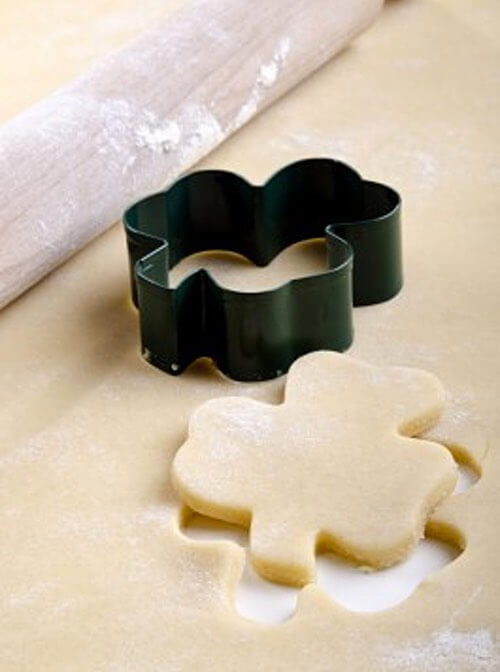 Enjoy Green Shamrock Cookies on St Patrick's Day
(Source: ©Joerg_Beuge/123RF.com)
The recipes featured below are creative slants on familiar desserts. The colorful drinks, cake, cookies, pie, and party treats are quick and easy to prepare, and they are so much fun to serve at parties.
The good news is these simple desserts don't require the pernickety steps called for by recipes for green foods as seen on other sites, yet they still look decorative and tempting when served.

Fun St Patrick's Day Dessert Recipes

These versatile St Patrick's Day dessert recipes are also adaptable for other holidays. Simply substitute another food coloring for the Irish green such as pink for St Valentine's Day, orange for Halloween, or red for Christmas time.

St. Patrick's Day Celebration

St Patrick's Day for many of us is a fun holiday that marks the end of winter and the promise of spring. It's the perfect time to indulge in decadent desserts and treats that put a smile on one's face.
If you're looking to find the pot of gold with something enticingly sweet, it's your lucky day. Look no further than these St Patrick's Day dessert recipes. Not only are they easy, homemade, and decadent in taste, but they are guaranteed to put a smile on anyone's face.

Green Cookies
Check out the Lucky Leprechaun Shamrock Cookie recipe with its rich Irish green color icing and green sprinkles, the Golden Cinnamon Scones, the decorated no bake Lucky Green Cookie Pops favored with peanut butter and white chocolate chips, and the frozen Frosty Chocolate Shamrock Cookies that feature mint chocolate chip ice cream to make them sinfully delicious.

Fun Cakes
You'll love the Irish Green Pudding Cake with its melted chocolatey mint topping. Pistachio pudding mix adds to its decadent flavor, and you have the choice of chocolatey topping or green candy melts.
The no bake Irish Whiskey Balls is an easy recipe to make and the taste is amazing. This fun idea makes a welcome change from the now familiar rum balls on other holidays, and I happen to like them better. See what you think.

No Bake Green Pies
Want a decadent dessert? Serve the Erin Go Bragh Irish Coffee Pie and watch the hungry Leprechauns dance with delight. Maybe it's the good whiskey that makes it so special, or it's the chilled creamy filling of blended flavors. Who cares? Among green desserts, it's unforgettable!
Your guests will also love the frozen Irish Green Shamrock Pie with its rich creamy filling of limeade and vanilla ice cream, and its minty whipped cream topping. Already a green color, this perfect dessert could be made an emerald green by adding a few extra drops of green food coloring!

Festive Drinks
And we'll not forget St Patrick's Day drinks. After all, you'll be wanting something to wash down those party treats, so forget the green beer. I've chosen several easy to make holiday drinks that will satisfy the entire family.
The grownups will enjoy the silky smooth taste of Baileys Irish Cream in the Baileys Irish Coffee Express, and the refreshing Irish Coffee Cooler is to die for.
Meanwhile, the children and those who prefer a non alcoholic beverage treat will love the Dublin Chocolate Mint Milk with its secret ingredient, and the foamy green St Paddy's Shamrock Punch is always a huge favorite.

Traditional Desserts
And if you're wanting a traditional Irish dessert that you might find enjoyed by typical Irish households, I have those for you too. First, there's Barmbrack, a traditional Irish cake bread that's eaten mainly on holidays. You'll love it!

There's also the quintessential Irish Apple Cake, Apple Pudding, an Irish Potato Biscuit that's scrumptious when spread with jam, and the celebrated Irish favorite, Mashed Potato Candy.

So, put the fun St Patrick's Day dessert recipes above to good use and celebrate the wearing of the Green!

Happy St Patrick's Day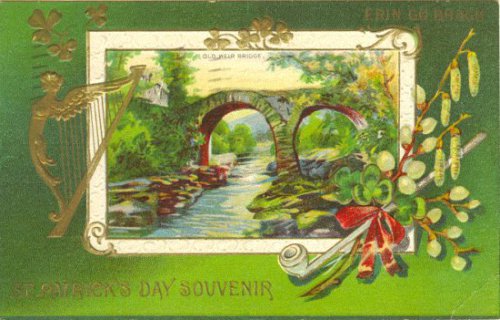 St Patrick's Day Souvenir Card, circa 1912
(Source: Don Bell)
May God fill your heart with gladness to cheer you!
—An Old Irish saying