Traditional Italian Dessert Recipes
The traditional Italian dessert recipes in Grandma's collection help us to appreciate the wonderful history of Italy's confectionery. Some recipes have been passed down from classical times having originated with the Romans.
Enjoy delicious Old World cookies, biscotti, amaretti, castagnole, cream cakes, pastries, puddings, and zabaglione — it's all here for you to make right in your kitchen!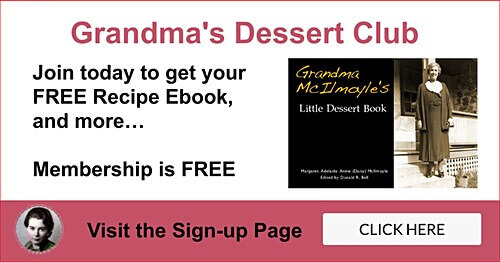 Traditional Italian Dessert Recipes

Traditional Italian Dessert Recipes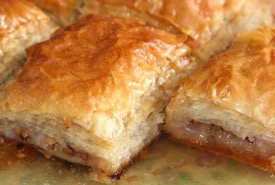 International Dessert Recipes
Clara's Italian Sugar Cookies

Watch Italian Sugar Cookie Recipe Video Below
(Source: Great Depression Cooking Video)
Be sure to watch the short YouTube video below as 93-year-old Clara Cannuccdiari makes her traditional Italian sugar cookies for breakfast while sharing memories of her life during the Great Depression in the 1930s.

Wasn't Clara wonderful? Below is a list of the ingredients and some simple directions for making the sugar cookies if you got caught up watching Clara and didn't manage to get her sugar cookie recipe written down.

Italian Sugar Cookie Recipe

3/4 cup sugar
3 eggs
3 cups flour (add more if needed)
Pinch salt
Beat eggs and sugar together, add flour and salt, and mix until it forms cookie dough. Shape cookies on ungreased cookie sheet and bake at 350°F until a golden color.
Allow to cool before serving with coffee. Remember, Clara said they are great for dunking!

Clara's Other Recipes

Visit Amazon to purchase your copy of "Clara's Kitchen: Wisdom, Memories, and Recipes from the Great Depression" in either Hardcover or Kindle version. You'll love this cookbook that features warm family memories and simple Italian recipes that are easy and fun to make.

If you purchase a product through a link on this page, I receive a small commission at no extra cost to you. I recommend only products I have purchased or would purchase myself and which I believe would benefit you. See my FTC compliance policy for more information.

About the Traditional Italian Dessert Recipes


3D Anaglyph Image of Harbor in Portofino in Liguria, Italy
(Source: ©rglinsky/Depositphotos.com)
Have you ever dreamed of sampling homemade biscotti in the garden of some wayside inn hidden in the Apennines, with the sound of a mountain torrent far below caressing your ears?
Or imagine tasting traditional zabaglione in the portico of a quiet cafe on the sun-baked piazza of an ancient town clinging to a rocky hillside that overlooks the bay of Portofino as seen above in the 3D photo. Well, now you can.
The proven Italian desserts found on this page and its linked pages can offer you the next best thing to being there — the authentic taste of Old Italy.
When you first read the traditional Italian dessert recipes, some may seem elaborate, but in using them you'll find they are easily prepared as you simply follow the steps. The tasty results are well worth the extra time spent.
Words cannot simply describe the delicious homemade taste you will experience thanks to the traditional Italian recipes that follow. As your Italian Grandma would say...
Questi dessert Italiani sono squisiti.