Old Fashioned Christmas Candy Recipes
Old Fashioned Christmas Candy Recipes

Grandma's old fashioned Christmas candy recipes will help to make your Christmas extra special this year. Everyone loves to eat homemade candy and appreciates the love that goes into making it.
Imagine serving a colorful tray of homemade candy to your loved ones this Holiday Season. But, you better make lots because everyone will beg you for more!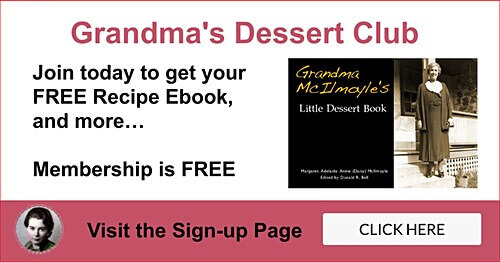 Favorite Old Fashioned Christmas Candy Recipes
Mom's Recipe Scrapbooks (1920s)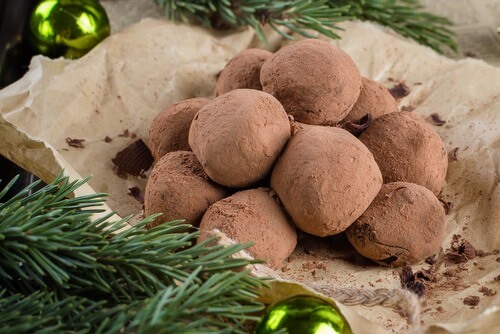 Make Holiday Chocolate Truffles for Christmas
(Source: ©AnikonaAnn/Depositphotos.com)
Holiday Chocolate Truffles

3 cups semi-sweet chocolate chips
1 (14 ounce) can sweetened condensed milk
1 tablespoon vanilla extract
Coatings (optional)
In heavy saucepan, over low heat, melt chocolate chips with condensed milk. Remove from heat and stir in vanilla. Chill 2-3 hours or until firm.
Shape chilled mixture into 1-inch balls and then roll in any of the suggested coatings. Chill 1 hour or until firm. Store tightly covered at room temperature.
Suggested Coatings:
Finely chopped nuts, toasted shredded coconut, finely ground Espresso (perfect for coffee lovers), chocolate sprinkles, colored sprinkles, unsweetened cocoa powder, cinnamon sugar, confectioners' sugar, or colored sugars.
Suggested Serving:
Place individual Holiday Truffles into gold or silver foil candy wrappers and arrange on a tray for serving with a cup of after-dinner coffee as a special treat.
This old fashioned Christmas candy recipe yields about six dozen Holiday Chocolate Truffles.
Truffle Variations

Amaretto Truffles: Omit vanilla. Add 3 tablespoons amaretto or other almond-flavored liqueur and 1/2 teaspoon almond extract. Roll in finely chopped toasted almonds.
Orange Truffles: Omit vanilla. Add 3 tablespoons orange-flavored liqueur. Roll in chopped toasted almonds mixed with finely grated orange rind.
Rum Truffles: Omit vanilla. Add 1/4 cup dark rum. Roll in flaked coconut.
Bourbon Truffles: Omit vanilla. Add 3 tablespoons bourbon. Roll in finely chopped nuts.
Cream Cheese Truffles
One (8 ounce) package cream cheese, 3 cups sifted confectioners' sugar, 3 cups semisweet chocolate chips, 1-1/2 teaspoons vanilla extract.
In a large bowl, beat softened cream cheese until smooth. Gradually beat in confectioners' sugar until well blended. Stir in melted chocolate and vanilla until no streaks remain. Refrigerate for about 1 hour. Shape into 1-inch balls.
Roll truffles in finely chopped nuts of choice, cocoa powder, coconut, confectioners' sugar, candy sprinkles, and so on.
To flavor truffles with liqueurs or other flavorings, omit vanilla. Divide truffle mixture into thirds and add 1 tablespoon liqueur (almond, coffee, or orange) to each mixture, and then mix well.

Holiday French Dainties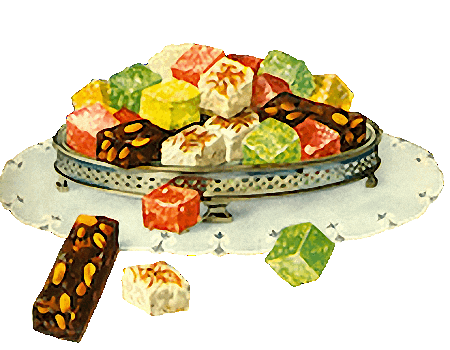 Make Holiday French Dainties for Christmas
(Source: Don Bell)
The traditional fun of making the Christmas candies at home has never lost its charm. Here's an old fashioned Christmas candy recipe favored by families who delight in having something homemade and different.
Ingredients:
4 level tablespoonfuls Knox® Sparkling Gelatin
1-1/2 cups boiling water
4 cups granulated sugar
1 cup cold water
Soak the gelatin in the cold water five minutes. Add the boiling water. When dissolved add the sugar and boil slowly for fifteen minutes.
Divide into two equal parts. When somewhat cooled add to one part one teaspoonful extract of cinnamon. To the other part, add one-half teaspoonful extract of cloves.
Pour into shallow tins that have been dipped in cold water. Let stand overnight; turn out; cut into squares, roll in fine granulated or powdered sugar; let stand to crystallize.
Any coloring desired might be added and any preferred flavoring extract used with this old fashioned Christmas candy recipe.
Vary by using different flavors, such as lemon, orange, peppermint, wintergreen, etc., and different colors; and by adding chopped nuts, dates, or figs. Delicious.

Holiday Bonbons
1 cup softened butter
2 pounds sited confectioners' sugar
1 (14 ounce) can sweetened condensed milk
3 cups coconut
1 cup finely chopped walnuts
1 teaspoon vanilla extract
1 (12 ounce) package semisweet chocolate chips
2 tablespoons shortening
(Note: Use sweetened condensed milk, NOT evaporated milk.)
In large bowl, combine butter, confectioners' sugar, condensed milk, coconut, chopped walnuts and vanilla. Stir well. Cover and chill in the refrigerator for 2 hours, or until mixture has thickened enough to roll into balls.
Roll the mixture into 1-inch balls and place close together, but not touching, on cookie sheets. Freeze until solid.
While bonbons are freezing, line a cookie sheet or flat surface with waxed paper.
Combine chocolate chips and shortening in the top of a double boiler over simmering water. Stir until melted. Then, using a toothpick or a fork, dip each bonbon in the melted chocolate.
Place chocolate covered bonbons on waxed paper to dry. When chocolate has hardened, store bonbons in plastic bag in the freezer.
This old fashioned Christmas candy recipe makes about 12 dozen chocolate covered bonbons, depending on the size you make them.

Christmas Candy Bars
Two cups sugar (granulated), 1 tablespoon vinegar, 1 cup lukewarm water, 1 lump of butter size of a walnut. Boil evenly, do not stir.
When syrup is brittle (when a drop is put in cold water), pour into a pan arranged in the following way:
Divide pan into sections with strips of stiff, greased cardboard. In one section put a thick layer of peanuts; in another coconut; in another puffed wheat; and in another a combination of seedless raisins, almonds, and candied cherries.
Then, pour in the taffy, making sufficient to cover each to the depth of 3/4 inch. When cool, pull out the cardboard.
Any favorite taffy recipe may be substituted for the above recipe for candy bars. —P. Panicky

Coconut Fudge
Squares of this light colored coconut fudge placed with pieces of chocolate Christmas fudge make for an attractive candy tray.

Two cups sugar, 2/3 cup milk, put into a saucepan, and cook over a moderate fire until a little dropped into cold water will form a soft ball.
Remove from fire, add 2 tablespoons butter, cool, and add 1 teaspoon vanilla, 1/2 cup shredded coconut, and 1/2 cup chopped walnuts.
Beat all together until the mixture begins to thicken, then spread upon buttered tin to thicknesses of 1/2 inch. —Fruits and Candies

Cream Cheese Mints
1 3-ounce package cream cheese
1 tablespoon butter
3 cups confectioners' sugar
2 drops peppermint oil (or almond)
Food coloring (optional)
Combine softened cream cheese, butter, and confectioners' sugar in large bowl. Stir in peppermint oil to flavor. Leave white or add coloring.
Roll mixture into small balls and place on waxed paper. Flatten using a fork dipped in confectioners' sugar and allow to dray for 2 hours. Refrigerate before serving.

Old Fashioned Christmas Candy Recipe

Lee's Priceless Recipes (1895)

Traditional French Creams
Enjoy Homemade French Creams Candy
(Source: Don Bell)
For this old fashioned Christmas candy recipe take 2 cupfuls of granulated sugar, add to it 1/2 cupful milk; set upon the stove and bring slowly to a boil and boil for 5 minutes.
Take off the fire and set in a pan of cold water; stir rapidly until it creams; cool; shape into balls with the hands and place nuts (optional) on top of some of the creams, or it can be arranged in layers and figs or dates placed between; then cut into squares.
Fine chocolate creams can be made of this mixture by dipping the balls into melted chocolate, leaving until cold upon buttered white paper.