Non Alcoholic Christmas Punch Recipes
Non Alcoholic Christmas Punch Recipes
Grandma's non alcoholic Christmas punch recipes have their origin in the medieval Wassail bowl. Guests at Christmas time were served from a large bowl containing Wassail, a savory, hot beverage made from cider, apples, eggs, sugar, cinnamon, and other spices.
Use Grandma's old fashioned beverage recipes to make refreshing non alcoholic drinks that the entire family can enjoy. Make punches a refreshing Christmas tradition at your house.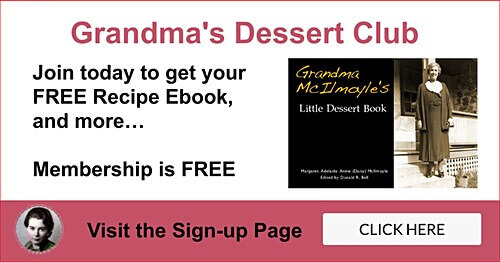 Non Alcoholic Christmas Punch Recipe
Refreshing Non Alcoholic Christmas Punch Beverages
(Source: ©Svetiana Kolpakova/123RF)
The word "Wassail" originates from Was haile, an old Saxon greeting that simply means to "Be Healthy!" Here's a traditional Wassail punch that's been adapted for modern-day families:
Wassail Punch

6 cups apple cider (non alcoholic)
2 1/2 cups apricot nectar
2 cups unsweetened pineapple juice
1 cup orange juice
1 teaspoon whole cloves
4 whole allspice
3 (3-inch) cinnamon sticks
Combine all the ingredients and bring to a boil. Reduce the heat and simmer for 15 minutes. Strain and discard the spices. Serve piping hot in mugs. Makes 3 quarts of festive, holiday beverage. Was Haile!

Non Alcoholic Christmas Punch Recipes
Mom's Recipe Scrapbooks (1920s)

Pineapple Grape Punch
Grandma's Hint

Tinkling ice cubes may be colored, or they may be frozen with red and green maraschino cherries in them for Christmas.

1 cup granulated sugar, 2 cups water, boil 1 minute and chill; then add: 1 pint grape juice, juice of two oranges, juice of two lemons, 1 cup of grated pineapple.
Pour into glasses partly filled with cracked ice and add a few seedless white grapes.

Sparkling Pineapple Punch
1 quart water, 2 cups sugar, boil these for twenty minutes, then add: 2 cups pineapple juice, juice of 6 lemons, 3 pints ginger ale. The ginger ale should be added just before serving.

Cranberry Cocktail

Fresh cranberry cocktail is made by cooking 2 cups cranberries in 2 cups water until soft, straining, adding 1/4 cup sugar, bringing to boil, and bottling. When serving add 1 tin pineapple juice.

Non Alcoholic Christmas Punch Recipe

The Enterprising Housekeeper (1900)

Christmas Fruit Punch
2 cupfuls of sugar, 1 cupful of water, 1/2 cup of orange juice, 1/2 cup of lemon juice, 1 cup of strawberry juice, 1 cup of pineapple juice, 1/2 cup of maraschino cherries.
Boil the sugar and water to a syrup, and add the fruit juices. Let stand twenty minutes, strain and chill. Add the whole cherries.
Sweeten or weaken, if necessary, to taste, and serve ice-cold. It will rarely need reducing with water unless the juices of preserved fruits have been used.

Non Alcoholic Christmas Punch Recipes
Second Edition of the Neighborhood Cook Book (1914)

Mixed Fruit Party Punch
Make a syrup by boiling two cups sugar and one cup water for ten minutes. Let stand one-half hour.
Add one cup cold tea, juice of five lemons and five oranges, one can grated pineapple, and one pint strawberry syrup; strain, add ice water to make one and one-half gallons of liquid.
Turn this into a large punch bowl over a piece of ice, and add one-half pint maraschino cherries and one quart bottle Apollinaris water (or soda water). This amount will serve fifty people.

Pineapple Fruit Punch
A refreshing beverage, which brings an involuntary grace to one's lips as it is quaffed, is a fruit punch in which the pineapple plays an important part.
Put into a bowl the juice of three lemons, two oranges sliced and seeded, one grated pineapple and one cup sugar. Let stand for one hour to extract the juice, then press and strain.
Add to this juice two quarts of iced water and two slices of shredded pineapple, and serve.

Was Haile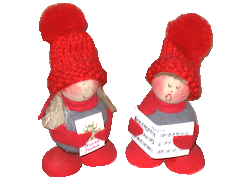 Finnish Carolers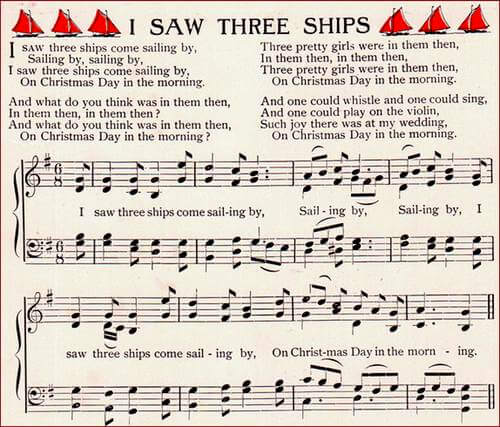 "I Saw Three Ships" Lyrics and Music
(Source: The Book of Knowledge, 1899)
Make the non alcoholic Christmas punch recipes a part of your Holiday Season and enjoy serving the old fashioned beverages to your family, guests, and carolers.
Don't forget to raise your glass and fondly bid them all a hearty Was Haile!