Edible Christmas Gift Recipes
Edible Christmas Gift Recipes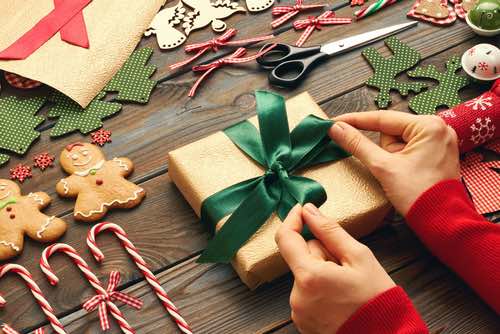 Make Homemade Food Gifts for Christmas Giving
(Source: ©haveseen/123RF.com)
Thanks to Grandma's edible Christmas gift recipes, you can make affordable, homemade food gifts that not only look tempting and attractive, but they will taste delicious.
Imagine giving someone a colorful tin of Scottish shortbread rounds, or a box of creamy fondant candies, or maybe some old fashioned gingerbread cookies. It's fun to give Christmas food gifts made with love.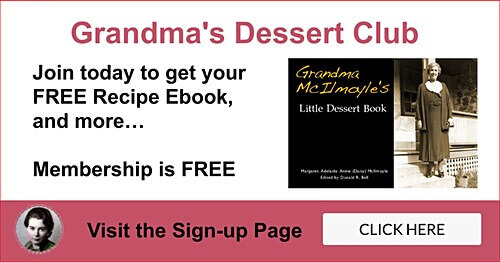 Edible Christmas Gift Recipes
Mom's Recipe Scrapbooks (1920s)

Aberdeen Shortbread Rounds

One pound flour, 1/8 teaspoon salt, 1/2 pound butter, 1/4 pound fruit sugar, 2 teaspoons finely shredded candied orange peel. Mix and beat well together the butter and sugar, add flour gradually, and salt, then orange peel.
Knead well with the hands. Mold into rounds, 1 inch in thickness, and bake in a moderate oven until a golden brown, and well cooked. Decorate with mistletoe and holly by means of white of egg.

Candied Dried Apricots
These apricots are delicious, and their preparation is extremely simple using this edible Christmas gift recipe.
They can be presented in crinkled paper cups of red, yellow, blue, white, brown, and pink design. All placed in a copper bowl that gleams in the light of a flickering Christmas candle.
Wash 2 cups dried apricots and boil in sufficient water to cover until tender, yet firm (about 15 minutes). Put into a colander or wire strainer to drain.
Combine 2 cups sugar, 1 cup water, and 1 teaspoon cream of tartar and bring to a boil. Add the apricots and cook to 218ºF as registered on a candy thermometer, when the syrup sheets off the spoon like jelly. Skim out the fruit and place it upon a rack to drain and dry.
If a rack is not available, stick a toothpick into each piece of fruit and place other end of toothpick into hole of inverted wire strainer. Sprinkle with sugar after drying, or roll in sugar when partly dried.
Gingerbread Animals for Children

Have Fun Making Homemade Christmas Gingerbread Animals
(Source: ©lMeinyk/Depositphotos)
This easy gingerbread cookie recipe makes a perfect edible Christmas gift recipe, and although its title says "For Children," adults love receiving these cookies too!
Beat 2 cups molasses and 1 cup softened butter in a bowl until well blended. Add 1 cup sour milk. Next stir in 1/4 cup hot water in which 1 level dessertspoon soda has been dissolved.
Add the grated rind of a lemon, a level dessertspoon of ground cloves, ginger to taste, and enough flour to make a stiff dough.
Roll out and cut into shapes of animals. Sometimes tin cutters for this can be bought. Bake and frost with red, pink or white frosting.

Christmas Fondant Candy
Two cups granulated sugar, 1/8 teaspoon cream of tartar, 1/2 cup water. Put sugar and cream of tartar into a perfectly smooth saucepan. Stir well and add water. Stir until well mixed and let stand a few minutes until the sugar melts.
Put over a low fire and bring slowly to the boiling point. Watch carefully that sugar does not burn on the bottom of the pan.
Have a pan of cold water close to the pan of syrup. As crystals form on the sides of the pan wipe them off with a piece of cloth dipped in the pan of cold water. Dip frequently into the pan of cold water and swab a few crystals at a time. Continue this until the sides are clear.
Cover and let boil rapidly for two minutes, then remove cover and swab off crystals.
Boil uncovered, until a few drops tried in a saucer of cold water form a soft ball when picked up with fingers. Remove instantly from the fire and put the pan into a larger pan of cold water.
Let stand until cool and beat with a wooden spoon until creamy. When too stiff to stir, turn onto a large platter and knead until soft.
Put into an oiled bowl, cover tightly and let stand twenty-four hours. Then, flavor and use as wanted.

Neapolitan Christmas Mints
Flavor and color fondant as liked (see Christmas Fondant Candy recipe above), and drop into mint shapes, on parchment paper placed on a board.
When firm, arrange in pairs, one row bottom side up and the other row top side up.
On the lower mint press with bag and tube a small circle of bitter chocolate melted over hot water and made a little heavier by the addition of a small amount of confectioners' sugar.
Quickly place the top mint in position over the bottom one, pressing it slightly to show rim of chocolate between the two mints.
The popular fondant flavors are: Wintergreen, colored pink; peppermint, uncolored; lime, colored green; orange, colored yellow or orange; and cassia or cinnamon, deep red.
Your favorite icing may be substituted for chocolate, if preferred.
Chocolate mints are put together with marshmallow paste, which if too soft to go through the bag and tube, is made firm enough by adding confectioners' sugar, and if too stiff, may be thinned with simple syrup.

Fannie Farmer's Edible Christmas Gift Recipe

The Boston Cooking-School Cook Book (1916)

English Gingerbread Cookies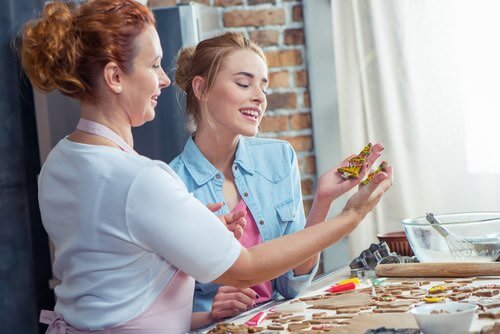 Gingerbread Cookies Make Wonderful Edible Gifts
(Source: ©DmitryPoch/Depositphotos.com)
Here's a delicious Christmas gingerbread recipe by Fannie Merritt Farmer, Principal of the Boston Cooking School.
This edible Christmas gift recipe is easy to make, and gingerbread cookies are always popular during the Holiday Season.
1 pound flour, 1/2 pound butter, 1 cup sugar, 1 tablespoon ginger, 1 teaspoon salt, molasses.
Mix flour, sugar, ginger, and salt. Work in butter, using tips of fingers, and add just enough molasses to hold ingredients together. Let stand overnight to get thoroughly chilled.
Roll dough very thin, shape, and bake in a moderate (350°F) oven.

The Tradition of Edible Food Gifts

In The Book of Household Management by British cookery author Isabella Beeton, published in 1861, Mrs. Beeton writes:
"It appears to have been the custom formerly, in England, to make New Year's presents with oranges stuck full with cloves. We read in one of Ben Jonson's pieces, The Christmas Masque: 'He has an orange and rosemary, but not a clove to stick in it.'"
It is the season for giving, so why not continue in the old Christmas tradition by making edible gifts for your loved ones? When it's homemade, it's always special.

About Edible Christmas Gift Recipes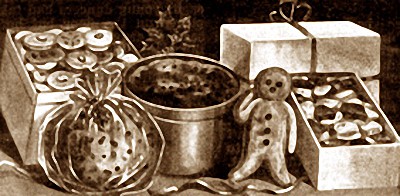 Edible Christmas Gift Ideas
(Source: ©Don Bell)
This year, do something completely different and make edible presents for gift giving. Imagine the delight when it's discovered that you made the tasty goodies yourself.
Above are several ideas for popular Christmas gifts you could make for that special person on your list.
Edible gifts are perfect for friends and family who lack either the skill or time to make such things for themselves — boxes of delicious Christmas cookies and candies, a homemade fruitcake baked in a cookie tin, candied apricots wrapped in colorful cellophane, and old time gingerbread men for the young at heart.
Give a special gift this Christmas. Use Grandma's edible Christmas gift recipes to make tempting, old fashioned treats for your loved ones. It's the affordable gift that's ALWAYS appreciated.

Old Fashioned Christmas Rhyme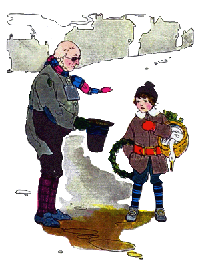 Old Man's Hat

Christmas is coming,
the geese are getting fat,
Please to put a penny
in an old man's hat;
If you haven't got a penny
a ha'penny will do,
If you haven't got a ha'penny,
God bless you.