About Don Bell
My name is Don Bell, and I've written this About Me page because visitors to this site have asked how I came to build a website featuring old fashioned homemade dessert recipes and nostalgia.
I welcome the question because it gives me an opportunity to share how creating this website has truly been a rewarding experience in my life.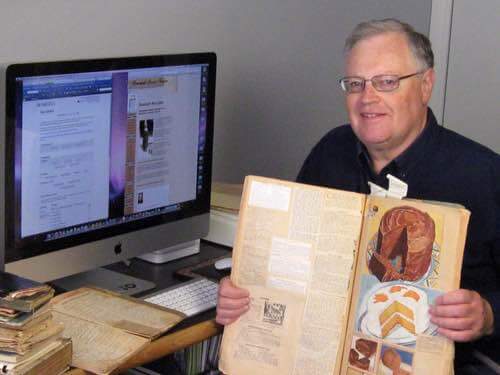 My Old Fashioned Dessert Recipe Collection
(Source: ©Don Bell)
Some visitors are surprised to learn that I built this large website myself and that it helps to pay my bills. Others with a collection of family recipes have asked how to start a food blog of their own.

So, I've written a page that reveals the secret to how to I've been able to create this successful website. I'm happy to share what I've learned so others can get to experience the same sense of achievement I do.
But more about that later.
Permit me to share a little of my background and how this website became a reality.
I work out of my modest country home in the beautiful Kawartha Lakes tourist region of central Ontario, Canada. This area is known as the Land of Shining Waters, and it's an ideal place to live.
Our acreage was once part of Bellthorpe, my family's farm, and the fields, streams, and forest that I once roamed as a young boy now provide both recreation and a strong sense of belonging.
My wife Vicki and I have been married for almost 50 years, and we're blessed with four grown children: two boys and two girls. They consider us retired senior citizens, but we have yet to grasp that concept.
Like most people in this world, we've had our share of ups and downs, but God has truly blessed us with a wonderful life together.

My Old Fashioned Desserts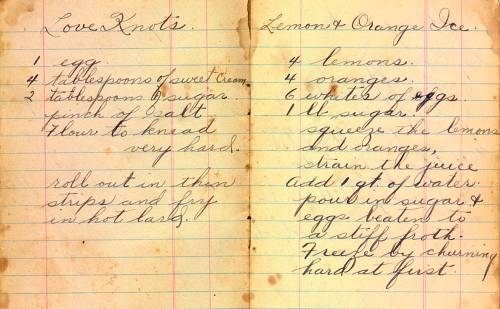 Grandma McIlmoyle's Handwritten Dessert Recipes
(Source: ©Don Bell)
I was looking for vintage recipes and as a result came across your website. I wanted to tell you how much I have enjoyed your website with all the information you have provided. Thank you for this. —Yvonne, Toronto

People always ask, "Don, where did you find those wonderful old fashioned dessert recipes?"
Well, happily for me, I discovered them all sitting on a dusty shelf in a dimly lit corner of our basement.
You see, throughout her youth in the 1920s, my mother loved to collect recipe clippings and colorful food illustrations, and she pasted them in scrapbooks.
Later on, she inherited several of her mother's handwritten recipe books and some vintage cookbooks that are now in the public domain.
I eventually inherited Mom's recipe collection along with a few cookbooks and family recipes used by my Grannie Bell on my father's side of the family.
So, thanks to Mom and my grandmothers, I have lots of wonderful old fashioned dessert recipes to share with like-minded recipe lovers like yourself.
Why desserts? Because I love desserts (far too much according to my wife). And I thought it would be fun to share the old fashioned recipes with people who love to read and try tasty dishes from the past.

I just wanted to say... I've been fan of this website for quite some time and am so glad you began this site. I too remember the desert table at family functions, and the special deserts my aunts would bring to festivities.
You have a wonderful array of so many yummy delectable and this site is colorful, bright and cheerful. I love visiting here. Just wanted to say thank you. —Maggie, USA

Meet Mom and My Grandmothers

Mom and my grandmothers were unassuming, honest women who loved their families and doted on their grandchildren. I was so blessed to know them and to have had their positive influence on my life.
They led very full and interesting lives and although circumstances were sometimes difficult for them, they seldom complained. They rose above the hard times and were thankful to God for His strength and provision.
Allow me to introduce them to you.

My Mother and Grandmother to Our Children

Daisy Adelaide McIlmoyle (1911-1985)
(Source: ©Don Bell)
My Mom, Daisy Adelaide McIlmoyle (1911-1985), was born in Calgary, Alberta in 1911. She and her twin brother Herbert were the youngest of 10 children — 6 girls and 4 boys.
Her father was Herbert Leslie McIlmoyle (1872-1936), and her mother was Margaret Annie Adelaide Butler (1878-1951).
Originally from Ontario, Margaret and Herbert took out a homestead near Airdrie in 1901, before moving to Calgary sometime before 1911.
The year Mom was born, her family returned to Ontario, and she was raised on the McIlmoyle family farm at Selwyn, near Lakefield.
She often remarked how wonderful it was to grow up in a large, loving family where there was seldom an idle moment, and always time for fun.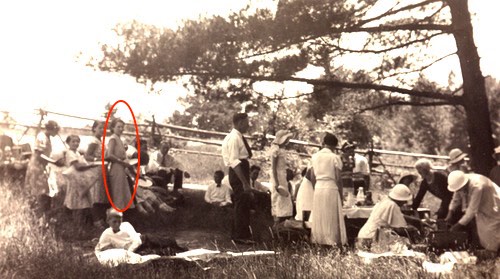 Mom Enjoying a Family Picnic circa 1930s
(Source: ©Don Bell)
As a young woman starting life, Mom worked as a cook at a Stony Lake resort, and later as an assembler at the Western Clock Company (formerly the Westclox) in Peterborough, until she married my father, William Robert Bell (1908-1990), in the fall of 1939.
It always fascinated me that the McIlmoyles and the Bells lived just 15 miles apart while in Alberta, yet it wasn't until both families moved east to Ontario that Mom and Dad met, while again living just 15 miles apart.
My father first met my mother when he and his father visited the McIlmoyle farm to buy a breeding cow. They married in October 1939, after the Great Depression when money and work were still scarce.
Dad had scoured area farms collecting hundreds of used seed bags which he mended and washed then redeemed for 6 cents apiece to earn enough for Mom's wedding ring. She so treasured that gold wedding band with its tiny diamonds!
Mom and Dad farmed Grannie Bell's property in Otonabee Township, which they eventually inherited in 1955. As an only child in a rural area, I found farm life lonely at times, but looking back, I wouldn't change it for anything.

When they had retired from farming in 1965, they sold the farm but retained ownership of a 65-acre parcel of land where they built a new house. I eventually inherited the property and moved there with my family.
While in her late teens, around the time the above portrait had been taken, Mom created two remarkable scrapbooks in which she pasted clippings from the magazines and newspapers of her day.
The clippings mostly feature dessert recipes, but there's also party ideas, homemaking advice, and helpful kitchen tips, along with colorful vintage illustrations — a treasure trove of nostalgia.
Throughout her marriage, Mom also kept several small notebooks in which she wrote her mother's and grandmother's recipes for homemade desserts. Many were obtained either directly from her mother or indirectly through her sisters after their mother's death.
This website owes a huge debt of gratitude to Mom. Many old fashioned dessert recipes featured on this site are carefully transcribed from her handwritten recipe notebooks and scrapbooks.

My Grandma McIlmoyle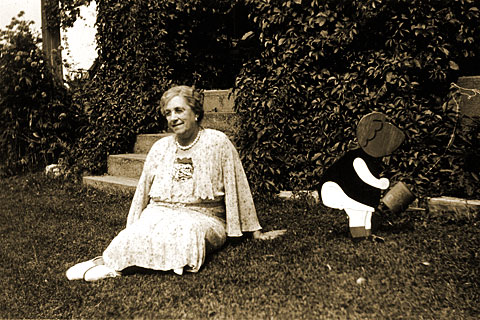 Margaret Annie Adelaide (Daisy) Butler (1878-1951)
(Source: ©Don Bell)
My Grandmother, Margaret Annie Adelaide Butler (1878-1951), was born in Shropshire, England. At age nine, Grandma emigrated to Ontario, Canada with her parents in 1887.
She married Herbert Leslie McIlmoyle (1872-1936) in 1899, and having moved to Alberta, they became homesteaders near Airdrie in 1901.
Grandma McIlmoyle worked long, hard days as a pioneer rancher's wife. She watered cattle, forked hay, groomed horses, and tended her large vegetable garden.
She also kept the house and prepared hearty, delicious meals for her hardworking husband and eight small children.
Nothing topped a meal off or brightened an exhausting day like a tasty dessert. Since Grandma's time had been limited, she chose the proven family recipes she knew would always turn out delicious.
Life was often difficult for homesteaders on the lonely prairie. They needed to be strong and resourceful and ready for any emergency.
Once, when Grandpa had been in Airdrie purchasing supplies, the billowing smoke of a grass fire loomed on the horizon. Leaving the older children in charge of the youngest, Grandma quickly harnessed the oxen and ploughed furrows around the house and barn to prevent disaster.
Sometime after their eighth child was born, they moved to Calgary where my mother (Daisy) and her twin brother (Herbert) were born in 1911.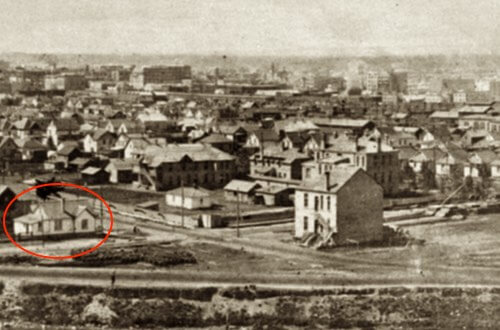 The McIlmoyle Home in Calgary, circa 1911
(Source: Don Bell)
That same year the McIlmoyle family moved back to Ontario, and Grandpa eventually purchased a farm at Selwyn, near the Village of Lakefield.
Grandma McIlmoyle died when I was very young, so I have only fleeting memories of her. I cannot recall her cooking or baking, though I must have sampled some of her famous cookies at times. However, my older cousins well remember the taste of Grandma's amazing desserts.
Grandma's legacy of cooking skills and proven recipes was lovingly passed down to her daughters, and they continued the tradition of baking homemade cakes, pies, puddings, and other delicious treats for their families.
My Grannie Bell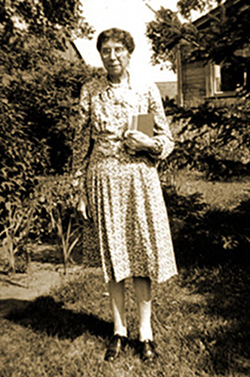 Annie Stewart Gentles (1881-1955)
(Source: ©Don Bell)
My Grannie, Annie Stewart Gentles (1881-1955), was born in Uphall, Scotland.
Her father was Archibald Gentles (1855-1926), originally of Muiravonside, and her mother was Ann Stewart MacDonald (1858-1944), daughter of James MacDonald (1821-1875) of Morayshire, Dyke, Scotland.
While in her teen years, Annie and her sister (Margaret Wallace Gentles) attended a commercial business college in Edinburgh, sometime around 1898, during the time when their parents lived in India.
Annie's father was a chemist and manager at the Uphall Oil Co. Ltd., later merged with Young's Paraffin Light & Mineral Oil Co. Ltd., in 1884.
Accompanied by his wife, Archibald had been sent to Assam, India for a year to oversee the building of a new plant for shale oil exploration.
Not long after Annie's parents had returned to Scotland, the entire family emigrated to Canada in 1903, and they took out a homestead near Dog Pound, about 30 miles north of Calgary, Alberta.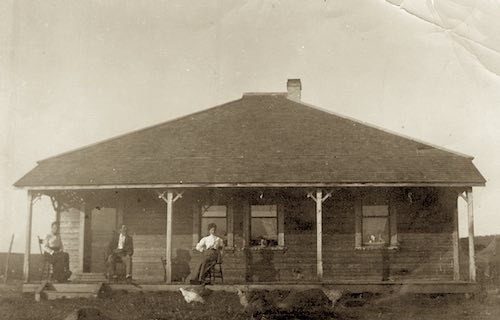 Gentles Family Log Homestead, Dogpound, Alberta, c.1904
(Source: ©Don Bell)
Annie's father and her younger brother, Robert Gentles (1892-1916), built a permanent log house for the family that first prairie winter, while sleeping in a hastily built shack.
Meantime, Annie and Margaret lived with their mother in a cold, drafty covered wagon nearby. It was such a change from their comfortable life in the Old Country!1
Later in 1906, Annie married my grandfather Ernest Leopold Bell (1863-1936), and they began homesteading thirteen miles north of Cochrane near the Beaver Dam Creek.
They ranched horses for sale to the North-West Mounted Police (NWMP) while raising four children: William Robert Bell, Annie Jessie Bell, Ernest Archibald Gentles Bell, and Margaret Stewart (Daisy) Bell.
Like other young men in the West, Ernie tried his hand at many things. As one of the famous Steele's Scouts, he had fought in the North West Rebellion in 1885.
Though slightly under six feet tall, Ernie was nicknamed Shorty, being the shortest of the troop and rated by some its most expert plainsman.
Ernie later trekked overland to the Klondike gold fields in 1898, taking the arduous Edmonton route. The best claims had already been staked before he arrived at Dawson City, but he did manage to pan a few gold nuggets and visit his old friend Col. Sam Steele who had been appointed a member of the Territorial Council.
When he wed Annie, Ernie had a Calgary jeweler craft their wedding rings by combining his Klondike gold with Indian gold from a ring that Annie's parents had given to her.
Horses became less in demand after the First World War, so the Bells sold their ranch in 1918, and they moved to Ontario where they purchased a family farm east of Peterborough in the Township of Otonabee.2

The spacious two-storey house in Otonabee had been built of fieldstone by Thomas Sedgwick in the 1830s at a cost of $300, including $80 for the stonework.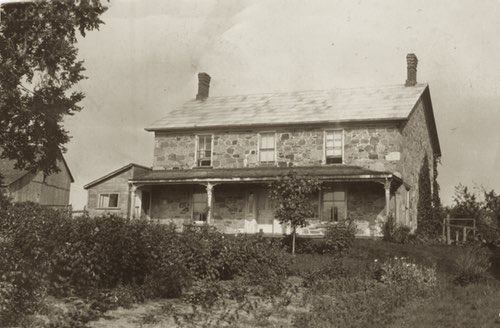 The Bell Family's Stone Farmhouse in 1918
(Source: ©Don Bell)
After Grandpa Ernie had died in 1936, Grannie Bell lived in one half of our stone house while my parents and I lived in the other half. So, I came to know her quite well when I was a youngster in the early 1950s.
Grannie was Scottish through and through, and an excellent cook. Sitting on a kitchen stool while watching her bake pies, cookies, and scones comprise some of my fondest childhood memories.
She would take a golden scone warm from the oven, carefully split it with a table knife, then dab a wee bit of butter and her homemade orange marmalade on it. I can still remember the marvelous taste. And her oatmeal cookies were simply to die for!
Grannie cooked mostly from memory so not many of her recipes survived. However, I discovered several that she had handwritten in a notebook and for that we are grateful.
Citations:
1 - Big Hill Country (Cochrane and Area Historical Society, 1977), 476.
2 - Ibid., 701-703.

My mother used to cook from scratch without recipes as well, and it always amazed me how she went by memory and didn't hardly use measuring cups or spoons, but each dish would always taste the same each time. Home makers back then knew the art of a spoonful of love in each homespun meal. —Maggie, USA

Finally

Operating this site is a labor of pure joy. It provides me with an interesting, creative outlet, and a wonderful hobby.

There's also the rewarding experience of seeing our family's favorite dessert recipes being read by millions of visitors from dozens of countries around the world. Can you imagine what a thrill that is?
And the visitor response has been amazing! Fans and foodies love the nostalgic homemade dessert recipes, and their genuine words of appreciation mean so much.
Mom and my grandmothers would be thrilled and proud, and I can't thank you enough for visiting my website and helping to make it all possible.
Sincerely,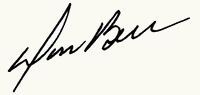 Don Bell, Site Owner
Ontario, Canada

P.S. —If starting a website based on your favorite topic interests you at all then read my page on How to Begin. Believe me, if Don Bell can do it, so can you!