Old Fashioned Gingerbread House Recipe
Old Fashioned Gingerbread House Recipe

Use this old fashioned gingerbread house recipe to make an old fashioned gingerbread house for the Christmas holiday. Create warm family memories that will last a lifetime by inviting your children to help.
They'll have loads of fun making an awesome gingerbread house from scratch that's beautifully decorated and adds a homey warmth to the Holiday Season.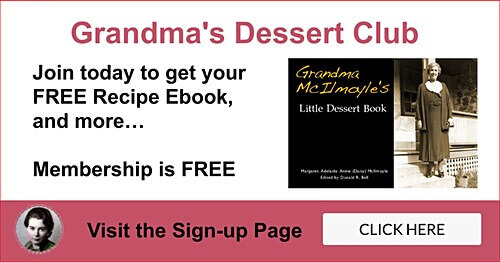 Old Fashioned Gingerbread House Recipe for the Holidays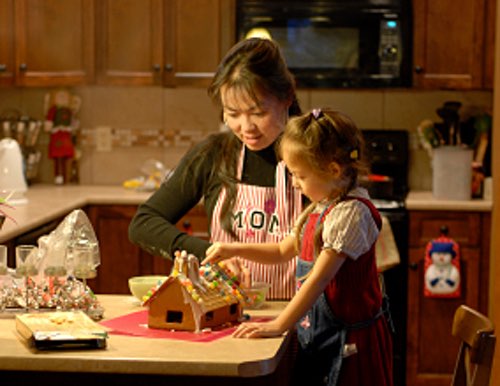 Making a Traditional Gingerbread House With Mom
(Source: ©iStock/RonTech2000)
Instead of using a store-bought gingerbread house kit, treat your kids by making homemade gingerbread yourself. It's really quite easy to do and more affordable too.
Watch this brief YouTube video that instructs step-by-step how to make a gingerbread house from scratch complete with edible candy decorations:

Here's the ingredient list for the old fashioned gingerbread house recipe, just if you couldn't copy it down fast enough from the video:
6 cups all-purpose flour
1 teaspoon baking soda
1/2 teaspoon baking powder
2 sticks (8 ounces) butter
1 cup dark-brown sugar
4 teaspoons ground ginger
4 teaspoons ground cinnamon
1-1/2 teaspoons salt
2 large eggs
1-1/2 cups molasses
Mix all ingredients together, chill for 1 hour, cut house pieces, and bake about 15 minutes in a 350°F oven.
You'll also need 3 whipped egg whites and 5 cups confectioner's sugar for the Royal icing that's needed.

Gingerbread House Decorating Ideas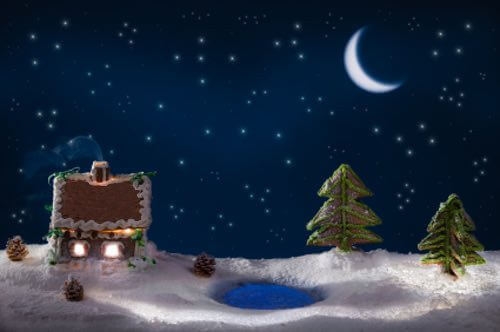 Decorated Gingerbread House
(Source: ©iStock/Shaiith)
Here are some easy-to-do ideas you can use for decorating your gingerbread house to make it look extra special for Christmas.

Add Lights

Carefully cut window openings in the gingerbread walls, and through an open back window, insert a small string of clear LED Christmas lights into the house to light up its inside.
When the lights are plugged in (or battery operated), they'll give a soft glow to the gingerbread and reveal a sparkly light through the candy glass windows.

Add Clear Candy Glass Windows

Here's an old fashioned candy glass recipe to make clear, glass-like windows for your gingerbread house:
Melt one cup white sugar in a pot over low heat until it's completely melted. Continue heating until the candied sugar is at the hard crack stage, then pour it onto a lightly buttered pan.
If you prefer an amber-colored glass, let the mixture heat to just a wee bit past the hard crack stage. Food coloring can be added to make candy windows of almost any color.
When the candy glass has cooled slightly, carefully use a sharp knife to cut window pieces to size, then use icing to secure them in the gingerbread house's window openings.
Add Decorative Details

Leftovers from making the candy glass can be used for a frozen pond or stream next to the house.
Large pine trees can be cut from either gingerbread or sugar cookie dough, then decorated and baked with sparkly green sugar crystals.
Use Grandma's gingerbread cookie recipes to make accessories for your house such as gingerbread men, trees, fence, and bits of broken gingerbread can make a cobblestone walkway or lane.
The homemade gingerbread house, trees, and pond can all be set on a large serving tray lined with white cotton batting to resemble a snowy forest scene.
Place a large sheet of dark blue Christmas wrapping paper on the wall behind for the night sky. Your house will look magical in a dimly lit corner of the room.
The decorations are fun to add, and they'll bring your house alive and help to hide any tiny flaws. You'll be amazed at how good it all looks when you're done.
Get busy with the old fashioned gingerbread house recipe and show your children how to make a gingerbread house this Christmas. Start a wonderful family tradition!

The Choice of Homemade or a Kit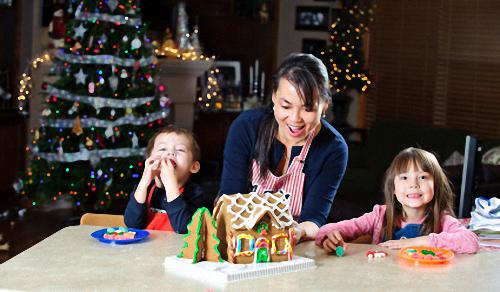 Making a Gingerbread House With Mom
(Source: ©iStock/RonTech2000)
Should you buy a store-bought gingerbread house kit or use the old fashioned gingerbread house recipe and make one from scratch as Mom and I once did? It's a decision faced by many parents.
Back in the 1950s, when I was a youngster, I helped Mom decorate our gingerbread houses, but that was after she had drawn a brown-paper pattern and had carefully cut the house parts from the homemade gingerbread dough.
Today's kits with their ready-made gingerbread make creating the gingerbread house easier for kids, but it was both fun and fascinating to watch Mom do it from scratch.
Not a Christmas goes by that I don't think of those homemade gingerbread houses that she and I made together so many years ago.
They were so much fun to decorate with icing and candies, and although it was sad to see the Christmas holidays end, I always looked forward to eating them.
I simply LOVED the taste of that stale gingerbread and icing. To a kid, it was an absolute delicacy!
Yes, the kits are convenient, I will give them that, but making homemade gingerbread houses with Mom was something extra special. Love was involved!