Christmas Yule Log Cake Recipe
Christmas Yule Log Cake Recipe
Choose a traditional Christmas Yule Log cake recipe and create a beautifully decorated cake to serve on Christmas Eve. The log-like cake symbolizes the ancient custom of the Yule Log that burned for twelve nights until Epiphany.
However, these homemade cakes won't last twelve nights as the original oak logs did. They are far too tempting and delicious!
Our family enjoys a Yule Log for dessert on Christmas Eve after a midnight church service. When the children were little, we would serve the Yule cake and sing Happy Birthday to Jesus. Why not make a traditional dessert cake for your Christmas this year?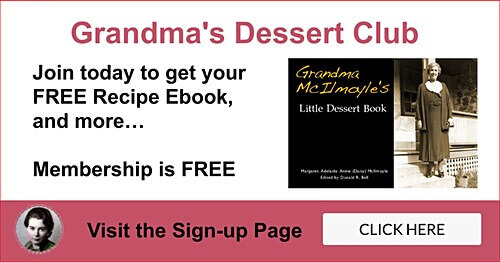 Christmas Yule Log Cake Recipe
Mom's Recipe Scrapbooks (1920s)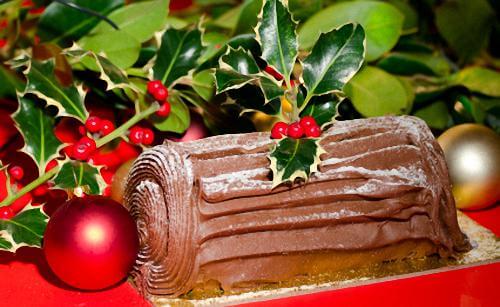 Decorated Yule Log Cake for Celebrating Christmas
(Source: ©iStock/clubfoto)
Graham Wafer Yule Log

1/4 cup butter
3/4 cup fine sugar
3 eggs, separated
2/3 cup sifted all-purpose flour
1-1/2 teaspoons baking powder
1/2 teaspoon baking soda
1/4 teaspoon salt
1-3/4 cups graham wafers, finely rolled
3/4 cup buttermilk or sour milk
Line a 10 x 15-inch jelly roll pan with waxed paper. Do not grease. Cream butter and sugar. Add egg yolks and beat well. Sift dry ingredients and add alternately to creamed mixture with milk. Fold in stiffly beaten egg whites and wafer crumbs.
Bake at 350°F for 20 minutes. Turn out immediately onto a damp towel liberally sprinkled with fine sugar.
Carefully remove waxed paper, trim crusts. Roll cake up along narrow edge.
When cool, partially unroll, then fill, and frost with lemon flavored whipped cream. Chocolate frosting can be substituted for the whipped cream called for in this Christmas Yule Log Cake recipe. Delicious either way.

Buche de Noel / Yule Log Cake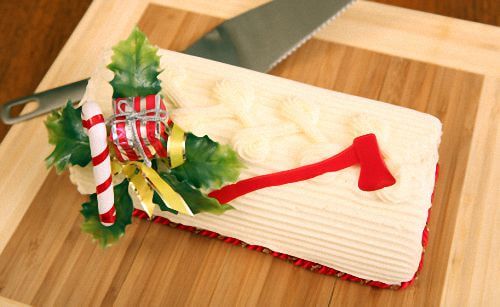 Decorated Homemade Yule Log Cake
(Source: ©iStock/WoodenDinosaur)
Five ounces fruit sugar, 5 ounces flour, five eggs. Beat fruit sugar and yolks of eggs together until light. Add flour gradually, and then fold in the stiffly beaten egg whites. Spread on shallow pan, covered with greased paper, and bake in moderate oven.
When cool spread with a boiled custard, roll like a jelly roll, leaving a hole in the center, which can be filled with whipped cream.
Decorating a Yule Log is easy. Just cover cake with mocha frosting, "ridge" sides roughly with a fork (see photo), sprinkle with finely chopped pistachio nuts (optional), and lightly dust with icing sugar for snow (optional).
A sprig of holly for decoration is traditional. Cut both ends on an angle to represent a Yule Log. Very Good!

About the Christmas Yule Log Cake Recipe

Bringing in the Yule Log
Yule Log cakes are part of an old Christmas tradition. "Yule" is simply another word for Christmas, while "Yuletide" refers to the Christmas season.
The word Yule is thought to have originated with an ancient pre-Christian harvest festival held in November.
The Yule Log is an ancient custom that survived into Christian times. A huge oak log was carried into the dining hall amid much celebration and lighted on Christmas Eve.
Then, the log was burnt each night until Epiphany, the feast of Twelfth Night, to symbolize the power of God's Light to conquer darkness.
After the log had been extinguished, the remaining charcoal was kept until the following Christmas to kindle the next year's Yuletide Log. The charcoal was also believed to protect the house from lightning and fire throughout the year.
Now, the decorated log-shaped cakes have come to symbolize the ancient oak logs. In Quebec, these festive cakes are known as la Buche de Noel.
This Christmas, bake a traditional Yule Log cake using an old fashioned Christmas Yule Log cake recipe, and delight your family.

The Truth About Xmas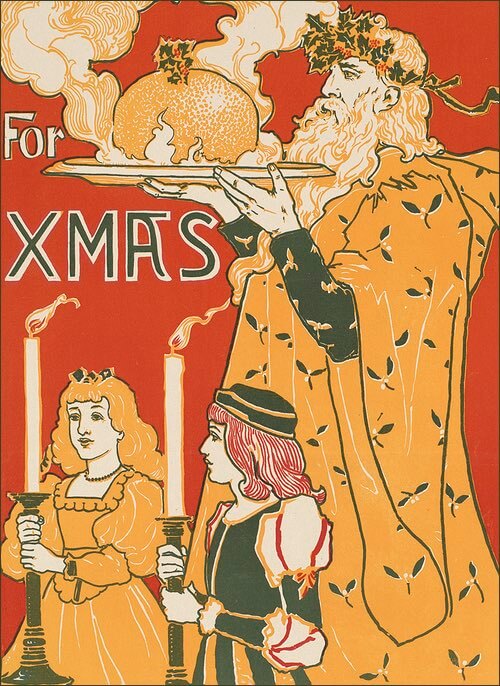 The Century for Xmas by Louis Rhead 1857-1926
(PD Source: The Century Co. circa 1895)
Xmas or X-mas has been commonly used as an abbreviation of the word Christmas since the 18th century and possibly earlier. The "X" comes from the Greek letter Chi, the first letter of the Greek word for Christ (Χριστός), and the "mas" comes from the Old English word for Mass.
There's also documented history of the use of the Greek letter Chi as a symbol of Christ and the cross. The Chi-Rho (☧) is an early Christian symbol representing Christ that's formed by superimposing the first two letters, Chi and Rho (XP), of the Greek word Χριστός translated as Christ.
Generations passed, and by the mid 20th century fewer English-speaking people understood Greek, and the historical origin of the term Xmas. A common misconception grew that the "X" had some negative, anti-Christian meaning and that its use showed disrespect.
Ironically, by encouraging unfounded hearsay and denying the true meaning of the word Xmas, sincere people unknowingly contributed to what many had feared, a gradual secularization of Christmas.