My Solo Build It Review

Hi, I'm Don Bell from Peterborough, Ontario, and this is my Solo Build It Review.
Yes, I'm the retired senior citizen with the old fashioned desserts website. You might have read an article about me on Everything Zoomer. That was back in 2010, and my website is still going strong.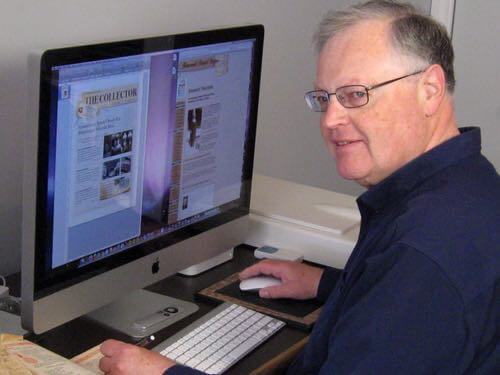 Don Bell Working at Home Online
(Source: ©Don Bell)
People wonder how a non-techy senior citizen like me can build a successful food blog and earn money by simply giving away my Grandma's favorite dessert recipes.
Some have asked about creating a website of their own to share their family's recipes or to promote a hobby or special interest. So, I added this Solo Build It Review to help answer any questions.
Why I Built This Website

While planing for an early retirement, I looked for something that I could do to earn additional income from home.
After years of self-employment, I hadn't the luxury of a company pension plan and family adoption expenses in the mid 1990s depleted all our retirement savings and then some.

But, it had to be something not too difficult that I would enjoy doing, something hobby-like. Life is much too short to do otherwise. It also had to be something that would require little or no startup money and involve minimal financial risk.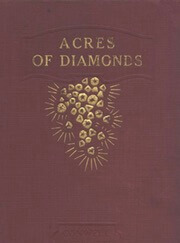 I happened to read Acres of Diamonds, a little book that was first published back in 1915. It's a captivating short story by Dr. Russell H. Conwell that contains an amazing statement:

"You can get rich right where you are. At home. Not somewhere else. Not a person has secured great wealth by going away who might have secured as much by some other means if he had stayed at home."

Applying Conwell's sage advice, I searched our home to see what was at hand that could be used to generate some extra income. To my surprise, besides my Mac computer, I discovered a unique collection of my mother's handmade recipe scrapbooks and old fashioned cookbooks.

And since I love desserts and nostalgia, all I needed was to find a profitable way to share the old fashioned dessert recipes with like-minded people who love to read and collect them.

My Problem
I had the resources, a computer and all those remarkable dessert recipes, but I also had a problem. How would I go about sharing them with recipe lovers?
I needed to find a simple solution that would be both profitable and fun to do.
Eventually, an idea formed. I could publish some of the recipes on a website and compile the rest into a series of cookbooks (Ebooks) that people could purchase and instantly download.
However, I had no idea how to go about building a website let alone how I could turn it into a money-making home business. Nor did I want to fall into the trap of paying a webmaster thousands of dollars to build a website for me that I would have no control over later.
I simply wanted to get online and get earning!

Solo Build It Review

While searching on Google one day in 2004, I stumbled upon the perfect solution to my problem — a world-class Canadian company called SiteSell, and its unique opportunity called Solo Build It (SBI!).
Solo Build It is altogether different from anything else being offered. It's a doable, all-in-one package that shows you how to start an online business.
I call it my Website Secret, as it works quietly behind the scenes 24/7 to make my website possible.

SBI takes Internet novices by the hand and helps them turn almost any interest, skill, or hobby into a successful website and online business.

And, you'll be encouraged to know that many SBIers (that's what people using Solo Build It call themselves) are making really good income with their websites.

I took the plunge and started this website back in May 2004, and the rest as they say, is history.

Just look at my website now! Solo Build It was quite simply the answer to my prayers, and I shudder to think what I would have done without it.
What follows is my Solo Build It review explaining why and how I use it to maintain my online business from the safety and comfort of from my country home.

What Is Solo Build It?

The name Solo Build It reflects SBI's true purpose. This amazing all-in-one system is much more than a website builder, it's an online business builder that's altogether different from other programs found in the marketplace.
It's designed from the top down to help solopreneurs (people who prefer to work alone at home) turn almost any interest, hobby, or skill into a successful website and online business.
I admit that I was initially skeptical about Solo Build It. Anyone surfing the Internet soon discovers that there are tons of hosting companies and website building tools available online, and some are even free. You've likely seen their flashy ads on television.
Most offer a gorgeous website and quick-and-easy success. It's easy to get drawn in with the promise of a beautiful website that you can build in an hour; however, you can end up paying for additional features and bandwidth later. They make it all seem so easy!
What they never tell you is online businesses have a high failure rate and no matter how beautiful that new website is, it isn't a business!
That's because once you've built your site, you're left high and dry on your own with few instructions, limited support, and little hope of attracting needed visitor traffic.
Some companies lure people to build a free blog on their subdomain, but if you happen to read their Terms of Use, you'll discover they have a royalty-free license to reproduce, modify, adapt, and publish YOUR content. Ouch!
And don't be fooled by the old "followers" carrot. Bloggers will brag about all the followers they have while failing to realize that many so-called hits are simply bots and spammers. What you need is genuine visitor traffic that increases daily.
Also, many hardworking bloggers are unaware the major search engines won't rank free blogs the same as self-hosted websites. After all, why would they?
Free blogs have limited Search Engine Optimization (SEO), and the content published is generally perceived by search engines as having little value. Bottom line: free means you get what you pay for!
If you value your time and creative output forget free! Writers who value their content won't hesitate to pay for a self-hosted website where they have total access to their files and the servers they're stored on.
You need a secure, self-hosted website that you 100% own and control. And while there are reputable companies online that offer self-hosted websites, the more I researched, the more I realized that SiteSell offers the real deal.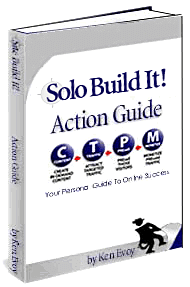 Action Guide!
You MUST build a proper online business if you ever hope to grow your website to become self-supporting and able to generate significant visitor traffic and income.
To do that, you need the support of a proven online package that features the Solo Build It Action Guide plus all the tools needed to generate targeted visitor traffic because without traffic, you cannot succeed.
As you continue reading this Solo Build It Review, I'll share how SBI can provide everything you need and more.
Please be patient, though, as I'm giving you tons of information, including answers to all the tough questions I asked before building my first website.
Since these pages are packed with helpful information, illustrations and photos, please allow a little extra time for everything to load into your browser.
Solo Build It IS the Real Deal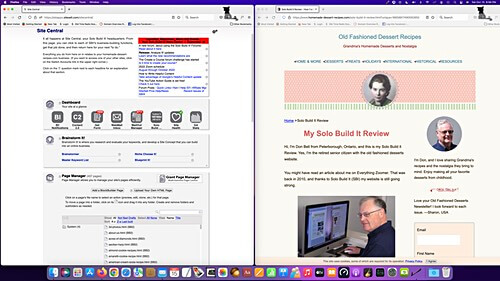 Access Your Site Pages at SBI Site Central
(Source: ©Don Bell)
The SiteSell company has a rock solid reputation in the Internet industry for honest dealing and for having PROVEN results.
And SiteSell Education's course on Building a Successful Business Using the Internet is now being taught at over 3 dozen accredited universities and colleges worldwide.
What finally sold me on SBI was the fact that I needed NO programming skills, NO web design knowledge, and NO online business training to begin. SBI supplies ALL the tools and know-how in one doable package.
What's more, SiteSell provides everything needed online, and everything works perfectly with either a Mac or a PC.
That means you can learn everything you need to know and work in the safety and comfort of your own home. That's a huge advantage.
You still need to learn new skills and create your website content, but when you're busy doing something you enjoy and seeing measurable results, it really doesn't seem like work.

You CAN Build a Website

If you've read my Solo Build It Review so far, and the thought of starting a home business appeals to you, why not earn some extra income by building a website and sharing information about something you know and love?
Just go for it! Who knows? You might be in a position to fire your boss and escape the 9-to-5 routine someday, or maybe even choose to retire early as I have done.
But, maybe you aren't interested in a home business. Maybe you simply want a website to share your hobby with others or to promote your favorite non profit charity.
Or maybe you're a budding author or musician wanting to build a fan-based following. Well, SBI is perfect for the task.
And if you could earn some extra income to support your hobby or writing or music or charity, then why not?
Really, it doesn't matter if you are a student, a stay-at-home mom, a factory worker, a writer, a medical professional, or a retired senior citizen like me.
Everybody can use some extra cash these days, and we all have a skill or some useful information that someone in the world wants to know more about.
Watch the short video below. It features a Canadian grandmother who works from her comfortable home and sees lives changed through having her own businesses online.

You see, the people who use Solo Build It are just ordinary people like you and me. And if they can build a successful website, so can you.
I have no trouble believing this because I've done it. And I have been doing it since 2004!
And yes, I do earn an income from my site. My site features sponsored advertising, as does Martha Stewart, Jamie Oliver, National Geographic, and most other online publishers. The revenue earned covers the web hosting, and all the costs associated with publishing the recipe content, all at no cost to my website visitors.
Most of all, I love the freedom of being able to work safely at home online. No commuting, no office politics, and no schedules to meet other than my own.

My Relationship With SiteSell

Solo Build It Powers My Old Time Dessert Recipe Website
(Source: ©Don Bell)
My old time recipe website has been hosted by SBI since 2004, and I have been more than satisfied with the secure service and technical support I've received.
I eventually joined the SiteSell affiliate program because I strongly believe in the product, and I wanted to write this Solo Build It Review and recommend SBI to my family and friends.
Now, my wife and others are busy at building their own websites, and I have no qualms about recommending SBI to you. If you follow The Action Guide and put in the necessary effort, you'll discover that it simply works!

If you go to SBI and subscribe, you can start your own online business today, and though I stand to earn a small commission, it doesn't cost you any extra. This is called being an affiliate, and it's one of several ways you will get to earn online.
I wrote this Solo Build It Review because SBI is a product that I use and love, and I know you will love it too.

I also decided to write this Solo Build It Review because I became upset at seeing fake reviews online that were designed to badmouth SBI and send people to an inferior product. You don't deserve to be misled.
You deserve to read a genuine Solo Build It Review written by a real person like me. Someone who has successfully used SBI for 17 years and loves it.
SiteSell did a comparison study and the results were dramatic revealing that you have a 33-times greater chance of success with SBI!
You can read the Wealthy Affiliate Review and judge for yourself. It is a long read, but the results are plain as day!

While the use of today's website builders can lead to beautiful websites, they mostly fail at delivering the needed visitor traffic, and they offer few instructions on how to build a profitable online business.
I love the fact that SiteSell holds nothing back. They are always transparent and open to honest questions, and they will always give you an honest answer.
Please, feel free to Contact SiteSell and speak with someone in the know directly if you have any questions that my Solo Build It Review hasn't answered. I can assure you there's no obligation. They simply want to help.
I have also written an additional page where I answer the FAQs, the very questions that I wanted to ask back when I first started my website.

Give Solo Build It a Trial Run

Now that you've read my Solo Build It Review, why not give SBI a trial run? If the program isn't every bit as special as I say it is, simply take advantage of SiteSell's money-back Guarantee.
There are no catches, no false promises, and no risks.
You will discover as I did that this is one of those rare occasions where the product more than lives up to your expectations.
Simply choose a topic that you're interested in. Is it Gardening? Dogs? Sports? Your hobby? Your hometown? Your faith? Recipes?
And begin!
Should you ever need some assistance in getting your new SBI website up and running, just ask for help in the SBI Forums. That's where I hang out, and I'll eagerly await seeing you there.
Try SBI now. It works better than any other website-building product, but it might not be right for you and that's OK. Just trigger the 90 Day Guarantee, turning your purchase into a risk-free trial.
I hope you've found my Solo Build It Review helpful. It's my sincerest hope that you can turn your computer into a source of income, self-reliance, and creative fulfillment.
Sincerely,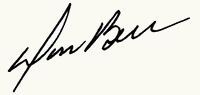 Don Bell,
Website Owner

Read Acres of Diamonds

In his classic book Acres of Diamonds, Russell H. Conwell shared the astounding SECRET he had gotten from an old Arab guide when traveling down the Tigris and Euphrates rivers.
Conwell's secret inspired me to begin this old fashioned recipe website and online business, and as a bonus to this Solo Build It Review, I'm pleased to share the secret with you.
Please read the Acres of Diamonds short story with an open mind, as it has the potential to inspire you too.

Read Acres of Diamonds
Solo Build It Review FAQ

Do you have any questions that weren't answered in my Solo Build it Review? It's my hope that you will find my FAQ Page helpful and informative.

Solo Build It FAQ