No Bake Coconut Snowballs Recipe
No Bake Coconut Snowballs Recipe

Add an old fashioned No Bake Coconut Snowballs recipe to your recipe box and relive your childhood. The white Snowball cookies were always prominent on the dessert trays when I grew up in the 1950s, especially around Christmas time and New Years. Enjoy an easy-to-make homemade treat for celebrating a traditional Christmas.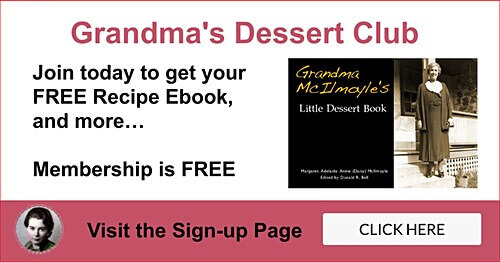 Aunt Jessie's No Bake Coconut Snowballs Recipe

Mom's Recipe Scrapbooks (1920s)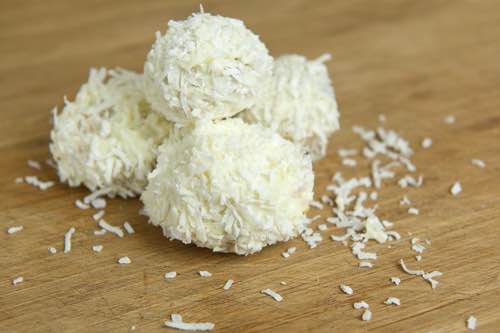 Make Yummy Coconut Snowballs for Christmas Treats
(Source: ©ctrphotos/Depositphotos.com)
No Bake Coconut Snowballs

I just had these treats for the first time on Christmas Day. They taste so good! The recipe is my husband Don's Great Aunt Jessie's NO BAKE Coconut Snowballs recipe. I hope you have fun making them. —Vicki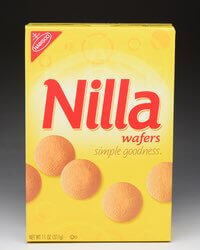 Nilla® Wafers
Vanilla wafers are small (1 1/2 inch), light, crispy-thin, vanilla-flavored cookies also known as Nilla® Wafers. They are marketed by Nabisco in the U.S. and Christie in Canada.
You can substitute vanilla wafers with any small sugar, butter, or shortbread cookies (homemade), if wafers are unavailable in local food stores.

Cream 1/3 cup butter, 2/3 cup sugar, and 2 egg yolks. Add 1 cup drained crushed pineapple and 1 cup chopped pecans.
Take a small amount of the mixture and put it between 2 vanilla wafers, making a little sandwich. Freeze them until firm.
Roll the frozen wafer sandwiches in Cool Whip® or whipped cream and immediately roll in coconut. Freeze until ready to serve.
If you are afraid of issues with the raw egg yolks, you can substitute 1/2 cup cream cheese for the butter and egg yolks. It's a little different flavor, but still very good. Enjoy!

As a child, my mother had me help her make these coconut pineapple snowballs. I have tried for YEARS to find the recipe. This is the one! THANK YOU! —Anon.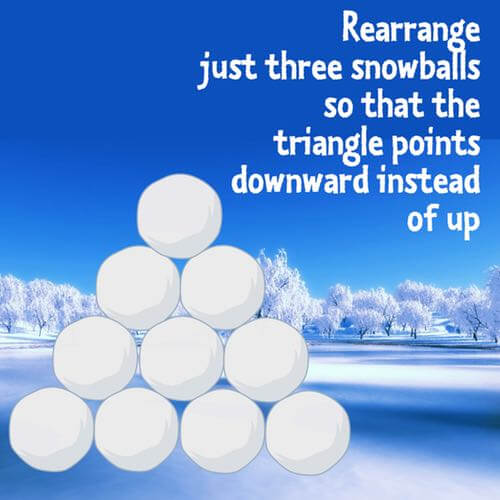 Solve the Snowballs Puzzle — See Solution Below
(Source: Don Bell)
Vicki, thanks for sharing the No Bake Coconut Snowballs Recipe. This was one of our family favorites, but we lost the recipe. I'm sure it was neglected because it calls for raw egg yolks.
What I do if the recipe calls for raw eggs is just heat the eggs in a small fry pan with about 1/2 teaspoon of water, stir them constantly over low heat until they coat the spoon, then let them cool. — Jona

Baked Snowball Cookies

1 cup butter
1/2 cup fruit sugar or icing sugar
1/2 teaspoon vanilla flavoring
1-3/4 cups all purpose flour
1/2 cup chopped nuts or bits of candied fruit
Beat butter until creamy, add vanilla and sugar, and continue beating until mixture is light and fluffy. Add remaining ingredients, shape into balls, and place on non greased cookie sheet.
Bake at 350°F for about 20 minutes. Roll in confectioner's sugar when cool. Makes about 3 dozen snowballs.

Snowball Yum Yums

Melting Chocolate Chips

You can also melt the chocolate chips easily in a microwave-safe bowl. Microwave for 30-40 seconds on LOW power, stir, and repeat until you have a bowl of creamy, melted chocolate. Watch carefully to prevent scorching.

To make No Bake Snowball Yum Yums, take some peanut butter and roll it into balls. Take half a bag of chocolate chips and melt them in a pot over the stove until sticky yet melted, then take them off the burner.
Using a spoon, quickly pour chocolate onto peanut butter balls. Grab coconut shavings and remaining chocolate chips and before the chocolate dries, stick chocolate chips all over to make a spiky ball, or to make a pattern. Stick on coconut shavings.
Let Yum Yums sit in a cold fridge overnight. Serve in paper baking cups. —Corinna

Coconut Snowballs With Fruit

Evaporated Milk

To substitute 1 cup evaporated milk, use 1 cup heavy cream, or gently simmer 2-1/4 cups whole milk in a saucepan until reduced to 1 cup.

Ingredients:
3 tablespoons Evaporated Milk, 1/2 cup firmly packed brown sugar, 3/4 cup cut citron, 3/4 cup coarsely cut red candied cherries, 1/2 cup coarsely cut pitted dates, flaked coconut.
No Bake Method:
In a saucepan, combine milk and sugar. Cook over low heat, stirring constantly, for 5 minutes. Remove from heat. Stir in fruits. Chill thoroughly.
Grease hands and shape chilled mixture into balls by rolling between palms of hands. Roll balls in coconut. Top with candied cherry half. Chill until firm. Makes about 2 dozen.

Snowy White Pecan Gems

Delicious Pecan Gems Are So Easy to Make
(Source: ©alisafarov/Depositphotos.com)
3/4 cup butter
5 tablespoons brown sugar
2 teaspoons ice water
1 teaspoon vanilla
1 teaspoon almond flavoring
1 cup chopped pecans
2 cups flour
Method:
Mix ingredients in order: butter, brown sugar, water, vanilla, almond flavoring, nuts, and flour. Pinch a small amount of dough with fingers and roll into a small ball shape.
Place balls on cookie sheet and bake in 275°F oven for about 45 minutes. Do not grease the cookie sheet beforehand. After baking, shake in a bag with white icing sugar while still warm.
Coconut Stacks Recipe

Submitted by Sue

This is my 83-year-old mother-in-law's version of a NO BAKE coconut snowballs recipe. She always served her Coconut Stacks on Christmas Eve for a family dessert. They are absolutely delicious! —Sue

Coconut Stacks

Grandma's Tip
Pasteurized liquid egg yolks can be used instead of raw egg yolks to avoid any health risk. Look for them in the dairy section of most supermarkets.

My mother-in-law uses 3 vanilla wafers for each stack and prefers to omit the coconut. (I am not a fan of coconut either, and I think they are wonderful without it.) —Sue
Cream Together:
1/4 Cup butter
1/2 Cup sugar
Add and Stir:
1 egg yolk
1/2 Cup crushed pineapple, well drained
1/2 Cup nuts
Lastly:
66 vanilla wafers
1 Cup whipped cream, sweetened
Coconut (optional)
Spread mixture between wafers, 3 wafers for each stack. Refrigerate overnight. Unfrosted stacks can be frozen for serving later.
A few hours before serving, frost each stack with whipped cream. Sprinkle with coconut if desired, and refrigerate again.

Egg Safety Tip

Some no-bake recipes might call for raw, uncooked eggs or egg whites. To avoid any health risk, please visit my Eggs and Salmonella page for simple instructions on how to safely use the old time recipe.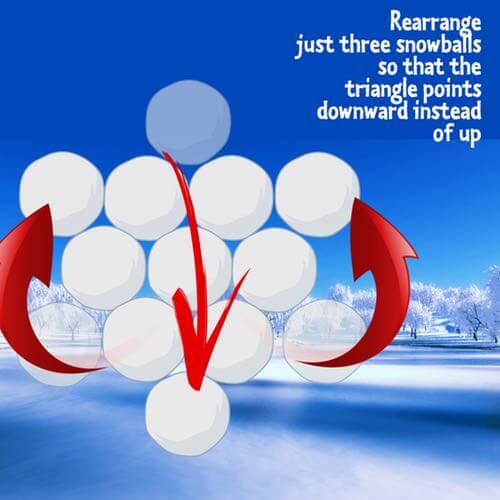 Solution for the Snowballs Puzzle
(Source: Don Bell)