Old Fashioned Cake Icing

Grandma's old fashioned cake icing can help you turn any homemade dessert cake into an attractive centerpiece for any serving table.
Every cook collects recipes for their favorite cake frostings, and these are the ones that Grandma often used to make her cakes look and taste extra special. Now, they are yours!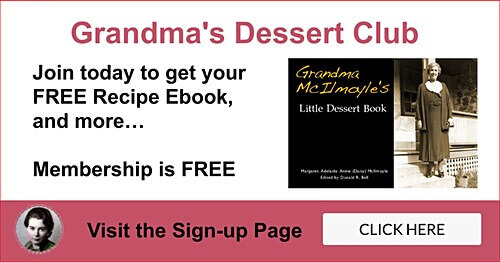 Grandma's Old Fashioned Cake Icing

Mom's Recipe Scrapbooks (c. 1920s)

You Will Love Grandma's Cake Icing Recipes
(Source: ©asife/Depositphotos.com)
Mom often used these old fashioned cake icing recipes when she needed to decorate cakes for birthdays, special holiday occasions, and for everyday. You can make any cake a masterpiece!

Cake Icing Tips

If the cakes are dredged with a little flour after baking, and then carefully wiped before the icing is put on, it will not run, and can be spread more smoothly.
Put the frosting in the center of the cake, dip a knife in cold water and spread from the center toward the edge.

Easy Icing

You will find this old fashioned cake icing is very easy to make:
Heat 2 tablespoons cream and add very gradually confectioners' sugar, stirring constantly until the mixture is of the right consistency to spread; then add 2 tablespoons melted butter and 1/2 teaspoon vanilla.

Seven Minute Icing
1 egg white, 3/4 cups white sugar, 1 tablespoon corn syrup, 1/4 teaspoon cream of tartar, 3 tablespoons water, 1/2 teaspoon vanilla.
Combine all ingredients, except flavoring, in top of double boiler and beat; place over rapidly boiling water and beat 7 minutes or until frosting is fluffy and will hold shape; remove from stove, add flavor, and beat 1 minute longer; spread immediately.

Snowdrift Frosting

Mix 1 cup sugar, 1/3 cup water, and 1/3 teaspoon cream of tartar in a saucepan. Stir until the mixture comes to boil, then boil without stirring to soft ball stage (242°F).
Gradually pour hot syrup into 2 stiffly beaten egg whites, beating constantly. Add 1/2 teaspoon vanilla extract. Beat until frosting holds its shape in peaks.

Poured Buttermilk Icing

1/2 cup buttermilk
4 tablespoons butter
1/2 teaspoon vanilla extract
1/2 teaspoon baking soda
1 cup granulated sugar
1 tablespoon corn syrup
Add buttermilk, butter, vanilla, baking soda, sugar, and corn syrup to a saucepan and stir to combine. Allow mixture to come to a soft boil over medium heat until icing changes to a light caramel color.
DO NOT ALLOW ICING TO OVER BOIL and become thick, as it's meant to be poured and quickly spread over the cake while both are still warm.

Easy Vanilla Icing
3 tablespoons butter, 1-1/2 cups icing sugar, 1-1/2 tablespoons milk, 1/2 teaspoon vanilla; beat. Note: Add enough confectioner's sugar to make of right consistency to spread.

Vanilla Butter Cream Icing
1/4 cup butter, 1/4 teaspoon salt, 2 teaspoons vanilla, 3 cups icing sugar, 1/4 cup milk. Combine all ingredients and mix.

Nut Icing
Mix any quantity of finely chopped nuts into any quantity of cream icing as in the foregoing recipe. Ice the top of cake with plain icing, and lay the halves of walnuts on top to decorate.

Coconut Icing
Mix coconut with the unboiled cream icing. If you desire to spread it between the cakes, scatter more coconut over and between the layers.

Butterscotch Icing
In a saucepan combine 3 tablespoons butter, 3 tablespoons milk, 1/2 cup dark brown sugar. Heat till dissolved, beat in 1-2/3 cups icing sugar and 1/2 teaspoon vanilla; beat till creamy.

Boiled Walnut Icing
1 egg
1 cup brown sugar Butter, size of walnut
1 cup chopped walnuts
Boil 5 minutes, stirring constantly. Flavor to taste with vanilla.

Lazy Daisy Cake Icing

Evaporated Milk

To substitute 1 cup evaporated milk, use 1 cup heavy cream, or gently simmer 2-1/4 cups whole milk in a saucepan until reduced to 1 cup.

5 rounded tablespoons brown sugar
4 tablespoons butter, softened
3 tablespoons Evaporated Milk
1/2 cup shredded coconut or nutmeats
Combine ingredients in a small pot over low heat, pour over top of cake fresh from the oven, and broil for just a minute or two until light brown. Be careful not to burn. Enjoy.

Peanut Butter Icing

Cream 1/3 cup butter and 1/4 cup peanut butter together. Blend in 1-1/2 cups sifted icing sugar, alternately with 1/4 cup milk. Beat until it's of a creamy consistency.

Delicate Icing
Dissolve 1 teaspoon of jelly crystals in boiling water, then add necessary amount of icing sugar.

Practical Tips for Whipping Cream Topping

How to make perfectly whipped cream for any purpose:

Use a large enough bowl since cream, when whipped, almost doubles in bulk.
Chill the cream, bowl, and beater in the refrigerator for at least 2 hours.

Beat cream until it's fairly stiff, forming peaks.
Should cream start to turn buttery, whip in 2 or 3 tablespoonfuls of cold milk.
Use medium speed when whipping cream with an electric beater.

Old Fashioned Cake Icing Colors

There are times when you need a special frosting color when decorating your cake, and commercial food colors are either unavailable or simply unable to provide the special icing color that's wanted.
The easy instructions in these old fashioned cake icing recipes show how to make your own Pure White, Midnight Black, and Yellow Gold colored icings.

How to Make Pure White Icing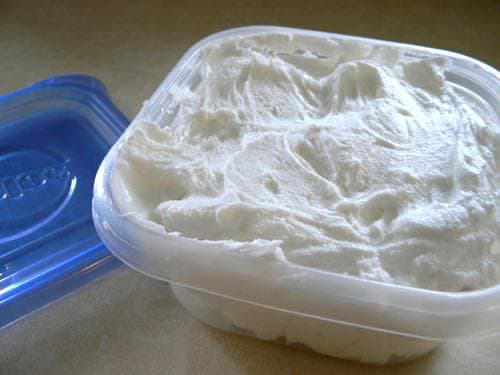 Pure White Icing for Cake Decorating
(Source: DIYplr)
If you ever need pure white icing for a cake, you can use whipped cream or a shortening-based icing.
The whipped cream version might be tastier, but it might not work if your cake has to sit out for a while, or you want to pipe detailed decoration for your cake.
This old fashioned cake icing recipe makes a pure white frosting that works well for decorating purposes and can withstand warm room temperatures.
Ingredients:
4 cups shortening
4 cups icing sugar
2 teaspoons of clear vanilla extract †
7 to 8 teaspoons of water
† Only use a "clear" vanilla extract; otherwise, it will darken the icing. A clear almond extract can be substituted for a change of flavor. Blend the shortening and vanilla extract until the mixture is creamy.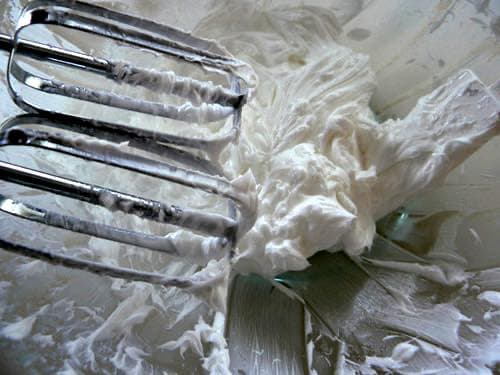 Blend the Shortening and Vanilla Until Creamy
(Source: DIYplr)
Add the icing sugar, a bit a time, and blend until very creamy and smooth. Add a little water to get your icing to the desired consistency: about 2 teaspoons of water for medium consistency, and about 3 or 4 teaspoons for thin.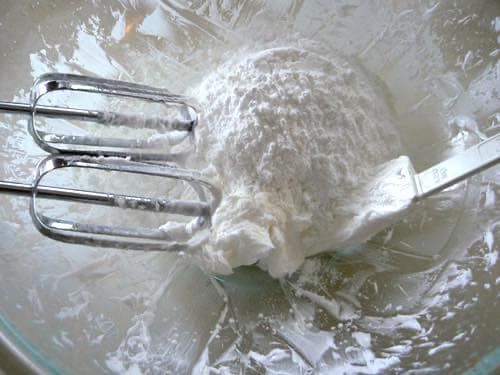 Add the Icing Sugar and Blend Until Creamy Smooth
(Source: DIYplr)
Thin is suitable for icing the cake itself, while medium is best for piping decorations. If your icing turns out too runny, simply add some more icing sugar to thicken it.
Use your icing right away, or you can store it in an airtight container for a bit later.

How to Make Black Icing

Dessert Cake Decorated with Homemade Black Icing
(Source: DIYplr)
To make homemade black icing, begin with a chocolate icing, but you can use white icing in a pinch. Just add about 3/4 cup cocoa powder to your old fashioned cake icing recipe to make it darker.
Some cocoa powders are darker than others, so the darker the cocoa you use, the darker the result will be. Cacao powder can be substituted for added nutrients.
Next, use a toothpick to add some black food coloring gel until you get the desired color.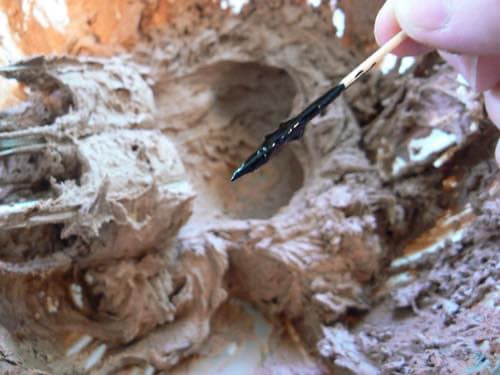 Add Black Coloring Gel to Icing
(Source: DIYplr)
Don't expect the results to be pure black or you'll be disappointed, but you can achieve a convincing shade of very dark grey.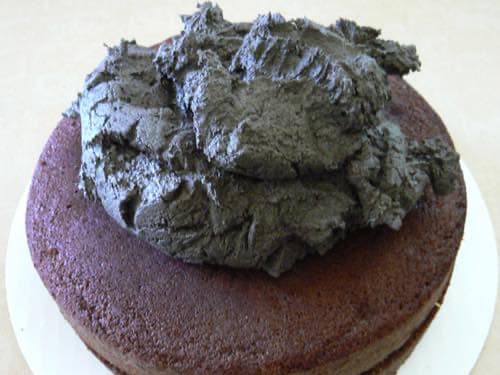 Black Icing for Cake Decorating
(Source: DIYplr)
It's very difficult to make a pure black icing, but this old fashioned cake icing comes close, and it'll taste much better than any store-bought kind.

How to Make Gold Icing

Yellowish Gold Icing for Cake Decorating
(Source: DIYplr)
To make gold icing, begin with a white colored icing, then add some yellow coloring gel and double the amount of brown coloring gel. The yellowish gold icing isn't shiny like gold, but it serves its purpose.

How to Make Stabilized Whipped Cream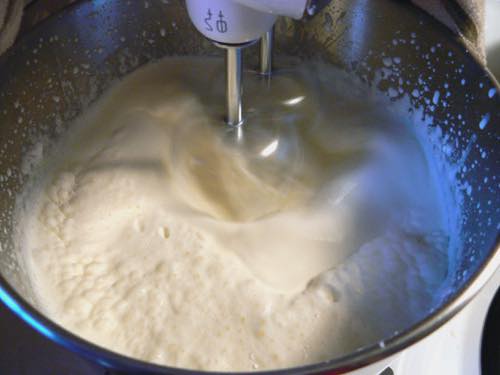 Making Stabilized Whipped Cream for Icing
(Source: DIYplr)
Old fashioned whipped cream works great as an old fashioned cake icing on any dessert cake, or as a filling between its layers.
However, the problem with real whipped cream is that it tends to weep after a while and if you keep your cake at room temperature for too long, it falls apart. One way to make your whipped cream last longer is to stabilize it.

Meringue Powder
Whipped cream can be stabilized with cornstarch, gelatin, marshmallows, or even dry milk powder. Here, though, we're using meringue powder, as it gives very good results:
2 cups fresh whipping cream
1/3 cup icing sugar
3 tablespoons meringue powder
1/2 teaspoon vanilla
Chill your mixing bowl and metal beaters in the freezer for about 25 minutes. Once the bowl and beaters have chilled enough, remove them from the freezer, add the whipping cream to the bowl and start whipping until it thickens.
Once it's thick enough, add the icing sugar, meringue powder, and vanilla flavoring. Now continue whipping the cream until it forms stiff peeks. You want to make sure your whipped cream is stiff, but be don't over whip, or you could end up with butter.

Stabilized Whipped Cream Recipes

If you don't have meringue powder and want your whipped cream to keep stiff for a day or two, try one of the following methods for stabilizing whipped cream:

Milk Powder: Simply stir in 2 teaspoons of milk powder for each cup of whipping cream, and whip as usual.

Marshmallows: Melt 3 or 4 large white marshmallows in a greased pan, remove from the heat before browning, allow to cool a bit, and then blend the melted marshmallow into the whipped cream when it has formed soft peaks.

Gelatine: Add one teaspoon plain gelatine soaked in one tablespoon cold water. Dissolve the gelatine over hot water; allow to cool to the consistency of egg white before adding to the cream and whipping.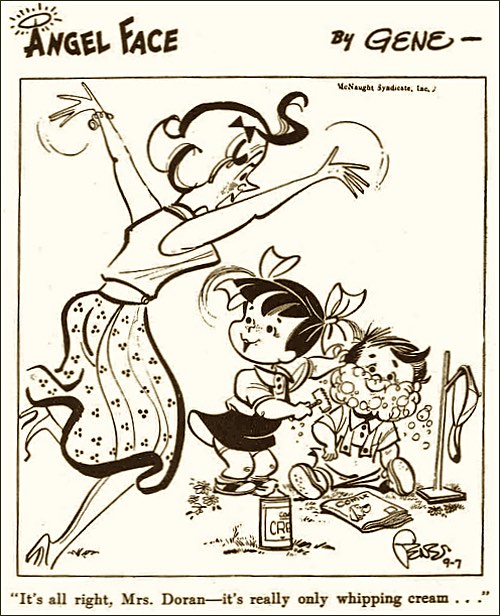 It's All Right—It's Really Only Whipping Cream
(PD Source: Angel Face 1957)
Old Fashioned Cake Icing

Aunt Babette's Cook Book (1889)

Boiled Icing
Take one cup of sugar to the beaten white of one egg. Put the sugar on to boil with two tablespoonfuls of water.
When this has boiled clear pour on the beaten white of the egg, stirring constantly until cold. Flavor with rose water and vanilla mixed.

Chocolate Cake Icing Without Eggs
Boil chocolate with very little water and sugar until thick. It must harden on the spoon when cool. Flavor with vanilla and spread. Set in a very warm place to harden.

Maple Sugar Icing
Boil two cupfuls of maple sugar, with half a cupful of boiling water until it threads from the spoon. Pour it upon the beaten whites of two eggs and beat until cold.
Spread between and on top of cake. A pretty effect is made by sprinkling desiccated coconut on top of cake.

Caramel Icing
Two cupfuls of granulated sugar, a piece of best butter the size of an egg, and one scant cupful of sweet milk. Boil very briskly for ten minutes, being careful not to burn. Flavor with vanilla. Stir until cold.

Recipe for Old Fashioned Cake Icing

Submitted by Diane

Chocolate Syrup Icing

THIS IS IT — I have been trying to find a vintage chocolate cake icing recipe that's cooked on the stove, and you punch holes in the cake and pour the icing over it.
The chocolate will go all over the cake and fill the holes you punched in the cake with a fork, and it's wonderful. It doesn't harden, but it's like a thick syrup. —Carolyn, USA

Melt 1/2 cup butter in pot. Remove from heat, but while still hot, add 1/4 cup of cocoa, 2 cups icing sugar, 1 teaspoon vanilla, and 3 tablespoons of hot water.
Blend until smooth. Poke holes in brownies or cake with a wooden spoon and pour over it while icing is still warm cool. —Diane

Everybody loves this syrupy kind of icing. It will make your cakes and brownies extra special!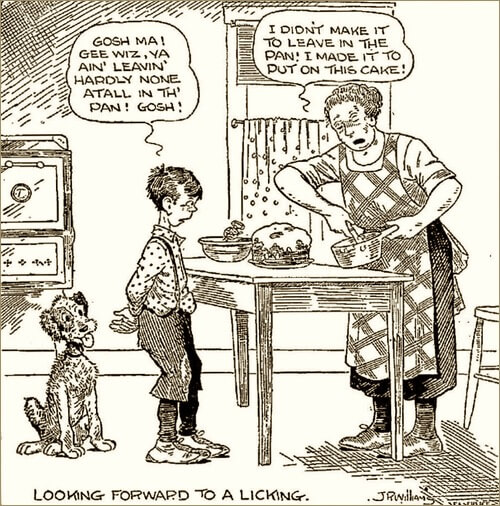 I Didn't Make It to Leave in the Pan!
Marshmallow Creme Recipe

Boston Cooking-School Cook Book (1895)
Mrs. Rorer's New Cook Book (1902)

Marshmallow Creme is an easily spreadable marshmallow-based confection that originated as a topping and filling for layer cakes.
Commercial versions were first sold in the early 1900s, and today the product is available in stores throughout North America and in many European Union supermarkets.
The first cookbook to feature its recipe was Fannie Farmer's Boston Cooking-School Cook Book in 1895.
Mrs. Rorer's New Cook Book published a similar marshmallow creme recipe seven years later, in 1902.
Both homemade marshmallow creme versions are given below.

Marshmallow Creme or Paste

Ingredients: 3/4 cup sugar, 1/4 cup milk, 1/4 pound marshmallows, 2 tablespoons hot water, 1/2 teaspoon vanilla.
Put sugar and milk in a saucepan, heat slowly to boiling point without stirring, and boil six minutes. Break marshmallows in pieces and melt in double boiler, add hot water, and cook until mixture is smooth, then add hot syrup gradually, stirring constantly.
Beat until cool enough to spread, then add vanilla. This may be used for both filling and frosting. —Fannie Farmer

Marshmallow Creme Filling

Put a half pound (8 ounces) of marshmallows and a quarter cupful of water in a double boiler over the fire. Stir until melted.
Take from the fire and pour while hot into the well-beaten whites of two eggs. Add a teaspoon of vanilla. —Mrs. Rorer

Old Fashioned Cake Icing

The White House Cook Book (1913)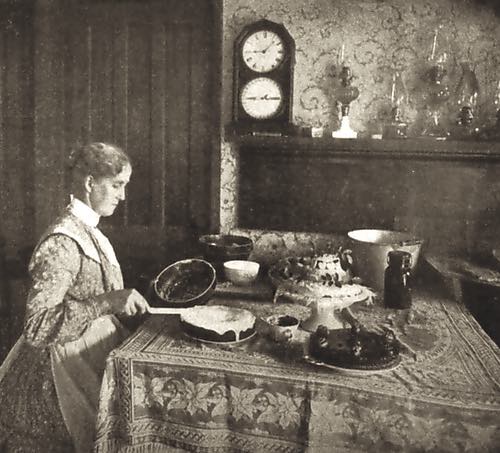 Carefully Icing a Homemade White House Cake
(Source: The White House Cook Book -1913)
There's something about a richly frosted cake that makes any occasion special and these old fashioned cake icing recipes will win you compliments. After all, they were good enough to serve the President of the United States.

7 Minute Frosting

2 unbeaten egg whites, 1/4 teaspoon salt, 1-1/2 cups granulated sugar, 2 teaspoons white corn syrup, 1/3 cup water. (Substitute fruit juice for the 1/3 cup water if a fruity flavor is desired.)
Place ingredients over rapidly boiling water. Beat slowly for 1 minute to mix, then whip till mixture will hold a peak about 4 minutes longer. Remove from heat and add 1 teaspoon vanilla flavoring. Continue beating until desired spreading consistency is reached.

Plain Chocolate Frosting
Put into a shallow pan four tablespoonfuls of scraped chocolate, and place it where it will melt gradually, but not scorch; when melted, stir in three tablespoonfuls of milk or cream and one of water; mix all well together, and add one scant teacupful of sugar.
Boil about five minutes, and while hot, and when the cakes are nearly cold, spread some evenly over the surface of one of the cakes; put a second one on top, alternating the mixture and cakes; then cover top and sides, and set in a warm oven to harden.
All who have tried recipe after recipe, vainly hoping to find one where the chocolate sticks to the cake and not to the fingers, will appreciate this old fashioned cake icing.
In making those most palatable of cakes, Chocolate Eclairs, the recipe just given will be found very satisfactory.

Boiled Frosting Without Eggs
An excellent frosting may be made without eggs or gelatin, which will keep longer and cut more easily, causing no breakage or crumbling and withal is very economical.
Take one cup of granulated sugar; dampen it with one-fourth of a cup of milk, or five tablespoonfuls; place it on the fire in a suitable dish and stir it until it boils; then let it boil for five minutes without stirring; remove it from the fire and set the dish in another of cold water; add flavoring.
While it is cooling, stir or beat it constantly and it will become a thick, creamy frosting.

Tutti Frutti Frosting
Mix with boiled icing one ounce each of chopped citron, candied cherries, seedless raisins, candied pineapple, and blanched almonds.

Old Fashioned Cake Icing Tips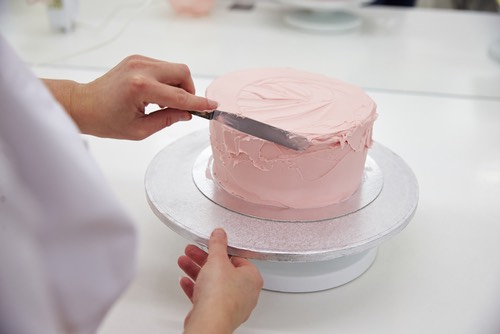 Easy Frosting Tips for Icing Your Homemade Cakes
(Source: ©monkeybusiness/Depositphotos.com)
To begin cake decorating, spread the frosting with a broad knife evenly over the cake, and if it seems too thin, beat in a little more confectioners' sugar. Cover the cake with two coats, the second after the first has become dry, or nearly so.

If the icing gets too dry or stiff before the last coat is needed, it can be thinned sufficiently with a little water, enough to make it work smoothly.

A little lemon juice added to the frosting while being beaten, makes it white and more frothy.

The flavors mostly used are lemon, vanilla, almond, rose, chocolate, and orange.

If you wish to ornament with figures or flowers, make up rather more icing, keep about one-third out until that on the cake is dried; then, with a clean glass syringe, apply it in such forms as you desire and dry as before.

Set the cake in a cool oven with the door open to dry, or in a draft in an open window.

THANK YOU for sharing your recipes for old fashioned cake icing with everyone.
I used the Easy Vanilla Icing this evening, and the results were deliciously wonderful! I was delighted! It is probably the best old fashioned cake icing recipe that I have ever used.
I will be using this recipe again when my baby boy turns a year old next February. Thank you again. —Christine, USA

About the Old Fashioned Cake Icing

Have fun trying these proven frosting recipes when you next bake a cake. You'll discover that some work quite well for icing cookies too.
It's always good to have an old fashioned cake icing recipe handy when you want to decorate a cake for a special occasion or to simply make it look special for eating. Don't you find that cakes seem to taste better when they're nicely decorated? Grandma's always did.

Old fashioned cake icing is all-natural and yummy, so spread it thickly and indulge yourself. Anyway, what's a few calories among friends?