Old Fashioned Taffy Recipes

Have fun with these old fashioned taffy recipes. Everybody loves this delicious candy confection that's simply so much fun to make! Treat your family to an old time taffy pull and create some fond memories they will never forget.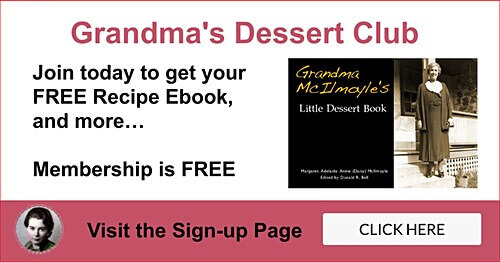 Favorite Old Fashioned Taffy Recipes
Mom's Recipe Scrapbooks (1920s)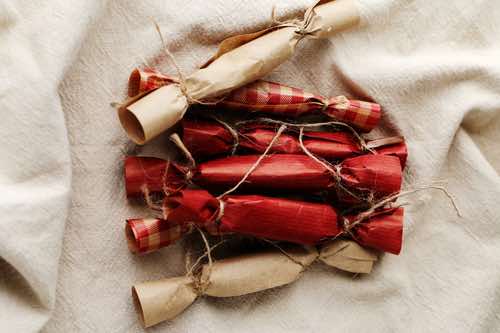 Pieces of Homemade Taffy Candy Wrapped for Gift Giving
(Source: ©yekophotostudio/Depositphotos.com)
Old Time Pull Taffy
This old fashioned taffy recipe is perfect for gathering the family together for a taffy pull. It's from an old magazine clipping of unknown origin, dated 1915.
Two cups granulated sugar, one-half cup water, two tablespoonfuls vinegar, one tablespoonful butter, one teaspoonful vanilla, one-half teaspoonful cream of tartar.
Cook all ingredients except cream of tartar until a few drops will crack in cold water. Then add cream of tartar and pour on greased slab.
Start to pull your taffy when cool enough to handle. Keep hands cool by washing frequently in cold water.

Chocolate Pull Taffy

2 cups brown sugar
1/3 cup corn syrup
2/3 cup water
1 cup molasses
1/4 teaspoon salt
2 tablespoons butter
4 squares unsweetened chocolate, melted
1 tablespoon vanilla extract
Combine brown sugar, corn syrup, water, molasses, salt, and butter. Place over low heat and stir constantly until all sugar is dissolved.
Continue cooking, stirring frequently to prevent scorching, until a small amount of syrup becomes brittle in cold water (290°F).
Pour mixture onto greased platter. Pour melted chocolate and vanilla over candy. As candy cools on edges, turn edges towards center with spatula. Continue turning until candy is cool enough to pull with your hands.
Pull until cold. Stretch out in long rope and break or cut into pieces of desired size. Store pieces in jar.
This old fashioned taffy recipe makes about 5 dozen pieces 1 inch long and 3/4 inches in diameter.

Combo Pull Taffy

3 Combinations of pull taffy can be made:
1st, 3 cups corn syrup.
2nd, 2 cups corn syrup and 1 cup molasses.
3rd, 2 cups corn syrup and 1 cup honey.
Place either combination in a saucepan with 3/4 teaspoon salt. Butter the inside upper edge of the saucepan to prevent boiling over. Cook until the mixture forms a hard ball, when dropped in cold water.
Pour candy mixture into a buttered shallow pan. Let it stand to cool until it can be handled safely. When cool enough, butter the hands and pull. After pulling, cut and wrap pieces in waxed paper.

For Vanilla Candies, use white corn syrup, and add 1-1/2 teaspoons vanilla before pouring candy in the pan.

For Peppermint, add a few drops of oil of peppermint while pulling.

For Chocolate, add 3 squares of chocolate to syrup.

For Nut Candy, add 3/4 cup chopped nuts to either vanilla or chocolate flavors, as it is cooling in pan, fold in toward center as it cools, and pull.

Cream Candy
One pound of white sugar, three tablespoonfuls of vinegar, one teaspoonful of lemon extract, one teaspoonful of cream of tartar. Add a little water to moisten the sugar, and boil until brittle.
Put in the extract, then turn quickly out on buttered plates. When cool, pull until white, and cut in pieces.

Saldic Taffy
Two cups sugar, one cup water, one-fourth cup vinegar, one-half teaspoon of cream of tartar. (Boil until hard when tested in cold water.) No stirring allowed. Pour on a buttered pan and pull until white when cold enough.

Ice Cream Candy
Take three cupfuls of granulated sugar, one and one-half cupfuls cold water, one-fourth cupful vinegar, butter the size of a walnut, boil until it will harden in cold water, then flavor with vanilla, pour into pans that have been buttered well, then pull until firm and white.

Vinegar Pull Taffy

1 cup molasses, 1 cup sugar, butter size of an egg, 1 tablespoon vinegar. Boil, do not stir, until it hardens when dropped into cold water, then stir in a small spoonful of soda. When cool enough to handle, pull until white. —Mrs. F. H. Coman, Pan-American Recipes

Vanilla Pull Taffy
Three cups of granulated sugar, one cup of cold water, three tablespoonfuls of vinegar. Cook without stirring until it threads; add one tablespoonful of vanilla; let cool; pull until white; cut into small squares. —Mrs. Edward E. Powers, Recipes Tried and True

Old Fashioned Taffy Recipe With Molasses

Buckeye Cookery and Practical Housekeeping (1877)

Molasses Pull Taffy
Take equal quantities brown sugar and Orleans molasses (or all molasses may be used), and one tablespoon sharp vinegar, and when it begins to boil, skim well and strain, return to the kettle and continue boiling until it becomes brittle if dipped in cold water, then pour on a greased platter.
As soon as cool enough, begin to throw up the edges and work, by pulling on hook or by hand, until bright and glistening like gold; flour the hands occasionally, draw into stick size, rolling them to keep round, until all is pulled out and cold.
Then with scissors clip a little upon them at proper lengths for the sticks, and they will easily snap; flavor as you pour the candy out to cool. —Sterling Robinson

Fannie Farmer's Old Fashioned Taffy Recipes

The Boston Cooking-School Cook Book (1896)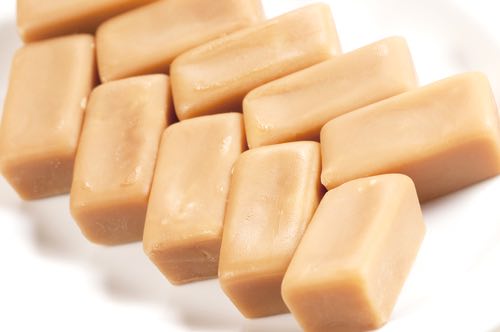 Homemade Pull Taffy Candy Pieces Ready to Wrap
(Source: ©Alexander1962/Depositphotos.ocm)
Molasses Pull Candy
2 cups Puerto Rico molasses, 3 tablespoons butter, 2/3 cup sugar, 1 tablespoon vinegar. An iron kettle with a rounding bottom (Scotch kettle) or copper kettle is best for candy making.
If one has no copper kettle, a granite kettle is best for sugar candies.
Put butter in kettle, place over fire, and when melted, add molasses and sugar. Stir until sugar is dissolved. During the first of the boiling, stirring is unnecessary; but when nearly cooked, it should be constantly stirred.
Boil until, when tried in cold water, mixture will become brittle. Add vinegar just before taking from fire. Pour into a well-buttered pan.
When cool enough to handle, pull until porous and light colored, allowing candy to come in contact with tips of fingers and thumbs, not to be squeezed in the hand.
Cut in small pieces, using large scissors, or a sharp knife, and then arrange on slightly buttered plates to cool.

Vinegar Candy
2 cups sugar, 1/2 cup vinegar, 2 tablespoons butter. Put butter into kettle; when melted, add sugar and vinegar.
Stir until sugar is dissolved, afterwards occasionally. Boil until, when tried in cold water, mixture will become brittle.
Turn mixture on a buttered platter to cool. Pull, and cut same as old fashioned taffy recipe for Molasses Pull Candy above.

Velvet Molasses Candy
1 cup molasses, 3 cups sugar, 1 cup boiling water, 3 tablespoons vinegar, 1/2 teaspoon cream of tartar, 1/2 cup melted butter, 1/4 teaspoon soda.
Put first four ingredients in kettle placed over front of range. As soon as boiling-point is reached, add cream of tartar.
Boil until, when tried in cold water, mixture will become brittle. Stir constantly during last part of cooking. When nearly done, add butter and soda.
Pour into a buttered pan and pull same as Molasses Candy. While pulling, add one teaspoon vanilla, one-half teaspoon lemon extract, few drops oil of peppermint, or few drops oil of wintergreen.

Ice Cream Candy
3 cups sugar, 1/2 cup boiling water, 1/4 teaspoon cream of tartar, 1/2 tablespoon vinegar. Boil ingredients, together without stirring, until, when tried in cold water, mixture will become brittle. Turn on a well- buttered platter to cool.
As edges cool, fold towards center. As soon as it can be handled, pull until white and glossy. While pulling, flavor as desired, using vanilla, orange extract, coffee extract, oil of sassafras, or melted chocolate. Cut in sticks or small pieces.

Prize Winning Old Fashioned Taffy Recipes

The Times Cook Book, No. 2 (1905)

Californian women proudly submitted their best recipes to the Times in hopes of winning the newspaper's Prize Recipe Contests.
These are 3 old fashioned taffy recipes that all won in the homemade candy category.

Old Time Molasses Candy
One quart molasses and 1 tablespoonful of butter; boil together till it will snap in cold water. Stir in a pinch of soda to whiten it. Pour on buttered dishes and when cool enough to handle, pull until white. —Hazel Rooklidge

Molasses Taffy
One cup brown sugar, one and one-quarter cups corn syrup, four heaping tablespoons of butter. Put these ingredients on to boil, and just before it forms a hard ball in cold water, add vanilla, and a pinch of soda.
Pour onto buttered platters and pull when almost cold. Be careful not to get the mixture too hard.

Honey Pull Candy
One pint of white sugar, water sufficient to dissolve it, and 4 tablespoons honey. Boil till brittle; pull white when cooling.

About the Old Fashioned Taffy Recipes

From the end of World War One and throughout the Great Depression of the 1930s, "taffy pulling" was a popular, affordable form of Saturday night entertainment in many Canadian and American homes.
And who can ever forget the distinctive "swoosh" and "slap" sounds made when an experienced taffy puller at the county fair stretched and looped a five-foot length of sticky taffy over a large iron hook fastened to the corner of his concession stand?
After watching it being pulled and cut, you couldn't resist buying a piece. I know I couldn't. I pestered Dad to buy me a piece and that old fashioned pull toffee tasted so good.
Taffy was sometimes left in its natural whitish-tan color and wrapped in waxed paper, but some puller's added red or yellow food coloring to give it more appeal to the youngsters. Now, you can make your own right in your kitchen.
By the way, the old fashioned taffy recipes aren't just for Welshmen — (Sorry, a little pun in memory of my Welsh friend, Alun who was proud to be called a Taffy).
These candy recipes are for anyone wanting a chewy candy that's very easy and affordable to make.
Taffy pulling can be a fun activity for your entire family. Choose an old fashioned pull taffy recipe and make some homemade candy this weekend.
Just DO NOT follow the bewildered young boy's example in the old Out Our Way cartoon below!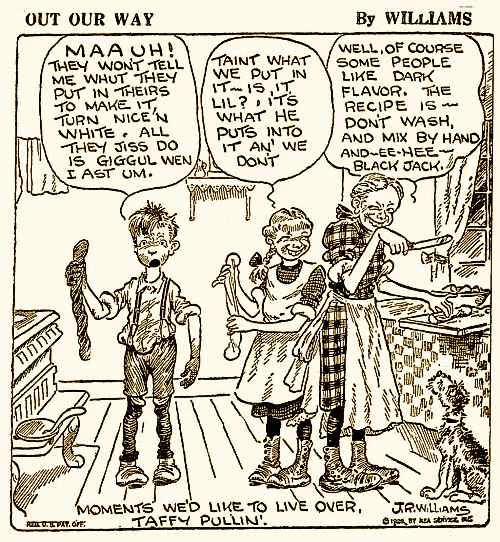 How NOT to Pull Taffy
(PD Source: Out Our Way, 1928)
Experience an Old Time Taffy Pull
Mom told me of the times in her family when they made homemade taffy in the 1920s.
She and her brothers and sisters would divide into pairs, and each pair would take a big piece of taffy and pull it until it was almost pure white in color.
They would quickly hand-roll it into thin strips. Then, with scissors they cut it into bite-sized pieces that they wrapped in tiny squares of waxed paper and sealed by twisting the ends.
Now, thanks to Mom's favorite old fashioned taffy recipes, you can experience your own taffy pull anytime. Make some toffee today and experience its nostalgic taste.

Is It Called Taffy or Toffee?

Toffee and taffy are very similar candies made with similar ingredients, yet they are different.
Toffee is poured onto a buttered pan and cooled to form a hard and brittle brownish slab that's broken into pieces, whereas Taffy is pulled and stretched to form a lighter and softer candy that's cut into sticks or small chewy pieces.