Vintage Carrot Cake Recipes

Who doesn't want vintage carrot cake recipes? Nothing spells DELICIOUS more than a generous piece of moist carrot cake served warm from the oven. With its wholesome carrot, fruit, nuts, and spices it's healthier than anything store-bought.
And since it's moist and full of homemade flavor, you don't really need to ice it. But, if you must satisfy your sweet tooth, it's fantastic when served with its traditional cream cheese icing.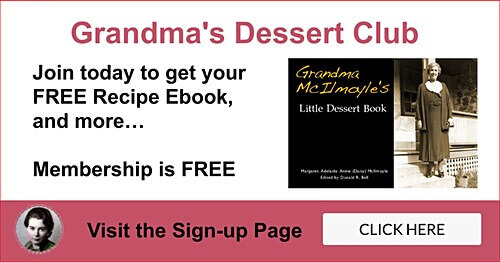 Mom's Vintage Carrot Cake Recipes

Mom's Recipe Scrapbooks (c. 1920s)

Moist Homemade Carrot Cake with Cream Cheese Icing
(Source: ©tawanlubfah/123RF.com)
Family Favorite Carrot Cake
Place in medium saucepan:
1-1/3 cups sugar
1-1/3 cups water
1 cup raisins or chopped fruit
1 tablespoon butter
2 large finely grated carrots
1 teaspoon cinnamon
1 teaspoon cloves
1 teaspoon nutmeg
Simmer for 5 minutes.
Cover and let sit 12 hours or over night. Then add:
1 cup chopped nuts
2-1/2 cups sifted flour
1/2 teaspoon salt
1 teaspoon baking soda
2 teaspoons baking powder
Mix ingredients and bake in 2 oiled loaf pans for 2 hours at 275°F. Cool and wrap in foil for moist keeping.

Lunchbox Carrot Cake

Homemade Lunchbox Carrot Cake with Icing
(Source: ©thisboy/Depositphotos.com)
This vintage carrot cake recipe makes an old fashioned cake that's especially moist and so delicious when iced with cream cheese icing, or an old fashioned butter cream icing.
It's also delicious when served WITHOUT any icing or with only a light dusting of icing sugar on top. And while it's great for lunches, it makes a satisfying and nutritious snack anytime.
Ingredients:
1 cup sugar
1 cup salad oil or butter
4 eggs
1 cup all purpose flour
1 cup whole wheat flour
1-1/2 teaspoons baking powder
1 teaspoon salt
2 teaspoons cinnamon
2 cups grated raw carrot
1-1/2 cups grated apple
1 cup golden raisins
1/2 cup chopped walnuts (optional)
Blend together sugar, salad oil, and eggs. Beat until slightly thickened. Sift together dry ingredients and combine with egg mixture. Add carrot, apple, raisins and nuts, and blend.
Turn into greased and floured 9x13x2-inch cake pan. Bake for 35 to 40 minutes in a moderate oven (350°F) until done.

Carrot Cake in Pastry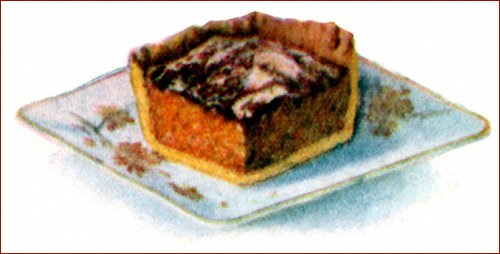 Old Fashioned Carrot Cake in a Pastry Shell
(Source: ©Don Bell)
Want a vintage dessert idea that's unique and absolutely delicious? Make Carrot Cake in a pastry shell. It can be baked as squares or in a tart shell instead. Perfect for Thanksgiving Day, but a delight to serve the year-round.

Cream Cheese Icing Recipe for Old Fashioned Carrot Cakes

Decorating Tip

Mom sometimes sprinkled some chopped walnuts or a little freshly shredded carrot over the cream cheese icing to add flavor and decoration.

4 ounces cream cheese, softened
1/4 cup butter
1 cup icing sugar
1/2 teaspoon vanilla flavoring
Beat cream cheese and butter until fluffy. Beat in icing sugar and vanilla until well combined before spreading on a carrot cake at room temperature.