Vintage Chocolate Cake Recipes
You'll love these vintage chocolate cake recipes. All 16 of them! They include Aunt Wilhelmina's recipe for a Never Fail Chocolate Cake that's quick-and-easy to make and absolutely delicious.
So, if you need a special cake in a hurry, this is it. And it's perfect for serving with or without icing. That's why Mom begged her for the recipe back in the 1950s. Now, it's yours to enjoy!

Mom's Vintage Chocolate Cake Recipes

Mom's Recipe Scrapbooks (c. 1920s)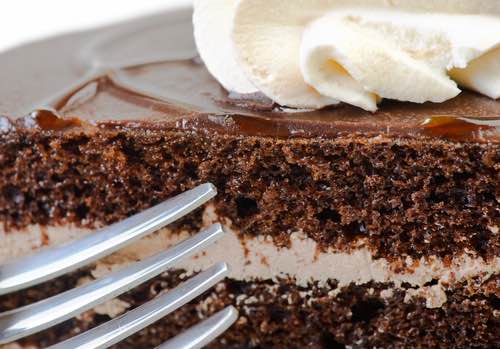 Enjoy a Delicious Homemade Chocolate Cake Today
(Source: ©Paulpaladin/Depositphotos.com)
Aunt Wilhelmina's Never Fail Chocolate Cake

You will love my Aunt Wilhelmina McIlmoyle's vintage chocolate cake recipe for Never Fail Chocolate Cake. She served this old fashioned cake to us on special occasions, and it was always delicious. She claimed it always turned out well — and it did.
This is one of the best vintage chocolate cake recipes for busy moms, as it involves just two easy steps in its making:
First Bowl:
1 cup brown sugar
1-1/2 cups flour
3 tablespoons cocoa
2 teaspoons baking powder
1/2 teaspoon baking soda
Second Bowl:
1/2 cup butter
1/2 cup hot water
1/2 cup sour cream
1 teaspoon vanilla extract
1 unbeaten egg
Mix the ingredients in each bowl, then combine the two, and bake 350°F for 1/2 hour. Imagine... a two bowl cake recipe. It really is that simple!

Dependable Chocolate Layer Cake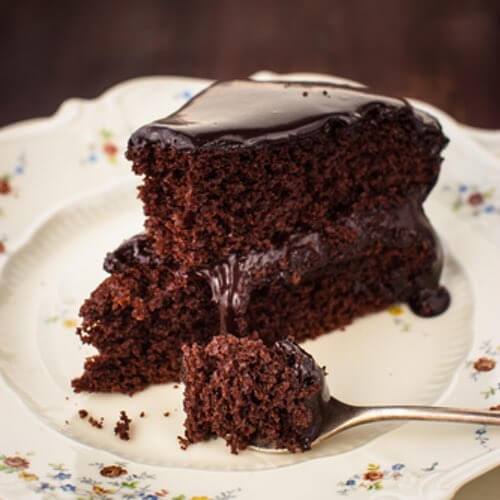 Old Fashioned Chocolate Layer Cake
(Source: ©locrifa/Depositphotos.com)
Here's a basic vintage chocolate cake recipe that's dependable when you need a dessert in a hurry. One that's moist and delicious and calls for only simple ingredients. Easily made from scratch, step by step.

2-1/2 cups flour
1/3 cup cocoa powder
2 teaspoons baking soda
1/2 teaspoon salt
1 cup butter
1-3/4 cups sugar
2 teaspoons vanilla
3 eggs
1-1/2 cups milk
Preheat your oven to 350°F, then grease and flour a couple of 9-inch round baking pans.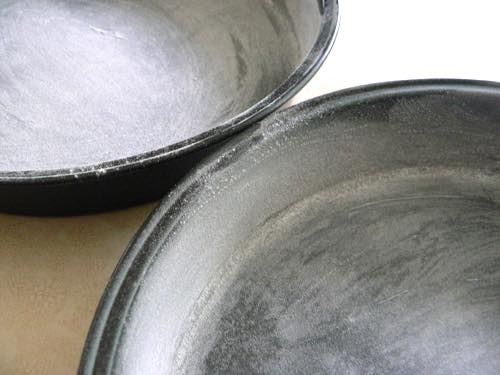 Greased and Floured Pans Ready for the Cake Batter
(Source: DIYplr)
In a medium bowl, sift together the flour, cocoa powder, baking soda, and salt. Then, in a large mixing bowl, combine the butter, sugar, vanilla, and eggs. Beat on medium-high speed until well creamed.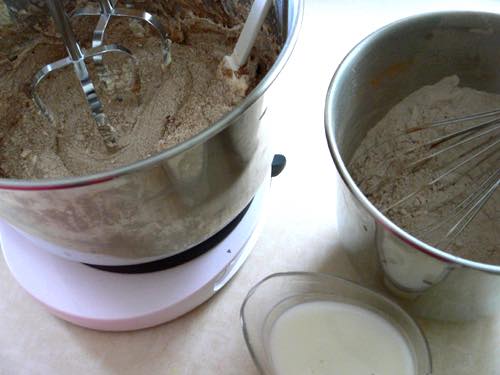 Beat Your Chocolate Cake Batter Until It's Creamy Smooth
(Source: DIYplr)
Then, gradually add the milk and dry ingredients to the wet ingredients in the large bowl while mixing on medium speed.
Continue mixing for about 2 minutes, then pour the batter evenly into the 2 pans and place them in your preheated oven.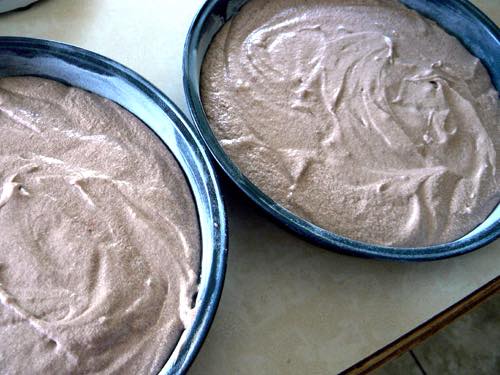 Chocolate Cake Batter Ready for the Oven
(Source: DIYplr)
Bake at 350°F for 30 to 35 minutes, or until your cakes test ready. You can easily tell whether your cakes are done when you insert a toothpick, and it comes out clean.
Or, by simply pressing down on the middle of the cake with your finger and if it springs back, it should be done and ready to remove from the oven for cooling.

Easy Chocolate Cake Recipe

Mrs. Johnston claimed this vintage chocolate cake recipe was easy to make, and it is. And it makes a delicious cake!

1-1/2 cups of brown sugar, 1/2 cup of butter or shortening, 2 eggs, 1 cup milk, 1/2 cup of cocoa, 2 cups of flour, 1 teaspoon baking soda sifted with flour, 2 teaspoons vanilla. Bake in a long pan at 350°F; don't make the batter too stiff. Real good. —Mrs. T. M. Johnston

Chocolate Marshmallow Cake

2 cups sifted cake flour, 2 teaspoons baking powder, 1/2 teaspoon salt, 1/2 cup butter, 1/2 cup sugar, 2 squares Baker's unsweetened chocolate (melted), 1 egg well beaten, 1 teaspoon vanilla, 3/4 cup milk, marshmallows.
Sift flour once, measure, add baking powder and salt and sift together three times. Cream butter thoroughly, add sugar gradually, and cream together until light and fluffy.
Add chocolate and blend; then add egg and vanilla. Add flour, alternately with milk, a small amount at a time. Beat after each addition until smooth.
Bake in greased pan, 8 x 8 x 2 inches, in moderate oven (325°F) 1 hour. Turn from pan and while still warm, cover bottom with marshmallows that have been rinsed with cold water and cut in halves crosswise. When cake is almost cold, cover with chocolate icing (below).

Rich Chocolate Icing Recipe

This icing with its rich chocolaty taste goes with any of the vintage chocolate cake recipes.

4 squares Baker's unsweetened chocolate (melted), 1 cup confectioners' sugar, 1 tablespoon water, 1 egg well beaten, 2 tablespoons butter.
Combine chocolate, sugar and water. Cook in pan over hot water several minutes, stirring occasionally. Add egg and remove from fire. Stir occasionally until lukewarm.
Add 1 tablespoon butter and blend. Add remaining butter and beat thoroughly. —Mrs. G. Worboy

Chocolate Walnut Layer Cake
Yolks of 2 eggs
1 cup sugar
1/2 cup butter
1/4 cup milk
2/3 cup grated chocolate
1 cup walnut meats
2 cups flour
1 teaspoon baking soda
2 teaspoons cream of tartar
1 teaspoon vanilla
Sift the soda and cream of tarter with the flour. Bake (350°F) in two layers, and ice with white boiled icing. Use orange filling between layers.

Old Time Chocolate Fudge Layer Cake
1-3/4 cups flour
1-1/2 cups sugar
1/2 cup butter
1/2 cup milk
2 eggs
1 teaspoon vanilla
2 ounces grated chocolate
1-1/2 teaspoons cream of tartar
1 teaspoon baking soda (dissolved in tablespoon water)
Immediately before adding the soda, add to the ingredients 3/4 cup boiling water. Bake in two layers at 350°F.

Chocolate Mint Cake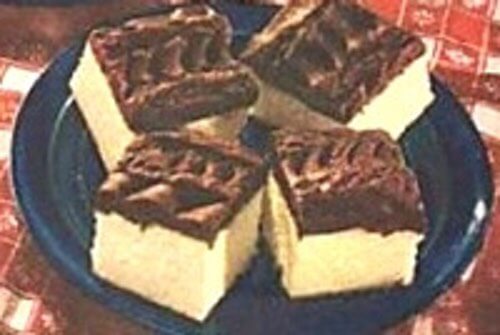 Chocolate Mint Cakes
1/2 cup shortening
1-1/2 cups sugar
2-1/2 cups cake flour
2 teaspoons baking powder
1 teaspoon salt
1 cup water
1 tablespoon lemon juice
4 egg whites
1/2 cup finely crushed peppermint candy
Beat shortening and sugar until light and airy. Sift dry ingredients. Add alternately with water to shortening mixture. Add lemon juice. Fold in egg whites beaten stiff but not dry. Pour into greased 8x12-inch oblong pan.
Bake in a moderate oven (350°F) 30 to 40 minutes. After cake has baked 5 minutes, sprinkle top with crushed peppermint candy. After cake is cooled and iced (below), it can be cut in squares.
Chocolate Icing:
Blend 1/4 cup of shortening with 2 egg yolks and 1/4 teaspoon salt. Add 3 squares melted bitter chocolate. Add 2 cups confectioner's sugar alternately with 3 tablespoons thin cream. Beat until thick enough to spread on cake.

Chocolate Cake with Fruit
Ingredients:
1 cup sugar, 3/4 teaspoon salt; 1/4 cup grated chocolate, 3/4 cup butter or shortening; 5 eggs; 2 cups flour; 1 teaspoon baking powder, 1/2 cupful sultana raisins; 1/2 cup candied chopped citron peel. All measurements level.
Directions:
To begin this vintage chocolate cake recipe, cream butter or shortening; add sugar, gradually, yolks of eggs well beaten, milk, flour, salt, baking powder, grated chocolate, citron, and raisins. Mix and beat two minutes, then fold in stiffly beaten whites of eggs.
Turn into greased floured tin and bake for one and a quarter hours in a moderate oven (350°F). When cold, cover with chocolate frosting (below). —Miss. H. E. Kemp, Peterborough

Three-Layer Chocolate Layer Cake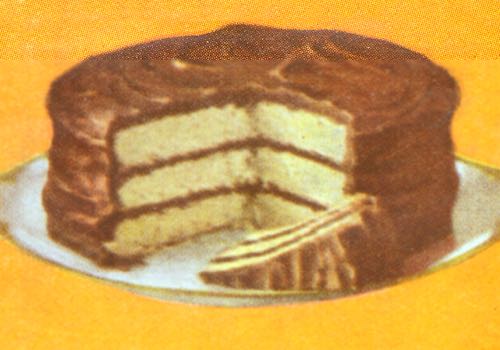 Chocolate Triple Layer Dessert Cake
(Source: Vintage Magazine Clipping)
For this vintage chocolate cake recipe, cream 1/3 cup shortening with 1 cup sugar, beating well; add 1 beaten egg, 1 cup milk slowly, and mix well.
Add 1-3/4 cups flour sifted with 1/4 teaspoon salt and 4 teaspoons baking powder; mix in 1 teaspoon vanilla and bake in 3 greased layer cake tins in moderate oven (375°F) about 15 to 20 minutes.
Put layers together with chocolate cake filling and icing made with 3 cups confectioner's sugar to which is added slowly sufficient boiling water to make smooth paste; add 1 teaspoon vanilla, 2 ounces unsweetened melted chocolate, and 1/2 teaspoonful grated orange peel.

No Bake Chocolate Date Icebox Cake
This vintage chocolate cake recipe is NO BAKE for those times when you don't feel like baking with a hot oven in the hot summer weather.

2 dozen lady fingers
1/2 pound chocolate
3 tablespoons sugar
3 tablespoons water
1/2 pound chopped dates
4 egg yolks, beaten
1-1/2 teaspoons vanilla flavoring
1/2 cup pecan halves
4 egg whites, stiffly beaten
1 cup cream, whipped
Colored sugar for decorating
Line a deep pan with waxed paper. Cover bottom and sides with lady fingers — brown side out. Melt chocolate in double boiler, add sugar, water, dates, and beaten egg yolks.
Cook, stirring frequently, until chocolate is smooth, and dates are soft. Cool, add flavoring and nuts and fold in stiffly beaten egg whites.
Pour one half of mixture into pan, cover with layer of lady fingers and add remainder of filling. Cover with waxed paper. Chill for several hours.
To serve, remove from pan and top center of cake with whipped cream. Sprinkle with colored sugar or chopped nuts to decorate.

Easy Chocolate Cake Squares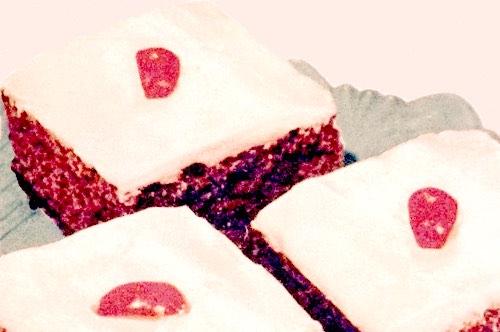 Fancy Chocolate Squares
Here's Mom's quick and easy method for serving cake to company. It saves time and makes for equal sized servings.
Make any of the vintage chocolate cake recipes and once your baked cake has cooled, cut it in squares beforehand, and decorate each piece with icing and a colorful maraschino cherry on top. Ice only the top or cover the sides of the cake squares as well for a fancier presentation.
This method makes perfect little cake squares for taking to a last-minute picnic or party, or to slice for school lunches as a special treat. Yum! Chocolate!

Chocolate Frosting Recipe

This creamy chocolate frosting goes well with any of the vintage chocolate cake recipes.

2 tablespoons butter or shortening; 2 squares melted bitter chocolate; 2 cups powdered sugar; 6 tablespoons coffee; 1/4 teaspoon salt; 1/2 teaspoon vanilla.
Knead butter or shortening into sugar. Melt chocolate, add coffee, sugar, salt, and butter or shortening and stir until thick, then add vanilla and put away to cool. When cold spread on cake.
This frosting may be used anytime. It is just as good when made one day and used the next by adding a little more hot coffee.
It is always soft, creamy and delicious. —Miss. H. E. Kemp, Peterborough

Fannie Farmer's Vintage Chocolate Cake Recipes

The Boston Cooking-School Cook Book (1896)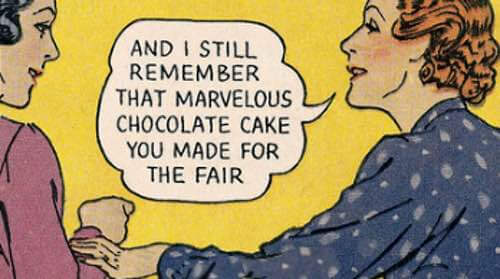 Bake a Chocolate Cake You'll Be Proud to Serve
(Adapted from Spry Cookbook, c.1970s)
Chocolate Nougat Cake

1/4 cup of butter, 1-1/2 cups of powdered sugar, 1 egg, 1 cup of milk, 2 cups of bread flour, 3 teaspoonfuls of baking powder, 1/2 teaspoonful of vanilla, 2 squares of chocolate - melted, 1/2 cup of powdered sugar, 2/3 cup of almonds blanched and shredded.
Cream the butter, add gradually one and one-half cups of sugar, and egg unbeaten; when well mixed, add two-thirds milk, flour mixed and sifted with baking powder, and vanilla.
To melted chocolate add one-third cup of powdered sugar, place on range, add gradually remaining milk, and cook until smooth. Cool slightly and add to cake mixture.
Bake fifteen to twenty minutes in round layer-cake pans till done. (Try 300°F.)
Put between layers and on top of cake White Mountain Cream frosting sprinkled with almonds.

White Mountain Cream Frosting

1 cup sugar
1/3 cup cold water
White 1 egg, beaten
1 teaspoon vanilla or 1/2 tablespoon lemon juice
Put sugar and water in saucepan, and stir to prevent sugar from adhering to saucepan; heat gradually to boiling-point, and boil without stirring until syrup will thread when dropped from tip of spoon or tines of silver fork.
Pour syrup gradually on beaten white of egg, beating mixture constantly, and continue beating until of right consistency to spread; then add choice of flavoring and pour over cake, spreading evenly with back of spoon. Crease as soon as firm.
If not beaten long enough, frosting will run; if beaten too long, it will not be smooth. Frosting beaten too long may be improved by adding a few drops of lemon juice or boiling water.
This frosting is soft inside, and has a glossy surface. If frosting is to be ornamented with nuts or candied cherries, place them on frosting as soon as spread.

Vintage Chocolate Cake Recipes

Old Newspaper Clipping (1920s)


Chocolate Cake Recipes - 1920s
Vintage Chocolate Cake Recipe No. 1

1/4 cup butter
1 cup fine granulated sugar
1/4 cup boiling water
2 squares unsweetened chocolate
Yolks of 2 eggs
White of 1 egg
1/2 cup milk
1-1/8 cups pastry flour
2 tablespoons baking powder
1/8 teaspoon salt
1/4 teaspoon vanilla flavoring
Directions:
Sift together three times, the flour, the baking powder, and the salt. Beat egg yolks and one white, saving the other egg white for Special Frosting.
Put butter into mixing bowl, add sugar; pour boiling water on the shaved chocolate, stir quickly and when melted add to butter mixture.
Add beaten eggs, then dry ingredients alternately with milk, add vanilla. Beat all together. Pour into a greased cake tin and bake in a moderate oven at 350°F.
Special Frosting for Chocolate Cake

To make the special cake frosting, boil 1 cup of sugar with 1/3 cup water, without stirring, until the syrup threads when dropped from tip of spoon. Have egg white beaten stiff.
Pour syrup gradually on beaten egg, beating constantly until of consistency to spread. Add 1 teaspoon vanilla and spread over cake.
To make a marshmallow icing of this, cut up 3 marshmallows and stir them into the hot syrup just before pouring it into the beaten egg white. When mixture is beaten to a smooth fluff, allow it to set for a few minutes before spreading on the cake.
Vintage Chocolate Cake Recipe No. 2

1/4 cup butter
2 cups brown sugar
2 eggs
6 tablespoons cocoa dissolved in hot water
1 cup sour milk
2 cups flour
1 teaspoon baking soda
1 teaspoon vanilla
Directions: Cream butter and sugar, add beaten eggs, then the cocoa dissolved in hot water; beat well. Sift flour and soda together and add alternately with the milk. Add vanilla and bake in a moderate oven (350°F).

Related Pages You Might Like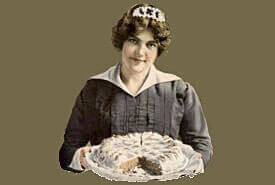 Old Fashioned Cakes