Applesauce Cakes
Old Fashioned Applesauce Cake Recipes
Enjoy Making a Homemade Applesauce Cake
(Source: ©Anjela30/Depositphotos.com)
Grandma's old fashioned applesauce cake recipes make superbly moist dessert cakes with the unforgettable flavor of apples and spices. And they taste even nicer when the applesauce is homemade, so I've also included an easy recipe for how to make it.
You'll love the wonderful spicy apple fragrance wafting throughout your kitchen while these easy cakes bake in the oven. Just close your eyes and imagine you're in Grandma's old farmhouse kitchen.

Old Fashioned Applesauce Cake Recipes

Mom's Recipe Scrapbooks (c. 1920s)


traditional Applesauce Cake
1 cup brown sugar
3/4 cup butter
1 cup raisins
1/4 pound peel
1-1/2 cups hot applesauce
1 teaspoon cinnamon
Nutmeg to taste
2-1/2 cups flour
2 level teaspoons baking soda dissolved in the hot applesauce
3 tablespoons molasses are sometimes added.
Mix and bake in a loaf pan in a moderate oven (about 350°F) till done. Dust with powdered sugar to decorate.

Applesauce and Raisin Cake
2 cups sugar
1 cup butter, or lard
2-1/2 cups unsweetened applesauce
4 cups flour
1 teaspoon ground cloves
1 teaspoon ground cinnamon
3 teaspoons baking soda
2 cups stoned raisins
Bake in a moderate oven (350°F) till done.

Chocolate Applesauce Cake
1 cup white sugar (3/4 cup if using sweetened applesauce)
1/2 cup butter
1 egg
1 cup applesauce (unsweetened)
1 cup chopped nuts
1 cup raisins
2 cups flour
1 teaspoon cinnamon and salt
1/2 teaspoon nutmeg and allspice
2 tablespoons cocoa powder
1/2 teaspoon baking soda dissolved in hot water
Directions:
Cream butter and sugar thoroughly, add egg beating well. Add flour mixture alternately with applesauce, beating after each addition.
Add raisins and nuts last with flour addition. Mix in baking soda dissolved. Bake in greased loaf pan for 1 hour at 325°F.

Old Fashioned Applesauce Cake Recipe

Submitted by J. Anthony


I recently acquired two recipe boxes full of old time recipes going back 50 to 60 years ago. This recipe for making an old fashioned applesauce cake was one of them. —Anthony

Old Fashioned Applesauce Cake
Ingredients:
1/2 cup shortening
2 cups sugar
1 large egg (1/3 cup)
1-1/2 cups thick unsweetened applesauce
2-1/2 cups sifted flour
1-1/2 teaspoons baking soda
1 teaspoon salt
3/4 teaspoon cinnamon
1/2 teaspoon each cloves and allspice
1/2 cup water
1 cup walnuts, cut up
Directions:
1. cream shortening and sugar till fluffy.
2. Beat in egg, then applesauce.
3. Mix and sift flour, baking soda, salt, and spices together.
4. Stir in alternately with water.
5. Bake 45-50 minutes at 350°F, minimally, in greased and floured 13 x 9 x 2-inch oblong pan.
6. Cool on rack and frost as desired.

How to Make Applesauce

The Book of Household Management (1861)


Easy Applesauce Recipe

Ingredients:
1 Pound apples
1-1/2 ounces sugar, or to taste (about 3 tablespoons sugar)
1 Ounce butter (1 tablespoon soft butter, well rounded)
A little water, if necessary
Method:
Peel, core, and slice the apples, put them into a saucepan with the sugar, butter, and a very little water, and cook them until tender. Add more sugar if necessary, before serving.

About the Old Fashioned Applesauce Cake Recipes

You'll love the homemade applesauce cakes from Grandma's day. These are moist and delicious cakes, so be sure to store them in a covered container after you've baked them so they don't dry out. You're going to love them.
Homemade applesauce cakes are famous for being moist and flavorful, especially when they're made with homemade applesauce (see above). Even after a big meal, you'll always find room for a generous slice.
And not only will these cakes make your dinner party special, but they are also the perfect treat to serve when you want to enjoy a quiet coffee break with a close friend.
It's comfort food, pure and simple! Why not make one of these easy applesauce cake recipes tonight?

Related Pages You May Like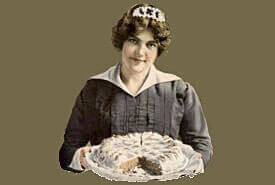 Homemade Cakes Menu