Chocolate Ganache Mousse Cake Recipe

This homemade Chocolate Ganache Mousse Cake Recipe is easy to make from scratch, yet this dessert cake has the appearance of being store-bought and very decadent.
The dessert consists of a chocolate cake base with chocolate mousse filling. Then it's topped with fluffy whipped cream, rich chocolate ganache, crumbled Skor® bars, and garnished with fresh strawberry slices. Yummy!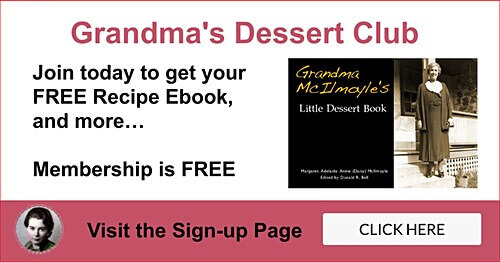 Homemade Chocolate Ganache Mousse Cake Recipe

Enjoy a Homemade Chocolate Mousse Cake
(Source: DIYplr)
You could save time by using store-bought mixes for your chocolate layer cake, the mousse, and the ganache, BUT you might not want to, as the homemade versions taste SO much richer!
Easy instructions on How to Make Chocolate Mousse and How to Make Chocolate Ganache are given below on this page.

Chocolate Mousse Cake
Ingredients:
You'll need one 9-inch round chocolate cake, cooled and cut into 2 layers; or, a couple of 9-inch cakes, if you prefer a thicker layer cake for more servings.
1 batch of chocolate mousse, set and chilled (recipe below)
2 cups stabilized whipped cream
1 batch of chocolate ganache (recipe below)
3 Hershey's Skor® chocolate bars, crumbled
(Canadians can substitute Crispy Crunch® bars)
Fresh strawberries for garnish
Assembly Instructions for the homemade Chocolate Ganache Mousse Cake Recipe:
Begin by placing your first cake layer on a cake board or plate and top with the chocolate mousse layer.

First Cake Layer Topped with Chocolate Mousse
(Source: DIYplr)
Add the second cake layer and top with the whipped cream, making sure you set aside enough whipped cream for the piped decoration on top.

Second Cake Layer Topped with Whipped Cream
(Source: DIYplr)
Spoon some of the chocolate ganache over the whipped cream after first making sure your ganache is not too warm, or it will melt your whipped cream.
Then simply spoon and drizzle the ganache all over the cake, letting it drip and trickle down the sides.
Don't worry if it gets a bit messy looking, as you can always wipe your cake board with a cloth later before serving.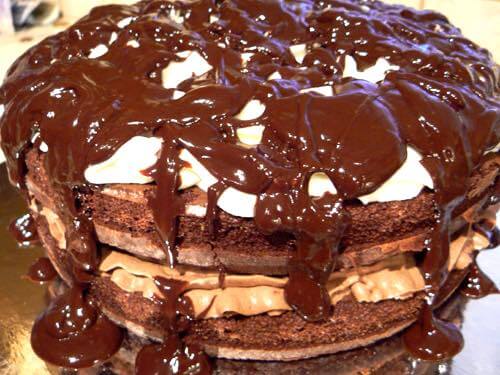 Drizzle Your Chocolate Ganache Topping on the Cake
(Source: DIYplr)
Next, chill your Skor® or Crispy Crunch® bars in the refrigerator, then place them in a plastic bag and crumble them into small pieces by gently tapping them with a hammer or the bottom end of a glass bottle.

Crumbled Chocolate Bar Pieces
(Source: DIYplr)
Sprinkle the chocolate bar pieces randomly across the top of your cake. Don't worry about being neat.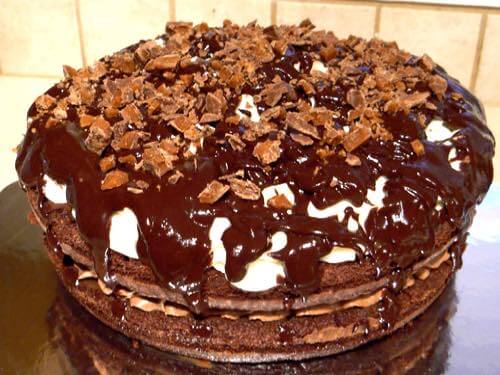 Sprinkle Chocolate Bar Pieces onto the Cake
(Source: DIYplr)
Pipe several whipped cream rosettes around the top edge of your cake, or you can make a large rosette swirl of whipped cream in the center.
There's really no right or wrong way to decorate your cake, so just be creative and have fun. It's the taste that people will rave about!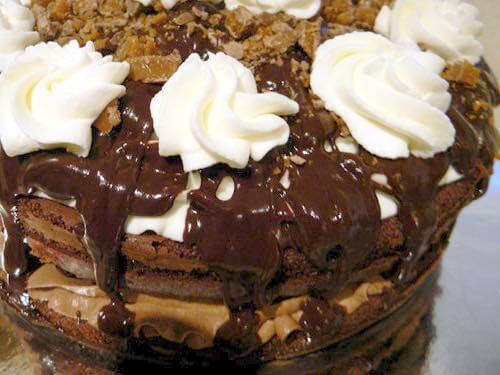 Decorate with Piped Whipped Cream Rosettes
(Source: DIYplr)
Finally, garnish with sliced strawberries, whole raspberries, red maraschino cherries, or another colorful fruit, if you wish.
Have fun with this Chocolate Ganache Mousse Cake recipe. Take pride in serving this decadent dessert to your friends and family. It's so amazingly delicious, and everybody will love it!

Easy Chocolate Mousse Recipe

This homemade chocolate mousse recipe is simpler to make than most. Your decadent mousse will taste so chocolaty good, yet it doesn't contain eggs nor is it complicated to make.
The mousse is totally delicious when used with the Chocolate Ganache Mousse Cake recipe above, or as a dessert served on its own.

How to Make Chocolate Mousse

Gelatine Powder
(Source: DIYplr)
Ingredients:
1 teaspoon gelatin powder
2 tablespoons boiling water
1 cup whipping cream
1/3 cup sugar
1/4 cup cocoa powder, sifted
1 teaspoon vanilla
Method:
Chill your mixing bowl and beaters for about 20 minutes. In a small bowl or cup, mix the gelatin powder and boiling water thoroughly with a spoon, and then set aside.

Creamy Homemade Chocolate Mousse
(Source: DIYplr)
Place the whipping cream in your mixing bowl and beat until peaks start to form. Add the sugar, cocoa, and vanilla, and continue beating until stiff peaks form.
Then, stir in the gelatin, and place the finished mousse in your refrigerator to set for about 1 hour. Serve as a dessert with whipped cream or use it as a delicious cake filling or ice cream topping.

Easy Chocolate Ganache Recipe
Here's how to make homemade ganache the easy way. You'll love its decadent taste, yet it's a much creamier ganache than most, so feel free to adjust the quantity of chocolate to match your preference.
It's the perfect ganache to use with the homemade Chocolate Ganache Mousse Cake recipe. And, it's also delicious as a topping on your favorite ice cream sundae treat.
How to Make Chocolate Ganache

Ingredients:
6 ounces semi-sweet chocolate (6 wrapped squares)
3/4 cup of heavy whipping cream
Break the chocolate squares into small pieces and place them in a double boiler to melt, while stirring occasionally as the chocolate softens.
A heatproof bowl set in the opening of a saucepan will serve as a double boiler in a pinch. Simmer about an inch of water in the saucepan, making sure the water does not touch the bottom of the bowl.
You may add a few chocolate chips if you don't have enough baking squares. If you prefer to use all chocolate chips instead of squares, you'll need 1 cupful.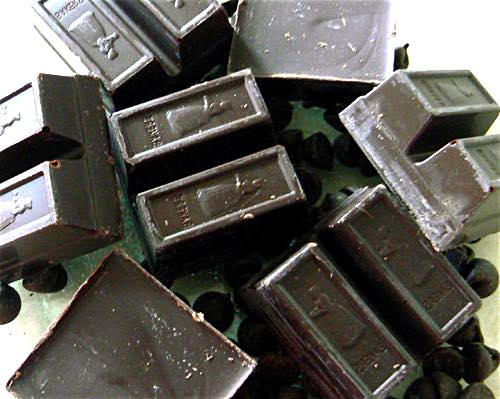 Semi-Sweet Chocolate Squares for Ganache
(Source: DIYplr)
Now add the heavy cream to the melted chocolate and heat for about 2 minutes while constantly stirring.

Heat Chocolate and Cream Together
(Source: DIYplr)
If the chocolate hasn't completely blended with the cream, continue heating and stirring the mixture for another minute or so.
You will know your ganache is ready when the chocolate and cream are thoroughly combined, and you have a smooth mixture that's easy to pour.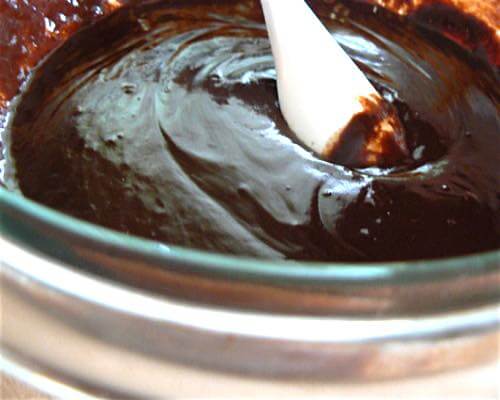 Creamy Homemade Chocolate Ganache
(Source: DIYplr)
Use your ganache immediately in your chocolate ganache mousse cake recipe or store it in the refrigerator for later and reheat it to get the perfect consistency required for use as a topping.

About the Chocolate Bars
Skor® bars were first produced and sold by The Hershey Company in 1981. Skor is Swedish for shoes, believe it or not, and the bar consists of a crispy butter toffee center covered in milk chocolate. They are popular everywhere.
Canadians might choose to substitute Crispy Crunch® bars, a Canadian favorite since 1923. Invented by a Neilson® employee in 1912, these delicious Canadian chocolate bars are made by Cadbury® and feature a crunchy, flaky, peanut layered, sponge toffee center covered in milk chocolate.
Apologies to our American friends, but Crispy Crunch bars are not sold in the United States. Sorry!

Either of the above bars is delicious when used as a crumbled topping in your Chocolate Ganache Mousse Cake recipe.