Old Fashioned Pineapple Cake Recipe

These old fashioned pineapple cake recipes make dessert cakes fairly bursting with the fresh fruity flavor of pineapple. You will love the delicious goodness baked into these homemade cakes, and you'll be proud to serve them to your family.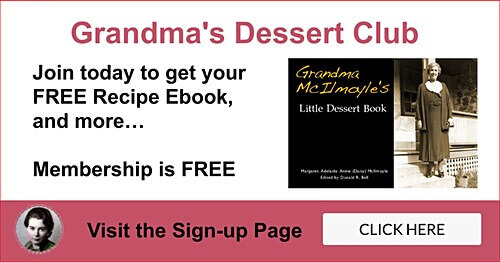 Mom's Favorite Old Fashioned Pineapple Cake Recipes

Mom's Recipe Scrapbooks (c. 1920s)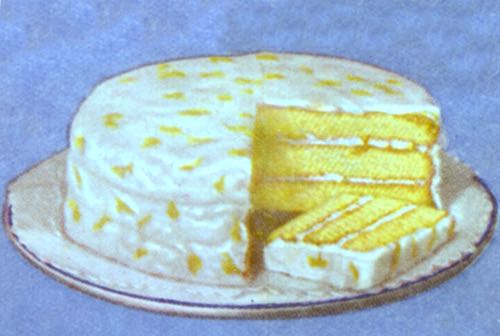 Pineapple Triple Layer Cake with Pineapple Icing
(PD Source: Vintage Magazine Clipping)
Pineapple Triple Layer Cake
Cream 1/2 cup shortening; add 1-1/2 cups sugar slowly; add 2 beaten egg yolks. Sift together 3-1/2 teaspoons baking powder, 1/4 teaspoon salt, and 2-1/3 cups flour, and add alternately with 2/3 cup milk; add 1 teaspoon vanilla and fold in 2 beaten egg whites.
Bake in 3 greased layer cake tins in moderate oven (375°F) about 15 to 20 minutes, or until cake tests done with toothpick. Allow to cool before adding filling and icing. This old fashioned pineapple cake recipe never fails to please.
Pineapple Filling and Icing
Put 3 cups confectioner's sugar into bowl; add 1/4 cup milk and beat until smooth; add 1 tablespoon lemon juice and 1 tablespoon small pieces of canned pineapple; add 1 teaspoon melted butter.
Spread between layers and sprinkle with additional small pieces of pineapple drained well. Spread icing on top and sides of cake and add pieces of the pineapple while icing is still soft.
Pineapple Granny Cake
Dole® Hawaiian Pineapple Is Perfect for Cake Making
(Source: Adapted from Dole® 1928 Illustration)
Evaporated Milk

To substitute 1 cup evaporated milk, use 1 cup heavy cream, or gently simmer 2-1/4 cups whole milk in a saucepan until reduced to 1 cup.

Ingredients needed for this homemade pineapple cake recipe:
2 eggs
1 cup white sugar
1 (20 ounce) can crushed pineapple, with juice
2 cups cake flour
1 teaspoon baking soda
1 cup brown sugar
Topping Ingredients:
1/2 cup butter
3/4 cup Evaporated Milk
1 cup white sugar
1 teaspoon vanilla extract
To make the cake:
Preheat oven to 350° Fahrenheit. Grease and flour a 9x13 inch pan. Sift together the flour and baking soda; set aside.
In a large bowl, combine eggs, 1 cup white sugar and pineapple with juice. Beat in the flour mixture. Pour into prepared pan. Sprinkle brown sugar over top of batter.
Bake in the preheated oven for 40 to 45 minutes, or until a toothpick inserted into the center of the cake comes out clean. Remove from oven and prick top with a fork. Pour on topping (below) while still hot.
To make the topping:
In a small saucepan combine the butter, evaporated milk, 1 cup white sugar, and 1 teaspoon vanilla. Cook over medium low heat, stirring occasionally until sugar is dissolved. Mixture will be thin. Pour over hot cake.

Pineapple and Cherry Dump Cake

Does this old fashioned pineapple cake recipe make a dessert cake or do you call it a pudding? You decide, but it IS delicious!

1 22-ounce can cherry pie filling
1 20-ounce can pineapple chunks, drained
1 14-ounce package yellow or white cake mix
1 cup melted butter
1 cup flaked or shredded coconut
1 cup chopped walnuts
Spread cherry filling evenly in 13x9x2-inch pan. Arrange pineapple chunks, sprinkle cake mix evenly over top. Cover with melted butter and top with coconut and walnuts. Bake 1 hour at 350°F. Can be served warm or when cooled.