Homemade Battenberg Cake Recipe
This homemade Battenberg cake recipe is easy to make using 2 delicious pound cakes to create the distinctive pink and yellow checkerboard pattern. Enjoy strips of delicious pound cake embraced by a luscious jelly or jam filling and a lavish coat of almond marzipan enveloping every inch.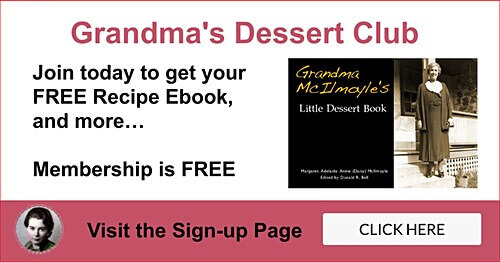 Homemade Battenberg Cake Recipe Using 2 Pound Cakes
Mom's Recipe Scrapbooks (c. 1920s)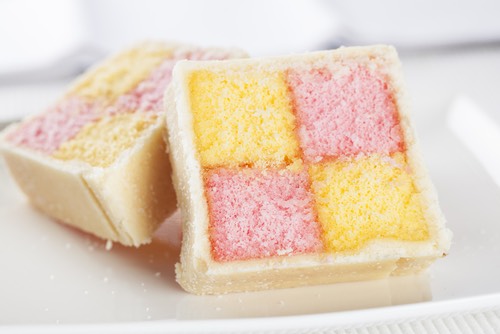 Proudly Serve Delicious Battenberg Cake Slices
(Source: © charlotteLake/Depositphotos.com)
Battenberg Cake
2 pound cakes
Red food coloring
1 to 1-1/2 cups red currant jelly
Marzipan Frosting (recipe below)
Prepare both pound cakes from a mix or your favorite pound cake recipe. To one pound cake add red food coloring to tint batter a medium pink, to the other pound cake add yellow food coloring to tint batter a pastel yellow.
Pour each batter into two greased 9 x 5 x 3-inch loaf pans. Bake in preheated oven at 350°F for 50 to 60 minutes. Cool cakes in pans 10 minutes, then remove from pans; cool cakes on wire racks. Chill cakes 1 hour in refrigerator.
Carefully cut bottoms and all brown sides from both cakes; cut off rounded tops to make tops even and flat. Lay cake on side; cut in half; cut each half lengthwise into 2 strips, so cake now consists of 4 strips. Repeat with second cake.
Beat jelly with fork. Spread cake strips with jelly; reassemble cake similar to a traditional British Battenberg cake by pressing 4 strips of alternate colors together in checkerboard pattern. Repeat with second cake. Wrap cake in aluminum foil and chill while preparing Marzipan Frosting.
Grape or crabapple jelly or the Battenberg's traditional raspberry or apricot jam can be substituted for an equally delicious cake.
Makes 2 cakes, about 16 servings, 8 slices per cake, depending on how it's sliced.

Homemade Battenberg Cake Ready for Decorating
(Source: © merc67/Depositphotos.com)
Marzipan Frosting
2 egg whites
1 pound (16 ounces, 454 grams) almond paste (marzipan)
2 teaspoons almond extract
5 cups sifted confectioners' sugar
Beat egg whites until stiff. Crumble almond paste into egg whites, beat until blended. Add almond extract. Add sugar gradually, working in with fingers if necessary to form paste. Divide marzipan frosting into halves, setting aside one half for decoration later.
Take second half of marzipan frosting and divide again into halves. Place one half on board and lightly sprinkle with confectioners' sugar. Roll out into rectangular shape with a rolling pin so it will cover cake completely. Spread all sides of chilled cake with jelly; place cake in center of marzipan rectangle. Bring marzipan up over sides of cake to meet at center. Seal to cake by carefully pressing firmly together with knife blade.
Repeat with second cake covering it the same as first cake with other half of frosting. Decorate cakes with Marzipan Grapes. Wrap in aluminum foil being careful not to crush the grape decorations, then chill in refrigerator until time to serve.
Marzipan Grapes
Divide the remaining half of marzipan frosting into thirds. Knead green food coloring into each third in varying strengths to make 3 distinct shades of green.
Shape darkest green batch of frosting into leaves and tendrils. Pinch off small pieces of other two batches and roll between palms of hands to form grapes of different sizes.
Arrange marzipan grapes on cakes to resemble a bunch of grapes. Moisten bottom of each with corn syrup so it will attach to cake. Arrange leaves and tendrils on cakes. Grapes and leaves enough for decorating 2 cakes.
If you purchase a product through a link on this page, I receive a small commission at no extra cost to you. I recommend only products I have purchased or would purchase myself and which I believe would benefit you. See my FTC compliance policy for more information.

About the Battenberg Cake Recipe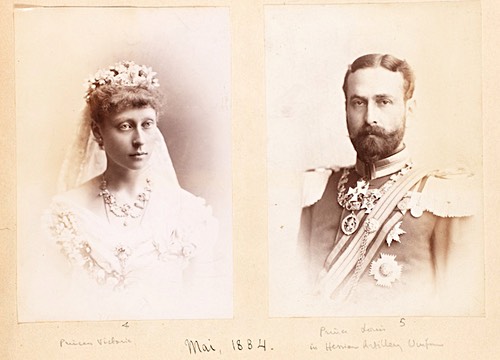 Princess Victoria of Hesse and Prince Louis of Battenberg
(PD Source: Wikimedia Commons 1)
Originating in 1884, this delectable dessert cake was created to celebrate the marriage of Princess Victoria of Hesse and by Rhine and Prince Louis of Battenberg, an officer in Britain's Royal Navy.
Princess Victoria (1863-1950) was the beloved granddaughter of Queen Victoria and Prince Albert, and the maternal grandmother of Prince Philip, Duke of Edinburgh, consort of Her Majesty Queen Elizabeth II.
It's said that each tinted square in the Battenberg cake symbolized Prince Louis and his noble brothers — four princes bound by blood and destiny.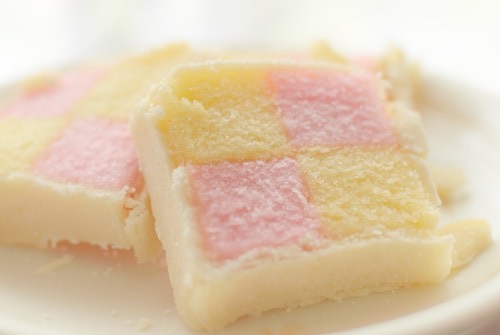 Tempting Slice of Battenberg Cake With Marzipan Frosting
(Source: © jaceksphotos/Depositphotos.com)
The iconic checkerboard cake quickly became an integral part of British high tea — a refined gathering where scones and cucumber sandwiches compete for attention.
Imagine the Battenberg cake standing in all its splendor amid the clinking of teacups and genteel conversation, a vision of combined symmetry and elegance beckoning even the most discriminating of tastes.

Though Battenberg cake shares similarities with traditional cakes such as Domino cake, Neapolitan Roll, or even Checkerboard cake itself, none other can rival the timeless appeal of the Battenberg. It has delighted generations of cake lovers with its classy appearance and exquisitely delicious symphony flavors.
Have fun making this homemade Battenberg Cake recipe and enjoy serving a slice of history to your family and friends!
1 Image Source: http://commons.wikimedia.org/