Homemade Chocolate Biscuit Cake Recipe

This no bake homemade chocolate biscuit cake recipe makes an amazingly delicious cake. It's so delicious that it's worth the effort it takes to make it. It's the Queen's favorite!
The Royal Biscuit Cake honored the royal wedding of HRH Prince William (1982-), Duke of Cambridge, and Catherine, Duchess of Cambridge.

No Bake Homemade Chocolate Biscuit Cake Recipe

Tempting Slices of Homemade Chocolate Biscuit Cake
(Source: ©gorkemdemir/Depositphotos.com)
Biscuit Cake Ingredients:
4 rounded tablespoons unsalted butter, softened
1/2 cup granulated sugar
4 ounces Baker's® dark chocolate, chopped
1 large egg, beaten
8 ounces McVitie's® Rich Tea Biscuits (1 package or about 28 cookies), hand broken into almond-sized pieces
Biscuit Cake Directions:
Line the bottom of 7-inch nonstick springform pan with a circle of parchment paper cut to size, to permit easy release later. Butter sides of cake ring.
In medium bowl, cream butter and sugar until fluffy. In top of double boiler, melt chocolate while stirring constantly. Stir in creamed butter mixture. Stir in beaten egg.
Remove mixture from heat and gently fold in broken biscuit pieces, stirring until the pieces are all well coated.
Carefully spoon the biscuit mixture into prepared cake pan, filling all gaps on bottom of ring (it'll be the cake top when unmolded).
Cover with waxed paper and refrigerate at least 2-1/2 to 3 hours, until chilled and firm to the touch.
Remove cake from refrigerator. Remove ring from springform pan.
Carefully, turn cake upside down onto a cooling rack placed over a parchment-covered baking sheet. Remove springform bottom and parchment paper.
Chocolate Biscuit Cake Icing

Icing Ingredients:
8 ounces Baker's dark chocolate, chopped
1 ounce white chocolate (optional)
In top of double boiler, melt dark chocolate for icing while stirring. Slowly pour the melted chocolate over cake, filling crevices and using a spatula to smooth both top and sides of cake.
Let cake sit at room temperature until the chocolate icing is firm, at least 1 hour.
Very carefully run knife around bottom edge of cake to release it from the cooling rack, then carefully transfer cake to serving dish.
Melt the optional white chocolate and drizzle it in a decorative pattern of your choice on top of the cake.
Slice cake carefully and savor.
Notes

The homemade chocolate biscuit cake recipe adaptation makes a no bake, non flour chocolate cake that's unlike a regular cake.
It's very firm and not always easy to cut without the chocolate cracking, so it's more like a thick chocolate bar than a normal cake.
Some cooks recommend adding an additional tablespoon or two of butter if you prefer a softer texture that's easier to slice with a sharp knife.
Watch the short YouTube video of a Royal Biscuit Cake being made to illustrate the steps and how it should appear when it's done.
The recipe for chocolate biscuit cake calls for McVitie's® Rich Tea Biscuits which you'll find displayed for sale in local supermarkets, likely in the international food section outside Canada and the United Kingdom.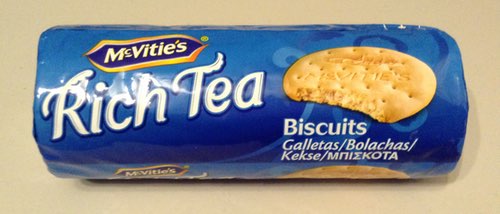 McVitie's® Rich Tea Biscuits
(Source: ©Don Bell)
And make no mistake, McVitie's® ARE "rich" tea biscuits. The average 8.3 grams biscuit or cookie contains 40 calories!
Another brand of tea biscuits may be substituted such as Mr. Christie's® Social Tea® or Marie® should you be unable to find the genuine biscuit.

About the Homemade Chocolate Biscuit Cake Recipe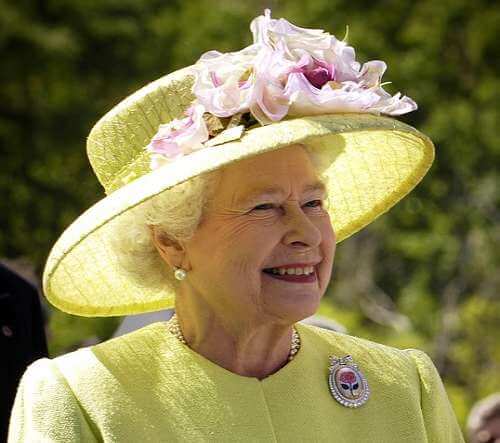 Her Majesty Queen Elizabeth II, Queen of Canada
(PD Source: NASA/USA)
The April 29, 2011 wedding of Prince William, Duke of Cambridge, and Catherine Middleton captured the public's attention and featured two memorable dessert cakes.
The royal couple's wedding cake itself was a stunningly beautiful eight-tiered traditional fruitcake with cream and white icing designed by pastry chef Fiona Cairns. The royal wedding cake recipe was published by ABC News.
However, Prince William requested that a groom's cake should also be served to the guests at the Buckingham Palace reception.
The now-famous dark chocolate biscuit cake dessert is a favorite of Prince William's, and his grandmother Queen Elizabeth II is said to be quite fond of it too. The original recipe for the royal cake, though, remains a palace secret.
What the British call biscuits are actually cookies to those of us who live in North America, so the famous cake is really a chocolate cookie cake.
As maker of the official groom's cake and owner of the McVitie's® brand, the United Biscuits Group did reveal that around 1700 McVitie's® Rich Tea Biscuits and over 37 pounds of chocolate were used to make the royal cake that was later cut in a few hundred slices for serving at the palace.
It was also revealed that the proper ingredient ratio is 50 biscuits to around one pound of chocolate. This makes for a deliciously rich-tasting dessert cake.
My homemade chocolate biscuit cake recipe is an adaptation of the original royal cake recipe that won't require 37 pounds of dark chocolate nor will it feed several hundred.
But, it will richly serve about 6 to 8 people, depending on how you slice it.