Christmas Punch Recipes
Refreshing Christmas Punch Beverages
(Source: ©Svetiana Kolpakova/123RF)
Grandma's favorite Christmas punch recipes have their origin in the medieval Wassail bowl. Guests at Christmas time were served from a large bowl containing Wassail, a savory, hot beverage made from ale, apples, eggs, sugar, cinnamon, and other spices.

Punch is still served during the Christmas season, but now it's most often made from fruit juices, spices, and sometimes wine or other spirituous beverages. Use these old fashioned recipes to make ambrosial punch beverages that will gladden your guests. Make them a Christmas tradition at your house.


Wassail - Christmas Punch Recipe
The word "Wassail" originates from Was haile, an old Saxon greeting that simply means to "Be Healthy!"

Here's a refreshing Wassail that's been adapted for modern-day families:

6 cups apple cider
2 1/2 cups apricot nectar
2 cups unsweetened pineapple juice
1 cup orange juice
1 teaspoon whole cloves
4 whole allspice
3 (3-inch) cinnamon sticks

Combine all the ingredients and bring to a boil. Reduce the heat and simmer for 15 minutes. Strain and discard the spices. Serve piping hot in mugs.

Makes 3 quarts of festive, holiday beverage.

Was Haile!


Favorite Christmas Punch Recipes
Mom's Recipe Scrapbooks (c. 1920s)


Grandma's Hint

Tinkling ice cubes may be colored, or they may be frozen with red and green maraschino cherries in them for Christmas.

Pineapple Punch
1 quart water, 2 cups sugar, boil these for twenty minutes, then add: 2 cups pineapple juice, juice of 6 lemons, 3 pints ginger ale. The ginger ale should be added just before serving.


Pineapple Grape Punch
1 cup granulated sugar, 2 cups water, boil 1 minute and chill; then add: 1 pint grape juice, juice of two oranges, juice of two lemons, 1 cup of grated pineapple. Pour into glasses partly filled with cracked ice and add a few seeded white grapes.


Cranberry Cocktail
Fresh cranberry cocktail is made by cooking 2 cups cranberries in 2 cups water until soft, straining, adding 1/4 cup sugar, bringing to boil, and bottling. When serving add 1 tin pineapple juice.


Holiday Ice Cubes
Tinkling ice cubes may be colored or frozen with red and green maraschino cherries.


Enterprise Christmas Punch
The Enterprising Housekeeper (1900)


2 cupfuls of sugar, 1 cupful of water, 1/2 cup of orange juice, 1/2 cup of lemon juice, 1 cup of strawberry juice, 1 cup of pineapple juice, 1/2 cup of maraschino cherries. Boil the sugar and water to a syrup, and add the fruit juices. Let stand twenty minutes, strain and chill. Add the whole cherries.

Sweeten or weaken, if necessary, to taste, and serve ice-cold. It will rarely need reducing with water unless the juices of preserved fruits have been used.


Refreshing Christmas Punches
Second Edition of the Neighborhood Cook Book (1914)


Fruit Punch
Make a syrup by boiling two cups sugar and one cup water for ten minutes. Let stand one-half hour; add one cup cold tea, juice of five lemons and five oranges, one can grated pineapple, and one pint strawberry syrup; strain, add ice water to make one and one-half gallons of liquid, turn this into a large punch bowl over a piece of ice, and add one-half pint maraschino cherries and one quart bottle Apollinaris water (or club soda). This amount will serve fifty people.


Pineapple Punch
A refreshing beverage, which brings an involuntary grace to one's lips as it is quaffed, is a fruit punch in which the pineapple plays an important part.

Put into a bowl the juice of three lemons, two oranges sliced and seeded, one grated pineapple and one cup sugar. Let stand for one hour to extract the juice, then press and strain. Add to this juice two quarts of iced water and two slices of shredded pineapple, and serve.


Babette's Christmas Punch Recipes
Aunt Babette's Cook Book (1889)


Traditional Sherry Cobbler
It is best to mix this in a large bowl and fill in glasses just before serving, and put a little of each kind of fruit in each goblet with pounded ice.

To begin with, cut pineapple in slices and quarters, a few oranges, and a lemon sliced thin; one cup of powdered sugar and one tumbler of sherry wine. A few berries, such as black and red raspberries and blackberries, are a nice addition. Cover the fruit with the sugar, laid in layers at the bottom of your bowl with pounded ice; add the wine and twice as much water as wine; stir all up well before serving.


Hot Punch Extract
Boil two pounds of cut loaf sugar with two cups of water. When clear add the juice of four lemons, and when cold add a bottle of arrack (spirituous liquor). In serving take one part punch extract and two parts boiling water.


Christmas Punch Recipes
With a Saucepan Over the Sea (1902)


Wassail with Apples
This is another Christmas drink, but quite different. To 1 pint of ale add 1/2 ounce of grated ginger, 1/2 ounce of grated nutmeg, a pinch of cinnamon, and 1/2 pound of brown sugar. Heat it and stir, but do not boil. Add 2 more pints of ale and 1/2 pint of sherry or malaga, the zest of a lemon, rubbed on a piece of sugar, and, finally, 6 cored and roasted apples.

It must be served hot in a bowl, each person taking an apple in a cup too.


Christmas Bowl
Break up 9 small sponge cakes and 1/2 pound of macaroons in a bowl. All must be stale. Add 1 pint of malaga or a sweet raisin wine, 2 tablespoonfuls of sherry, 2 ounces of sugar, and some nutmeg, also 1-1/2 pints of thin custard. Stir well; serve cold with a wreath of holly round the edge.


George the IV's Punch
Mix on the fire 1/4 pound of sugar, grated rind of 1 lemon, and 2 oranges, with the juice and pulp. Add 1 cup of boiling water, stir until cold, then add 1/2 pint of pineapple syrup, 1/2 pint of strong green tea, 1 large glass of maraschino, 5 tablespoons of rum, 1 pint of brandy, and 1 pint or more of champagne. Strain, add more sugar, if desired, and serve very cold.


About the Christmas Punch Recipes

Try these old time Christmas punch recipes and enjoy serving the vintage beverages to your family, guests, and carolers.

Be sure to raise your glass and fondly bid them a hearty...

Was Haile!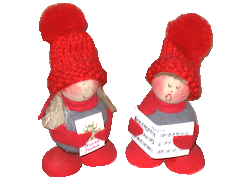 Finnish Carolers
You May Also Like

Easy Christmas Dessert Recipes



As an Amazon Associate I earn from qualifying purchases.