Christmas Party Recipes
Cranberry Ruby Pie for Christmas
(Source: ©pgstudija/123RF Stock Photo)
Mom's old fashioned Christmas party recipes will help you to make all your holiday get-togethers memorable. When I was young, Christmas time was a reunion of friends and family. Our living room, dining room, and big farm kitchen were filled with people talking, playing board games, and enjoying the taste of Mom's homemade treats.
Our dining room sideboard was loaded with Mom's Christmas baking: delicious pies, yummy tarts, crumbly squares, and colorful sugar cookies — all manner of tasty cakes and dessert treats. For us kids — and grownups, it was impossible to resist.
We stuffed ourselves! Now, you can use the same recipes to make the same delicious treats. Make your next party a truly memorable occasion.


Mom's Christmas Party Recipes
Mom's Recipe Scrapbooks (c. 1920s)


Deep Dish Ruby Pie / Cranberry

Blending Cranberries and Bananas for a Deep Dish Ruby Pie
(Source: Magazine Clipping, c. 1920s)
An old fashioned deep dish cranberry pie recipe for the Holidays.
2-1/2 cups cranberries, 1-3/4 cups sugar, 3 sliced bananas, 1/2 cup hot water. Stem and wash cranberries. Add sugar and water. Cook in covered saucepan until berries stop popping (5 minutes).
Put one-third of berries in deep pie plate well rubbed with shortening. Add layer of bananas. Make alternate layers of cranberries and banana, then cover with a flaky pastry. Fit on pastry tightly, and slash top.
Or, fit a lattice top, if preferred.
Bake in hot oven 450ºF for 15 minutes.
Pastry:
Sift 1-1/2 cups flour with 1/2 teaspoon salt. Cut in 1/2 cup shortening for pie crusts. Add 4 to 6 tablespoons cold water (only enough to hold mixture together). Roll out on lightly floured board.


Christmas Snow Squares

When it comes to Christmas party recipes, this one's a keeper! Homemade dessert squares were always featured on the dessert trays when I was growing up in the 1950s.
Dessert squares and special occasions seemed to go together, and never were these special treats more enjoyed than at Christmas time.
2/3 cup butter or margarine
1/3 cup lightly packed brown sugar
1-1/3 cups all-purpose flour
2 envelopes unflavored gelatin
1/2 cup water
1-1/3 cups white granulated sugar
1/2 cup maraschino cherry juice
1 teaspoon almond flavoring
1/2 cup chopped maraschino cherries
1/2 cup slivered toasted almonds
Cream butter with brown sugar. Mix in flour. Press into ungreased 7x12-inch pan. Bake in 325°F oven for 15 to 20 minutes, or until golden brown.
Soften gelatin powder in water. In saucepan, combine sugar and maraschino cherry juice. Bring to a boil and boil for 2 minutes. Add softened gelatin and stir to dissolve.
Remove from heat and whip at high speed with electric mixer until stiff, about 5 minutes. Beat in almond flavoring and fold in cherries and almonds.
Spread mixture over baked pastry; cool. Store in refrigerator or freezer. Cut into squares with a moistened knife.


Rich Butter Crisp Squares
Put into saucepan 1-1/4 cups butter, 2-1/4 cups sugar, 1/2 cup water, and 1 tablespoon salt. Stir until the sugar is dissolved, heating the mixture very slowly, else the butter will cook out.
When it boils, add 1/4 pound unblanched almonds and cook slowly, stirring gently as possible until the almonds are done. This can be determined by cutting one. It should be slightly brown. If using a thermometer, cook to 298ºF.
Add 1 teaspoon soda, 1/4 pound blanched, roasted almonds and 1/4 pound walnut dust, made by chopping English walnuts very fine and sifting them.
Pour candy on a greased, marble slab, turn and roll mixture with a rolling pin, working it into a square shape, about 1/4 inch in thickness. Crease into squares while warm.
When candy is cool, brush over with melted milk chocolate (plain dipping chocolate may be used), and coat with fine-chopped nuts, preferably Brazil nuts, although blanched and browned almonds can be used.


Penuche Candy
This  easy Christmas party recipe makes an all-time favorite candy treat from yesteryear!
Three cups brown sugar, 1 cup cream, 1 teaspoon butter. Boil without stirring until a little dropped in cold water will harden like glass, then take off the stove and stir rapidly. Flavor with vanilla or any other extract liked. Nuts may be added.
Pour on buttered plates and cut in squares when it is hard.


Gum Drop Cake
What could be more Christmas-like than a colorful gum drop cake? Decorate with gum drops after frosting. You could also use this Christmas party recipe to make tasty Christmas cupcakes.
One pound seedless raisins which have been boiled 5 minutes, drained, and cooled; 1 cup applesauce sweetened and cooled; 1 pound gum drops, cut in small pieces with scissors dipped in hot water (do not include the black ones); 1 cup butter, 1 cup sugar, 2 eggs, 3 cups flour; 1 teaspoon cinnamon, 1 teaspoon salt, 1 teaspoon soda, dissolved in a little hot water.
Sift dry ingredients, cream butter and sugar thoroughly. Add well-beaten eggs. Add one cup flour gradually, then applesauce and raisins, then remaining flour gradually. Mix in gum drops and lastly add soda as above.
Bake two or two and a half hours in a slow oven. Do not cut for at least 10 days! It keeps beautifully and is delicious. —Fairfield


Date Shortbread
One of the neighbors was asking the other day for a recipe for "oatmeal crumb cake." I wonder if she didn't mean what I call date shortbread?
This is my favorite Christmas party recipe for this delicious cake. It has been used over and over again with great success.
One pound dates (stoned). Cover with water, add 1/2 cup sugar and juice of 1/2 lemon, boil until soft and cool.
Make your cake with 2-1/2 cups flour, 2-1/2 cups coarse oatmeal, 1 cup butter, 1 cup brown sugar, 1 level teaspoon soda, 1 teaspoon salt. Mix well with the hands.
Grease an oblong pan. Divide mixture into two, and pat into the bottom of the pan. Spread the date mixture over first half, then spread other half over top. Bake 35 minutes in moderate oven. Makes a nice change from date squares.


Frozen Cranberry Whip
To make this easy Christmas party recipe, cook 1-1/2 cups cranberries in the same amount of water, and when soft, strain them. Add 3/4 cup sugar to the strained juice, and boil hard for 2 minutes, then cool. Add 1 tablespoon lemon juice, and place on refrigerator tray.
When frozen to a mush, fold in 1 cup whipped cream and continue freezing.


Festive Candle Cakes
A festive little "candle cake" with a lighted taper in each, set at each place will cause exclamations of joy.
To make them use any good cake mixture. Bake in individual tins, and when cold ice nicely and garnish with nuts, tiny candies, bits of angelica or anything you choose, placing the tiny red candle in the very center.


Gingerbread Christmas Party Recipes
The Bread and Biscuit Baker's and Sugar-Boiler's Assistant (1890)


Christmas Day Greeting Card from 1920s
Spiced Gingerbread
Take 3 lb of flour, 1 lb of butter, 1 lb of moist sugar, 4 oz of candied lemon or orange peel cut small, 1 oz of powdered ginger, 2 oz of powdered allspice, 1/2 oz of powdered cinnamon, 1 oz of caraway seeds, and 3 lb of treacle.
Rub the butter into the flour, then add the other ingredients, and mix in the dough with the treacle. Make it into nuts or cakes, and bake slowly in a cool oven.


Fun Nuts / Hot Nuts / Laughing Nuts
HOT little treats that will be a big hit with your guests.
1 lb of gingerbread dough, 3 oz of butter, 3 oz of sugar, 1 oz of cayenne pepper. Mix all together, pin out in a sheet, one-eighth of an inch thick. Cut them out the size of a penny.
They are very HOT tasting!


Christmas Party Recipe for Dominos Party Cakes
Miss Parloa's New Cook Book (1882)


Dominos Cakes

Invite guests for a fun evening playing dominos at Christmas and serve these unique little cake treats as a novelty.
Have any kind of sponge cake baked in a rather thin sheet. Cut this into small oblong pieces, the shape of a domino. Frost the top and sides of them. When the frosting is hard, draw the black lines and make the dots with a small brush that has been dipped in melted chocolate.
These are particularly good for children's parties, but everybody loves them.


An Old Gaelic Rune
I saw a stranger yestreen;
I put the food in the eating place,
Drink in the drinking place,
Music in the listening place;
And, in the sacred name of the Triune,
He blessed myself and my house,
My cattle and my dear ones,
And the lark said in her song:
Often, often, often, Goes the Christ in the stranger's guise;
Often, often, often, Goes the Christ in the stranger's guise.
—Anon


You May Also Like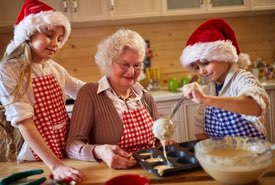 Traditional Christmas Desserts

As an Amazon Associate I earn from qualifying purchases.