Old Fashioned Soda Fountain
The Old Fashioned Soda Fountain

So what did an old fashioned soda fountain look like? Sadly, there are only a few examples still existing, and they have been modernized; however, we do have historical photos representative of soda parlors that once existed in towns and cities across the land.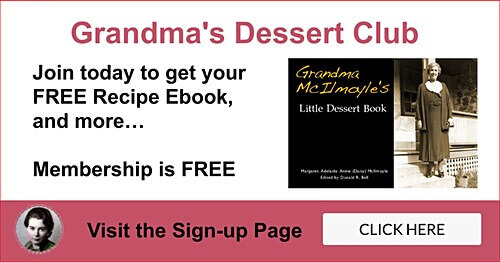 The Old Fashioned Soda Fountain Remembered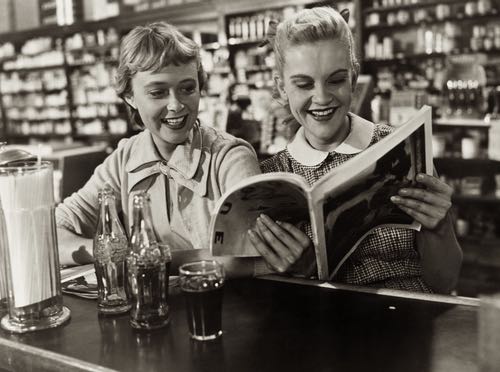 Sitting at the Counter of an Old Fashioned Soda Fountain
(Source: ©everett225/Depositphotos.com)
Thirsty customers enjoyed socializing and sipping their fizzy sodas while seated on round wooden stools running along the long marble counter.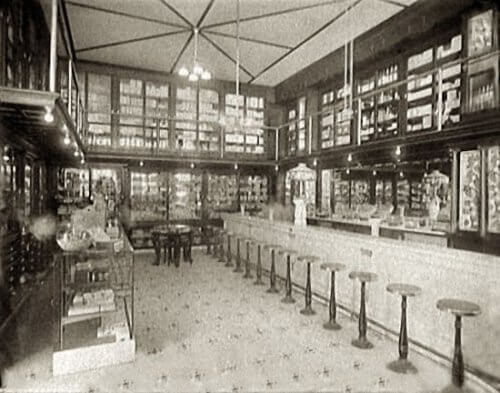 Large Pharmacy Soda Fountain, circa 1900-1920
(Source: Library of Congress Repro. No. LC-D417-404)
The old fashioned pharmacy soda fountain in the photo was quite large, and it would have kept several operators busy dispensing sodas at peek times.

Notice the ornate Tiffany-style lighting fixture centered on the marble countertop and although it's hard to see, stained glass decorates the sides of the mirror-backed rear cabinet at the far right of the fountain.
The Marble Soda Fountain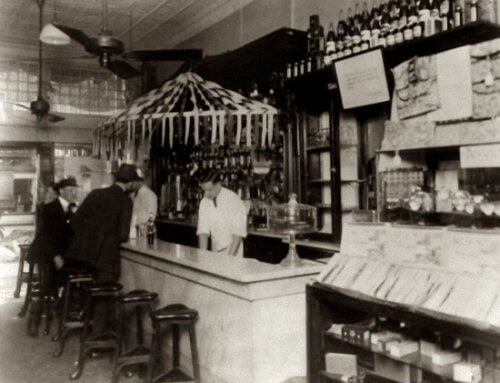 Small Front Service Soda Fountain, circa 1909-1932
(Source: Library of Congress Repro. No. LC-USZ62-129884)
The small "front service" marble soda fountain (above) features a gleaming white marble counter with wooden soda fountain stools.
The mirror-backed shelving, and an ornate wooden rear-wall unit with glass doors contained the syrup bottles, glassware, and other supplies needed.
Note the hanging decoration over the counter to attract the attention of pharmacy customers. Also note the glass covered stand for displaying fancy cakes and pastries.

The Drug Store Soda Fountain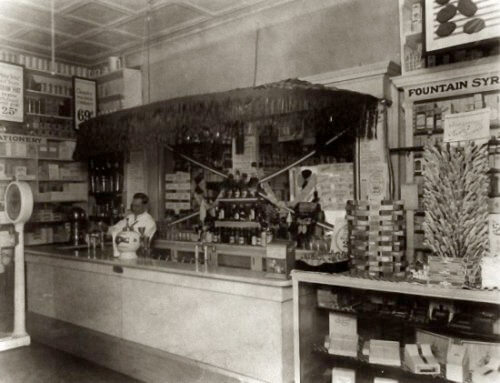 Drugstore Soda Fountain and Soda Jerk, circa 1909-1932
(Source: Library of Congress Repro. No. LC-USZ62-129886)
The above photo shows a fine example of an old fashioned soda fountain tucked into the corner of a small neighborhood drug store (circa 1909-1932).
Notice the glass-door cabinet for displaying "Fountain Syrups" at the far right. Also, note the typical marble counter featuring shiny syrup taps, and an elegant ceramic dispenser nearby the soda jerk.
Customers stood at this counter, likely because of the store's limited floor space. The coin operated weighing machine placed near the counter provided added revenue for the owner.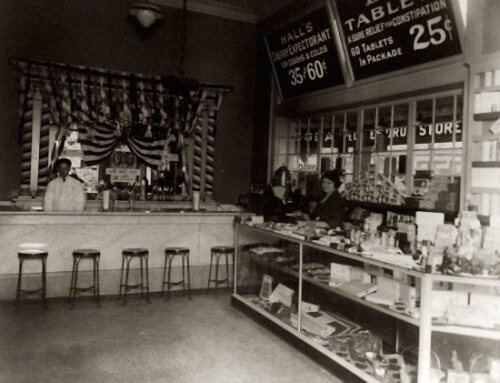 Pharmacy Soda Fountain with Soda Jerk, circa 1920s
(Source Libary of Congress Repro. No. LC-USZ62-128897)
Another example of a typical 1920s soda fountain (above). Notice the beautiful white marble counter with its classic metal stools in front.
Also notice the striped bunting decorating the rear mirror flanked by its marble frame, with striped pillars adding an attention-getting festive appearance.
Syrup bottles are kept handy on the rear wall shelf while what appears to be straw dispensers sit on the front service counter. An ornate glass light adorns the ceiling.

Riker's Drug Store Soda Fountain, Trenton, NJ (1923)
(PD Source: Duke University Libraries)
Riker's Drug Store Soda Fountain proudly served its thirsty customers in Trenton, NJ. Notice the long marble counter that served a dozen customers in style.

The More Recent Soda Fountain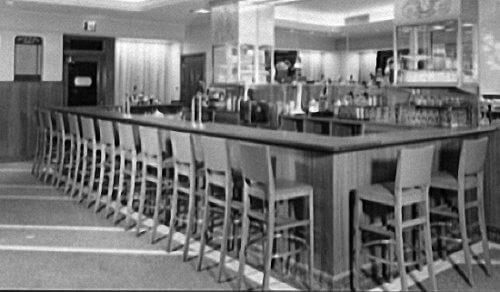 Schrafft's New York City Soda Fountain, circa 1940s
(Source: Library of Congress Repro. No. G612-T-49996)
The 1946 photo of Schrafft's New York City soda fountain (above) typifies a more recent soda fountain setup with its high wooden chairs and paneled wooden counter.
Notice the large mirrored back that gives the illusion of space, and the rear shelf unit to display the syrup bottles. The shiny glassware is displayed in lighted glass cabinets above the bottles.
Your DIY Home Soda Fountain
Serve Frothy Sodas In Your Home Soda Fountain
(Source: ©shalamov/Depositphotos.com)
Have you thought about setting up a home soda fountain in a corner of your family room or home theater? Why not?
Imagine the thrill of serving homemade sodas and shakes to your friends and family amid the nostalgic atmosphere of simulated old fashioned soda fountain.
Before creating your home soda fountain, take another look at the photos above and consider what features the vintage soda parlors had in common so you can simulate their appearance and heighten the sense of nostalgia.
The Simplest Setup

Let's consider the simplest, most affordable setup. A small home bar unit can be adapted for the front counter, and an almost-new Colonial-style hutch unit could be pressed into service as a rear cabinet by adding glass mirrors behind the shelving.
The front counter surface could be covered with simulated white marble flooring tiles at a reasonable cost to mimic the old time marble counters, and seating can be provided by bar stools in a retro style.

Vintage soda bottles, brand-name beverage trays and footed soda glasses can sometimes be found at lawn sales and flea markets at reasonable prices. These items are perfect for decoration and even for serving, providing the glassware isn't chipped.
You can also buy soda fountain decor online, including reproductions of vintage soda parlor signs and other decorative items.

Soda Glasses, Mugs, Coasters, Straws
Traditional fountain-style glassware can be purchased online (Amazon), including the retro paneled Root Beer mugs, fluted drink tumblers, and the traditional fluted soda fountain glasses.
And be sure to get some long-handled soda spoons, a traditional glass soda straw dispenser, and a set of nostalgic beverage coasters to set under the soda glasses. It's the little details that help to create the ambiance.

Sundae Dishes, Soda Siphons, Signs
To serve homemade ice cream treats and sodas, you can purchase fluted and paneled sundae dishes, and retro looking banana split boats.
Beverage blenders, cream whippers, quality soda siphons (seltzer bottles), and other soda fountain supplies are also available at very affordable prices, and they all help to give your home soda fountain a professional look.
And don't forget to decorate with colorful reproductions of the vintage tin signs once prominently displayed in soda shops and old time lunch counters. Retro signs will help to give your room that authentic old fashioned soda fountain atmosphere.
As a no-cost alternative, search for illustrations of old fashioned beverage company signs on the Internet, download them, print them on your color printer, and frame them in traditional wooden frames.

Authentic Soda Jerk Uniform
For fun, why not dress like a 1950s soda jerk with an authentic paper cap, bow-tie, and apron? The traditional paper caps are still available online (Amazon) and when one is worn with a white shirt and black pants, it helps to further the illusion.
Kids will love to dress the part and serve your guests, especially if they receive a customary tip. There's nothing like serving homemade sodas in your own soda parlor to celebrate the old fashioned soda fountain and to create fond memories with family and friends.