Fresh Squeezed Lemonade Recipes
Fresh Squeezed Lemonade Recipes

The fresh squeezed lemonade recipes on this page are from the days of the old time soda fountains. You are sure to find a refreshing lemonade that perfectly suits your taste.
Some lemonades are made in the basic style while others are made fancier, calling for flavored fountain syrups and soda water.

Fresh Squeezed Lemonade Recipes
The Dispenser's Formulary or Soda Water Guide (1915)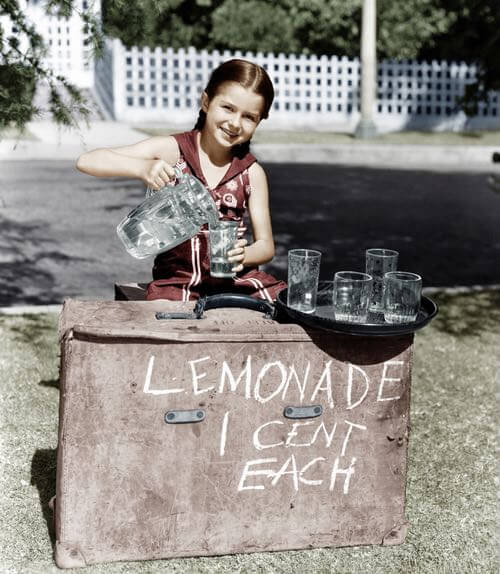 Remembering the Old Fashioned Lemonade Stand
(Source: ©everett255/Depositphoto.com)
Old Fashioned Lemonade
If you're looking for a fresh squeezed lemonade recipe to make an old fashioned lemonade from scratch, this is it.
Old time lemonade is still a great favorite with many individuals. To make it at the fountain counter place 2 tablespoonfuls of powdered sugar in a 12-ounce glass one-half full of crushed ice.
Now cut a lemon in two, slice each section in two or three pieces, add the juice of the lemon and fill the glass with plain ice-cold water.
Shake thoroughly, pour from shaker into glass, and serve with straws. It should be observed that some patrons object to a great abundance of ice.

Soda Lemonade
Juice of 1 lemon, 1 tablespoonful powdered sugar, 4 ounces soda water (seltzer water), 2 ounces shaved ice. Stir vigorously in a shaker with a spoon, strain into a 12-ounce glass, fill the glass with seltzer (soda) water and stir with a spoon.

Grape Lemonade
Make a soda lemonade (see above), filling the glass to within about an inch of the top. Mix and decorate with lemon and orange slices, pour on top enough to fill the glass with the desired grape juice, and serve without further mixing, with straws.

Fancy Lemonade
Make a lemonade in the regular manner and pour in a teaspoonful of raspberry syrup (or strawberry syrup, if you'd like a strawberry lemonade), which will go to the bottom of the glass.
Now, carefully pour on the top the same amount of grape juice WITHOUT stirring.
A piece of pineapple, orange, or other fruit may be added to decorate the drink. The drink may also be made with the glass half-full of shaved ice and the fruit on top. Serve with straws.

Tropical Lemonade
Juice of 1 lemon, 1-1/2 ounces pineapple syrup. Place in a 12-ounce glass, fill glass with carbonated water, coarse stream, add a slice of pineapple and a ladleful of crushed pineapple, and serve with a spoon and straws. Price—10 or 12 ounces, 15 cents.

Southern Lemonade, or Old Time Fair Lemonade

Remember this fresh squeezed lemonade recipe when planning a summer picnic, or a family gathering.

Take a good-size watermelon, hollow out the inside, first cutting a small slice from the narrow end to act as a lid or cover, place in a pan on the counter and surround with shaved or cracked ice; then fill with lemonade, adding enough extract of Jamaica ginger to suite the taste.
When serving, fill a glass one-fourth full of shaved ice, add one or two pieces of the melon took from the inside, then fill the glass with lemonade and serve with straws and napkins. A big hit on "Fair Day" or "Old Home Week." —F. Mintzer

Broadway Lemonade
Juice of 1 lemon, 2 tablespoons powdered sugar, 1/2 ounce grape juice, 1/2 ounce wine (claret), small scoop shaved ice, plain water to fill glass; shake, put in 12-ounce lemonade glass; finish with a slice of orange and a cherry; serve with spoon and straws.

Wholesale Lemonade, or Party Lemonade

3 gallons water, 4 dozen lemons, 3-1/2 ounces citric acid, 20 pounds granulated sugar. Mix and stir adding the paste made from 4 ounces of granulated sugar and the grated rind of 4 of the lemons. This formula is recommended.

Queen Lemonade
Juice of 1/2 lemon, 1-1/2 ounces orange syrup, 2 ounces grape juice, sufficient cracked ice, carbonated water to fill glass. Shake and serve in a tall glass, without straining. Top off with a slice each of orange and pineapple.

Maraschino Lemonade

You can substitute the leftover syrup from a jar of maraschino cherries for this fancy fresh squeezed lemonade recipe.

The juice of four lemons, twelve tablespoons sugar, eight cups water, one cup maraschino syrup, and a few cherries.

Lemon Fascination
2 ounces cherry syrup, 1/2 glass cracked ice, juice of 1/4 lemon, sufficient plain water. Mix well and top with orange and cherry. Price—10 ounces, 10 cents.

Fresh Squeezed Lemonade Recipe

The Inglenook Cook Book (1909)


Root Beer Lemonade

Take 3 tablespoonfuls of bottled or homemade root beer; add 1 lemon sliced and sugar to suit the taste. Place in a gallon jar, add a large lump of ice and fill the jar with water. —Sister Willoughby Felker, Leaf River, Ill.

Fresh Squeezed Lemonade Recipes

Aunt Babette's Cook Book (1889)


Enjoy Fresh Squeezed Lemonade with Ice
(Source: ©iStock/dmitrydesign)
History records that chilled, honey-sweetened lemonade was sold by licensed sellers on the streets of Paris as early as the summer of 1676. Now, you can re-create the nostalgic lemonades of the past.

Summer Eggnog
Grate over enough sugar the peel of half the lemons you intend to use, and squeeze the lemons into it with a squeezer. Then beat up as many eggs as you intend glasses of lemonade.
If you are making a quantity, you may take one or two eggs less. Beat up the lemons and the sugar, next add water in proportion, and then shake or beat the whole vigorously for a few seconds. Fill the tumblers half-full of broken ice. Before serving shake again.

Flaxseed Lemonade

Steep three hours in a covered, porcelain-lined vessel five tablespoonfuls of whole flaxseed, one quart of boiling water, and juice of three lemons (extract the seeds). Sweeten to taste.
If too thick, add more water, and then strain. Add ice for drinking. (Also an excellent remedy for coughs.)

Egg Safety — Some beverage recipes call for raw eggs or egg whites. To avoid any health risk, please visit my Eggs and Salmonella page for simple instructions on how to safely use raw eggs in recipes.

History of Lemonade
Lemonade Served to Children at a Public Gathering
(Source: ©everett255/Depositphoto.com)
Lemonades are among the earliest popular beverages. History records that honey-sweetened lemonade was being sold by licensed vendors on the streets of Paris as early as 1676, and it became a favorite beverage throughout Europe.
In the early 1800s, lemonade was the most popular refreshment in both Canada and the United States. Fresh squeezed lemonade recipes such as those on this page were common.
Not only were lemonade beverages served in homes, but it was the preferred refreshment at sports events, church picnics, and other public gatherings.
In 1838, a French perfume dealer by the name of Eugene Roussel operated a small shop in Philadelphia and sold soda water as a means of extending his trade.
Seeking a way to improve the taste of his lemonades, he created a carbonated lemonade by dissolving sugar in water flavored with lemon juice, and then adding it to soda water.
Roussel is credited with being the first to discover that sweetened fruit flavorings could only be added to carbonated water as concentrated syrups during the bottling process, to avoid lessening the carbonation.
This discovery also avoided unwanted fermentation, as the boiling of the syrup killed any wild yeast spores or bacteria present in the fruit juice. Therefore, Roussel's "Lemon Soda" became the first fruit-flavored soft drink to be bottled and sold in North America.

Torani Soda Syrups can be found for sale at Amazon in dozens of flavors ranging from Classic Root Beer to Watermelon.

Carbonated Water (soda water) can be found for sale in the soft drink section of most food and convenience stores.
Related Pages You Might Like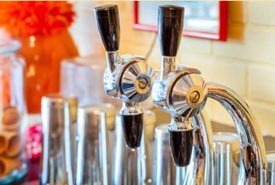 Soft Drinks & Sodas Menu