Homemade Soda Syrup Recipes
Homemade Soda Syrup Recipes

Use these homemade soda syrup recipes to make your own refreshing carbonated sodas and fountain beverages. It's easy, and I will show you how. Treat yourself to homemade soft drinks and experience the authentic taste of yesteryear.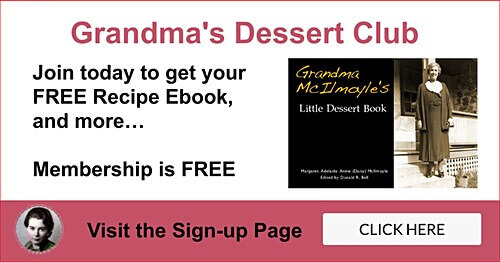 Homemade Soda Syrup Recipes

Lee's Priceless Recipes (1895) and Young's Demonstrative Translation of Scientific Secrets (1861)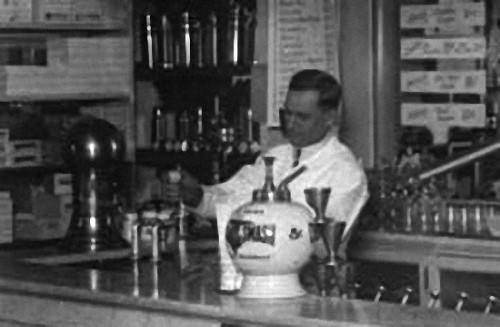 Soda Jerk Dispensing Soda Syrups at a Soda Fountain
(Source: Library of Congress Repro. No. LC-USZ62-129886)
Pharmacy soda fountain operators made sodas by adding measured amounts of flavoring syrups to chilled soda water.
The soda syrups would be freshly prepared by the pharmacist's assistant each morning using these homemade soda syrup recipes.

Basic Simple Syrup is the principle ingredient called for in many homemade soda syrup recipes.

Grandma's Tip

You can also use these old time fountain syrups as tasty ice cream sundae toppings or to flavor milk shakes.

Sarsaparilla Syrup
Simple syrup and nice golden syrup, equal quantities of each, and mix well; then use a few drops of oils of wintergreen and sassafras to each bottle, as used.
This mixture of golden syrup in this sarsaparilla recipe makes the sarsaparilla a beautiful dark color without other coloring.
The amounts for the desired flavors cannot be given exactly to suit everyone, but all will wish different flavors, in some towns using very high flavor, and in others sufficient to perceive it, merely. All will soon get a plan of their own, and like it better than that of others. You'll need to experiment.

Acid Fruit Syrup
The juice of any acid fruit (lemons, oranges, pineapples, grapes cherries, and so on) can be made into syrups by using 1 pound white sugar to 1 pint of juice, and adding some peel; boil 10 minutes, strain, and cork.

Excellent Cream Syrup
An excellent cream syrup is made as follows: Fresh cream, 1 pint; fresh milk, 1 pint; powdered sugar, 1 pound; mix by shaking and keep in a cool place. The addition of a few grains of bicarbonate of soda will retard souring.

Strawberry Syrup
Strawberry juice, 1 pint; simple syrup, 3 pints; solution of citric acid, 2 drams (1-1/2 teaspoons).

Lemon Syrup
Take of the juice of lemons one pint, white sugar one and a half pounds, and a little of the peel. Mix and boil a few minutes, strain, and when a little cool, bottle, and cork, for use.

Sherry Cobbler Syrup
Sherry wine, 1 pint; simple syrup, 1 pint; 1 lemon cut in thin slices; macerate (let sit) 12 hours, and strain.

Vanilla Cream Syrup
Fluid extract of vanilla, 1 ounce; simple syrup, 3 pints; cream or condensed milk, 1 pint; color with carmine (red food coloring).

Homemade Soda Syrup Recipes

The Dispenser's Formulary or Soda Water Guide (1915)

Fountain Operator Dispensing Sodas to Thirsty Customers
(Source: ©everett255/Depositphotos.com)
Almond Syrup
Put 6 ounces of pulverized sweet almonds and 2 ounces of bruised bitter almonds into a saucepan with 1 quart of water, and let them simmer for a quarter of an hour; then add 1 pound of sugar.
When dissolved, strain through a fine sieve or jelly bag, and add a teaspoonful of orange flower water.
When cold, a wineglassful of the mixture should be put into a tumbler, which should be filled up with soda or seltzer water.

Raspberry and Honey Syrup

Equal parts of maple syrup, honey, and raspberry juice. Serve solid in 8-ounce glass, using 2 ounces of syrup for the flavor, and fill glass with carbonated water.

How to Make Homemade Sodas
To make an old fashioned soda, simply add 2 to 4 tablespoonfuls of the soda syrup to a tall glass of chilled soda water to taste, and you will enjoy a delicious treat. Fountain drinks were traditionally served in a tall, fluted, frosty glass with a straw.
Adding flavored syrups to carbonated water is one of the easiest ways to make homemade soda pop. Carbonated water or soda water is available for sale in the beverage section at most food and convenience stores.

How to Make a Cream Soda
When a customer ordered a Cream Soda the old time pharmacist simply added a tablespoonful of heavy cream to the flavored soda. Whipping cream will do perfectly. It makes a creamy smooth, rich-tasting beverage.

How to Make an Ice Cream Soda
To make a frosty Ice Cream Soda, the pharmacist placed a large scoop of vanilla ice cream on top of the glass of soda and served it with a long-handled spoon and a straw. He then topped it with a red maraschino cherry. Delicious!

Flavoring Syrups

Have fun experimenting with making the homemade soda syrup recipes from scratch or for the sake of time and convenience, purchase ready-made soda syrups online in a variety of flavors.

Torani Soda Syrups

Torani Soda Syrups can be easily purchased at Amazon in dozens of refreshing flavors ranging from Classic Root Beer to Watermelon.

If you purchase a product through a link on this page, I receive a small commission at no extra cost to you. I recommend only products I have purchased or would purchase myself, products I think you would like. See my FTC compliance policy for more information.