Ginger Ale Mocktail Recipes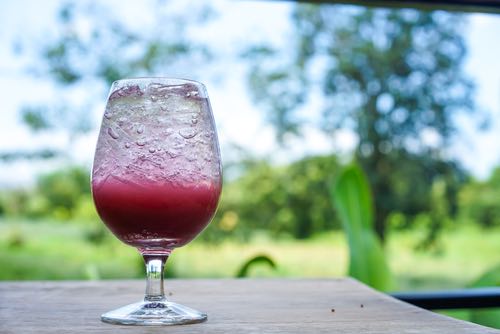 Vintage Ginger Ale Bounce Beverage
(Source: ©tiverylucky/Depositphoto.com)
These old fashioned ginger ale mocktail recipes are vintage in origin and very easy to make. They come from the days of the pharmacy soda fountain and call for ginger ale and all-natural fruit flavors.
If you're searching for fancy non-alcoholic beverages to serve at a special occasion or to enjoy as refreshing thirst quenchers, then you'll love these drinks.


Old Fashioned Ginger Ale Mocktail Recipes

The Dispenser's Formulary or Soda Water Guide (1915)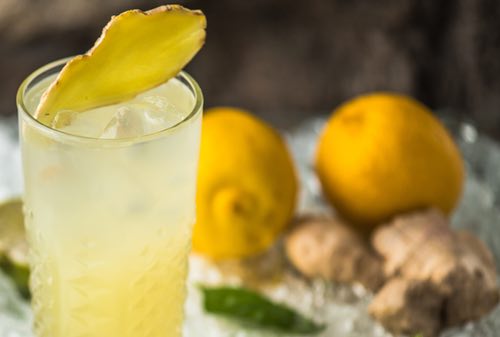 Refreshing Ginger Ade Moctail with a Slice of Ginger
(Source: ©VikaGeyder/Depositphotos.comz)
You will love the refreshingly fizzy taste of these old fashioned non alcoholic ginger ale beverages that are perfect for serving to persons of any age on any occasion. Everybody loves these tasty drinks!

Ginger Ade

Into an eight-ounce glass pour one-half ounce of ginger ale syrup. Add one-half ounce of simple syrup, the juice of one lemon, and fill the glass with shaved ice.
Top off with a slice of orange (or ginger) and sell for 10 cents. Can be varied by using orange juice instead of lemon. —Wade T. Surratt


Ginger Ale Bounce

Into a 6-ounce glass put 1 ounce grape juice; add a little cracked ice, and fill the glass with ginger ale; serve with two straws. "A splendid hot weather drink, easily and quickly made." —Alonzo Draine


Ginger Ale Cobbler

Dissolve a teaspoonful of powdered sugar in a small quantity of carbonated water, add a large slice of pineapple, nearly fill the glass with shaved ice, and then add enough ginger ale to fill the glass. Decorate with fruit and serve with straws.
Some soda dispensers use ginger ale syrup instead of ginger ale, then adding a little carbonated water to fill the glass. Price 10 cents for 10 ounces.


Ginger Ale Sour

Dram Measure

One dram measure equals 3/4 teaspoon.
4 drams (3 teaspoons) lemon syrup, 2 drams (1-1/2 teaspoons) lemon juice, ginger ale to fill an 8-ounce glass. Charge 10 cents for eight ounces.


Ginger Cold Snap

1-1/2 ounces ginger ale syrup, 1/2 ounce orange syrup, 1/2 glass shaved ice, pineapple slice. With ingredients in glass, fill glass with carbonated water and stir with spoon. Charge 10 cents for 10 ounces.


Ginger Fizz

About 6-1/2 ounces carbonated water, 1-1/2 ounces ginger ale syrup. Mix and add a small spoonful powdered sugar.


Grape Ale

Take 1 ounce of any good brand grape juice, a little shaved ice, place in an 8-ounce glass and fill with ginger ale. This is a 10 cent drink.


Out of ginger ale? Try substituting other popular soda flavors such as Sprite® or 7 Up® in the old fashioned ginger ale mocktail recipes.

Affordable Soda Fountain Syrups

Prairie Moon Has Everything You Need
Make your beverages with  flavored syrup concentrates from The Prairie Moon Company. Choose from over 50 old fashioned soft drink flavors including Root Beer, Sarsaparilla, and Cola. Simply add water and your own sugar or sweetener.
Prairie Moon offers low cost shipping to U.S. and Canadian customers. I highly recommend them!
Disclosure: This is an affiliate link, which means that if you purchase a Prairie Moon product through this link, I receive a small compensation to help support this site — at no extra cost to you.

Related Pages You May Like