Non Alcoholic Iced Tea Drinks
Non Alcoholic Iced Tea Drinks

Enjoy Grandma's naturally flavored non alcoholic iced tea drinks. These delicious tea beverages truly refresh, and the easy-to-make recipes call for all-natural ingredients, and you get to control the sweetness.
I am not a tea drinker, but I do love a tall glass of sweet iced tea, especially in warm weather. It's a drink that always refreshes and satisfies. Be sure to try the iced teas flavored with mint, rhubarb, or wild strawberry. And nobody can resist the Southern iced tea!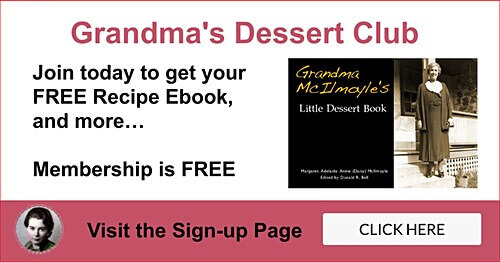 Mom's Non Alcoholic Iced Tea Drinks

Mom's Recipe Scrapbooks (c. 1920s)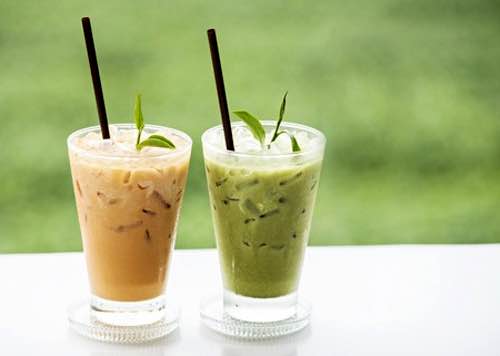 Enjoy Naturally Flavored Iced Tea Beverages
(Source: ©Sasin Tipchai/Depositphotos.com)
Enjoy these delicious non alcoholic iced tea drinks from the past. You'll find the taste much nicer than today's commercial iced teas, and these drinks are healthier too, as you get to control how much sweetener to add.

Fresh Mint Iced Tea

Fresh mint, 1 large handful; black tea leaves, 4 heaped teaspoonfuls; water, 4-1/2 cups; sugar, 1-1/2 cups; juice and rinds of 2 lemons, or 1 orange.
To make concentrate, place mint in 2-quart container and bruise slightly. Add tea leaves; boil water, and pour over mint and tea. Cover, and steep 5 minutes.
To make iced tea, place 1 cup of concentrate, plus sugar, and lemons or orange, in 2-1/2-quart pitcher. Fill with cold water, and add ice cubes.

Rhubarb Iced Tea

Tea freshly brewed, 1 quart; juice and rinds of 2 lemons or 1 orange; 1 lemon, cut into thick wedges; sugar, 1-1/2 cups; rhubarb to taste.
Mix together tea, rhubarb, lemon, and sugar. Cook until rhubarb is tender. Strain and cool. Pour over broken ice in cups or glasses. Rhubarb iced tea makes an especially refreshing and delicious non alcoholic iced tea drink.
Wild Strawberry Leaf Iced Tea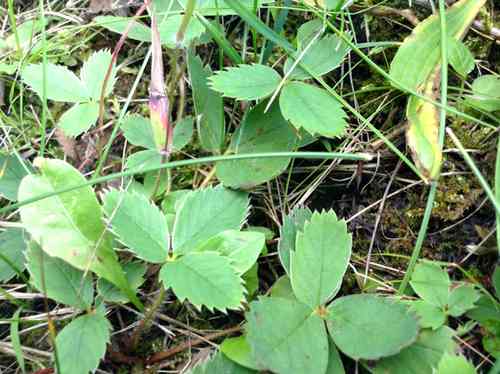 Fragaria Virginiana - Wild Strawberry Plants
(Source: ©Don Bell)
Take a generous handful of fresh (or dried) wild strawberry leaves (Fragaria virginiana) and steep in boiling water. Sweeten if necessary with sugar or honey. Chill with ice for serving. The wild strawberry flavor is very subtle when properly made.

Buckeye Non Alcoholic Iced Tea Drinks

Buckeye Cookery And Practical Housekeeping (1877)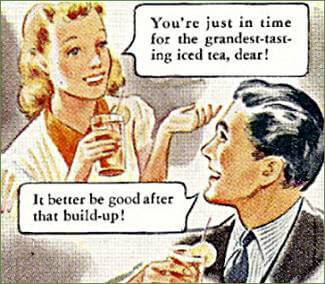 Naturally Flavored Iced Teas
Natural Ice Tea
Prepare tea in the morning, making it stronger and sweeter than usual; strain and pour into a clean, glass jug or glass bottle, and set aside in the ice box until ready to use.
Drink from goblets without cream. Serve ice broken in small pieces on a platter nicely garnished with well-washed grape leaves. Iced tea may be prepared from either green tea or black tea alone, but it is considered an improvement to mix the two.

Lemon Iced Tea
Tea made like that for iced tea (or that left in the teapot after a meal), with sugar to taste, a slice or two of lemon, a little of the juice, and some pieces of cracked ice, makes an easy, delightful drink. Serve in glasses.

Southern Non Alcoholic Ice Tea Drink

Second Edition of the Neighborhood Cook Book (1914)

Enjoy a Non Alcoholic Sweet Southern Iced Tea
(Source: ©rez_art/123RF Stock Photo)
Sweet Southern Iced Tea
Make tea in usual fashion except you add two whole cloves to each cup of tea before brewing. Strain, and while still hot add sugar and lemon to taste. Pour through sieve or cheesecloth.
Before serving put in each glass crushed ice, two or three sprigs of mint, which should be slightly bruised, and a maraschino cherry, and a very thin slice of lemon with the rind left on.

Tea a la Mode

You simply have to try this dessert-like, non alcoholic iced tea drink! This would be perfect to serve on a special occasion. Indeed, it would make any occasion special.
Chill a pitcher of freshly made tea of the desired strength. Sweeten with orange soda syrup instead of sugar, being careful not to get it too sweet. Then squeeze in enough lemon juice to give it a little twang, and set on ice again to get thoroughly chilled.
Have ready a bowl of chipped ice, a bowl of vanilla ice cream, and a pitcher of prepared cold tea. Fill a dainty glass one-third full of ice, pour on tea until it is two-thirds full, and then drop a spoonful of ice cream on top and serve at once having placed the glass on a fancy plate.
Cookie's Non Alcoholic Ice Tea Drinks

Calling All Girls Magazine (June 1945)

You can make the prettiest non alcoholic iced tea drinks you can imagine. Simply follow the illustrated instructions for the flavored iced tea recipes below.

Cookie Brews Tea for Two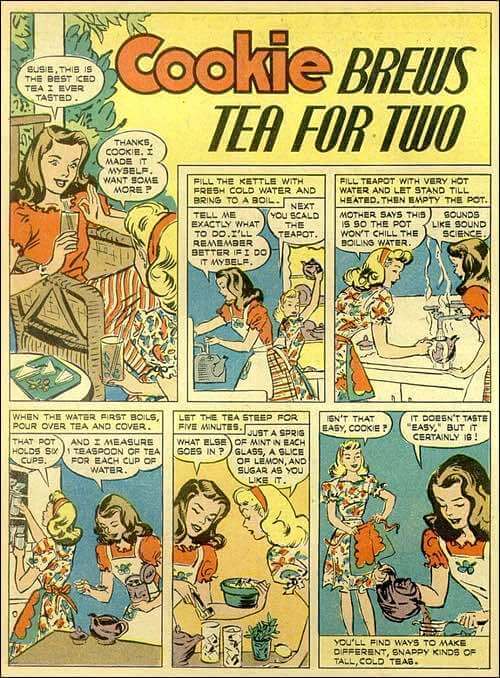 Cookie's Non Alcoholic Ice Tea Drinks With Recipes
(PD Source: Calling All Girls Magazine - June 1945)
As Cookie demonstrates in the comic, fill the kettle with fresh cold water and bring to a boil. Next you scald the teapot by filling the teapot with very hot water and let stand till heated. Then empty the pot. This is so the pot won't chill the boiling water.
Measure 1 teaspoon of tea for each cup of water. When the water first boils, pour over tea in teapot and cover. Let the tea steep for five minutes. Add ice, a sprig of mint in each glass, a slice of lemon, and sugar as you like it.
After you've filled the glasses, strain the rest of the tea into a bottle. Cool and put in the refrigerator for "seconds."
If you like the "punchy" flavored type of iced tea, try adding sugar, lemon juice, orange juice, and a tablespoon of crushed mint leaves to the quart bottle before you put it into the icebox.
And don't be horrified if it turns cloudy. That doesn't affect the flavor a bit, and the tea will clear when you take it out of the refrigerator. Another smart trick is to mix it half-and-half with grape juice. Delicious!

Fresh Mint Iced Tea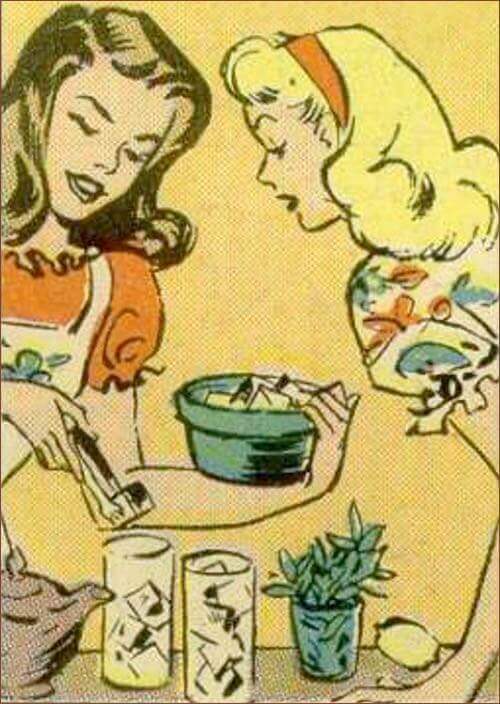 Cookie Making Her Homemade Mint Iced Tea
(PD Source: Calling All Girls Magazine - June 1945)
If you'd rather, you can steep the mint right along with the tea. Simply add a teaspoon of crushed mint leaves to the tea in the pot before you pour in the boiling water.

Spiced Iced Tea

Another trick is to put 2 cloves, 6 allspice, and a small bit of stick cinnamon into the pot to steep with the tea. Or put a bit of ginger root into the water, boil a minute or two, and use this water to make the tea.

Cold Water Iced Tea

On a sunny day, you can make basic iced tea without heat. Put 2 tablespoons of tea in a quart bottle or jar — clear glass, please. Fill with cold water and set it in the sun for two hours. Strain the tea over cracked ice.

Instead of Using Ice

You can have wonderful fun with things to put in your tea instead of plain ice. Try orange or lemon sherbet, a scoop to a glass. Or make some fancy ice cubes — like this:
Squeeze a big batch of orange (or lemon) juice and pour it into the ice-cube tray. In each section put something to freeze right into the cube — a leaf of mint, a maraschino cherry, a quarter slice of lemon, lime, or orange, strawberries, black pitted cherries — anything which you think would be good.
Lots of kinds are more fun serving than all alike, and they make the prettiest glasses of iced tea that you can imagine. Have fun experimenting with the recipes for Cookie's non alcoholic iced tea drinks.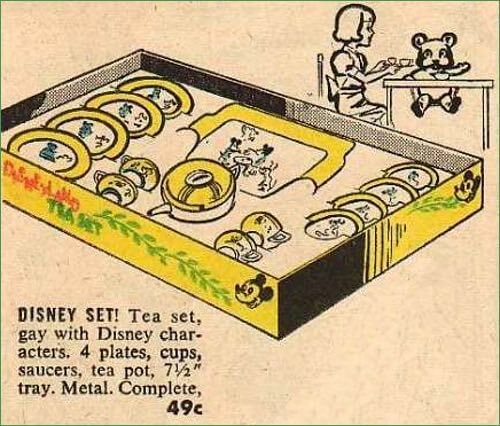 Ask Your Grandma If She Had This 1953 Toy Tea Set
(PD Source: Dell Comics, 1953)
Carbonated Water

Carbonated Water (soda water) can be found for sale in the soft drink section of most food and convenience stores.
Torani Soda Syrups

Torani Soda Syrups can be easily purchased at Amazon in dozens of refreshing flavors ranging from Classic Root Beer to Watermelon.

If you purchase a product through a link on this page, I receive a small commission at no extra cost to you. I recommend only products I have purchased or would purchase myself, products I think you would like. See my FTC compliance policy for more information.