Non Alcoholic Chocolate Drinks
Non Alcoholic Chocolate Drinks

Grandma's non alcoholic chocolate drinks recipes are perfect for making chilled dessert drinks that are cool and refreshing and overflowing with rich chocolatey flavor and goodness for the entire family.

Non Alcoholic Chocolate Drinks Recipes

Mom's Recipe Scrapbooks (c. 1920s)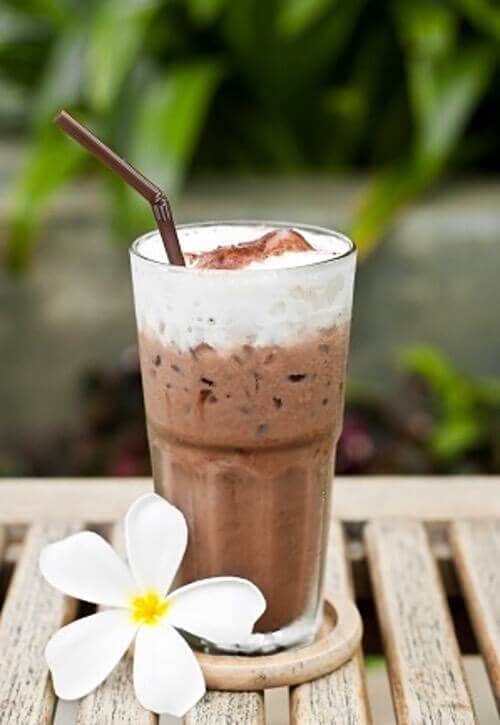 Refreshing Frosty Chocolate Cold Beverage
(Source: ©isuaneye/123RF Stock Photo)
Wild Frosty Chocolate

1-1/2 tablespoonfuls chocolate fountain syrup, 1/2 cup milk, 4 tablespoonfuls ice cream, soda water. Combine syrup, milk, and ice cream. Stir well. Add soda water to fill glass.

Chocolate Peppermint

Cocoa, 3 tablespoonfuls; sugar, 1/3 cup; boiling water, 3 tablespoonfuls; chilled milk, 6 cups; peppermint extract, 1/2 teaspoonful; 6 mint sprigs.
Blend cocoa and sugar together; add boiling water, and stir until smooth. Add milk and extract; beat until well blended. Chill. Pour into glasses and garnish with mint leaves. A great favorite with youngsters of all ages.

Summer Chocolate

Factoid
Apollinaris is a brand of sparkling mineral water that's well-known in Europe as "The Queen of Table Waters." It has been naturally sourced from a spring in Bad Neuenahr, Germany since 1852.

Put into a tumbler about two tablespoonfuls of broken ice, two tablespoonfuls of chocolate syrup, three tablespoonfuls of whipped cream, 1/2 cup of milk, and 1/4 cup of soda water from a siphon bottle or Apollinaris water.
Stir well before drinking. A tablespoonful of vanilla ice cream is a desirable addition.
It is a delicious drink, even if the soda or Apollinaris water and ice cream be omitted. A plainer drink is made by combining the chocolate syrup, 3/4 cup of milk, and the ice, and shaking well. —Mrs. F. H. Coman

Iced Chocolate Cream

Fill glasses one-half full of chopped ice. Pour over them thin hot chocolate, add sugar to taste and thick whipped cream. —Neighborhood Cook Book, 1914

Honey Iced Chocolate
The following non alcoholic chocolate drink recipe calls for organic, home-grown honey, and it was prepared circa 1920 by the food specialists at Macdonald Institute, O.A.C., Guelph, for the farmers of Ontario, Canada.

2 teaspoons cocoa, 2 tablespoons honey, 1 cup milk, 1/8 teaspoon salt. Blend cocoa and honey. Heat milk to boiling point, remove from fire, and add honey mixture, and salt. Sir well, pour on cracked ice, and garnish with whipped cream to serve.

How to Crush Ice Cubes

Some recipes call for shaved or crushed ice that can be made using a blender or by hand. Handmade crushed ice is not only traditional, but it works best for cooling the drink. The following YouTube video demonstrates how to crush ice cubes.

If you purchase a product through a link on this page, I receive a small commission at no extra cost to you. I recommend only products I have purchased or would purchase myself, products I think you would like. See my FTC compliance policy for more information.

Torani Soda Syrups can be found for sale at Amazon in dozens of flavors ranging from Classic Root Beer to Watermelon.

Carbonated Water (soda water) can be found for sale in the soft drink section of most food and convenience stores.
Related Pages You Might Like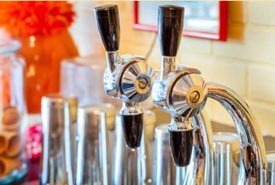 Soft Drinks & Sodas Menu