Traditional Scottish Dessert Recipes
Traditional Scottish Dessert Recipes
Grannie's traditional Scottish dessert recipes will remind you of the Scottish Highlands. As Grannie would say, "'Tis a wee taste of Old Scotland here!"
Just wait till you taste the authentic scones, black buns, fruitcake, and shortbread made from these traditional Old Country recipes.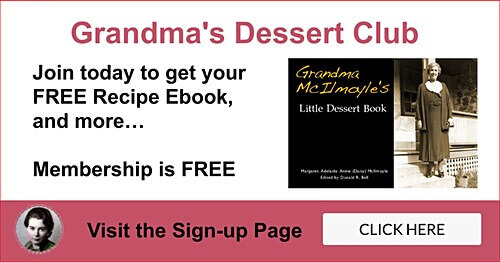 Grannie Bell's Traditional Scottish Dessert Recipes

Mom's Recipe Scrapbooks (c. 1920s)

Enjoy Your Scottish Scone With Fruit and Cream
(Source: ©jenbray/Depositphotos.com)
My Grannie Bell made delicious scones, and she served them warm from the oven, buttered, and smothered in thick, homemade orange marmalade.
Scones and marmalade seem such a simple dessert, yet hers were so good. I can still taste them after all these years!
What's the difference between Scottish scones and North American tea biscuits?
Generally, scones tend to be made "shorter" with more butter, less sweet, denser, and they tend not to "flake" like a tea biscuit when split open.
Check out the traditional Scottish dessert recipes I've chosen for you from Grannie's favorites. Enjoy trying the actual scones that my Grannie Bell loved to make.

Old Fashioned Scottish Scones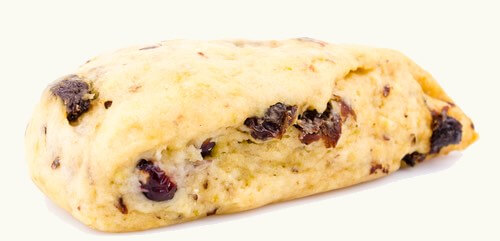 Enjoy a Traditional Raisin Scone With Poppy Seeds
(Source: ©mrsiraphol/Depositphotos.com)
The Scotsman had a name for it of course. He wanted his "scone" — to start the day right. The scone is as native to Scotland as white heather.
The old fashioned scone recipe makes a scone (pronounce as in "gone") that could have come right out of a bake shop on Sauchiehall Street in Glasgow.
Try it for breakfast, or lunch, or supper, and "sure, you'll be wantin' yer scone ev'r maunin'."
That's for certain! You'll love the taste of your homemade Scottish scones, and here's THE authentic Scottish scone recipe to make them:
The Scottish Scone
Grannie's Tip

Your dough may be portioned and baked as 6 individual scones as an option.

Ingredients: 2 cups sifted all-purpose flour, 1/2 teaspoon cream of tartar, 3 tablespoons sugar, 1/2 teaspoon salt, 3 teaspoons baking powder, 2 tablespoons poppy seeds, 6 tablespoons butter or margarine, 1/2 cup seedless raisins, 1/2 cup milk.
Sift together flour, cream of tartar, sugar, salt, and baking powder. Blend in poppy seeds. Cut in butter or margarine with 2 knives or pastry blender until it is the size of small peas. Add raisins and blend well. Add milk gradually, blending until dough is fairly soft.
Turn out on lightly floured board and pat into round cake about 9 inches in diameter. Place on greased cookie sheet and with back of knife, cut across in quarters, not cutting completely through the dough.
Bake in moderate oven (375ºF) 1/2 hour. Split while hot, spread with butter and jam or jelly to suit your taste. Serve very hot. Yields 6 servings. May be reheated and served later. —Traditional Scottish dessert recipe from The Furrow
Scottish Soda Scones
1 quart flour, 1 teaspoon baking soda, 2 teaspoons cream of tartar, a little lard or butter, salt, and sugar to taste. Warm the flour. Mix dry ingredients. Add butter or lard to make consistent dough. Turn out on board and handle as little as possible.
Turn out round, and bake in a skillet, or on top of stove. When one side is done, turn over. Note: whole wheat flour can be used in the same way with this traditional Scottish dessert recipe.

Scottish Black Buns
1/2 pound flour, 1 pound raisins, 1 pound currents, 1/4 pound sugar, 2 ounces blanched almonds, 2 ounces candied peel, 1 teaspoon ginger, 1 teaspoon cinnamon or spices, 1/4 teaspoon Jamaica pepper, 1/2 teaspoon caraway seeds, 1/2 teaspoon soda, 1/2 teaspoon cream of tartar, 1 teacup sweet milk or old ale may be used instead.
With the hand mix well in a basin all above ingredients. Line a cake tin with a plain short crust rolled out very thin, and put the mixture in this prepared tin, and roll out the scraps of paste to cover top.
Wet well the edges. Place top cover on and press well around the edges. Prick top with a fork, and brush over with sweet milk. Bake in a moderate oven (375°F) for at least 3 hours. Serve with butter or jam.

Scottish Dundee Cake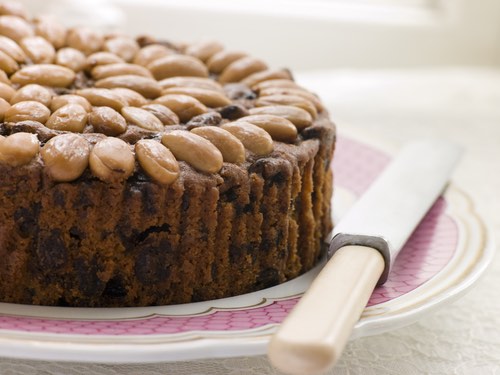 Scottish Dundee Cake Decorated With Almonds
(Source: ©monkeybusiness/Depositphotos.com)
Dundee Cake is delicious for serving on any special occasion, but it's also considered the traditional Scottish Christmas Cake.

8 ounces butter
8 ounces sugar
4 eggs
10 ounces flour
Orange rind
1 teaspoon baking powder
Pinch of salt
2 ounces ground almonds
1 pound dried fruits
4 ounces candied peels
Blanched almonds
Line an 8-inch pie pan with baking parchment. Preheat the oven to 325° F. Thoroughly cream the butter and sugar together. Slowly beat in the eggs, adding a little flour to prevent curdling. Stir in orange rind to taste.
Sift the flour, baking powder, and salt together. Fold the flour mixture into the creamed mixture and add the almonds, fruits, and candied peels.
Spoon batter into the pie tin, smoothing the surface while indenting the center slightly so it won't rise higher than the sides. Place blanched almonds on top to decorate and brush the top with beaten egg white.
Bake for about 3 hours or until cake tester or toothpick comes out clean as a whistle.

Butter Tablet / Scottish Confection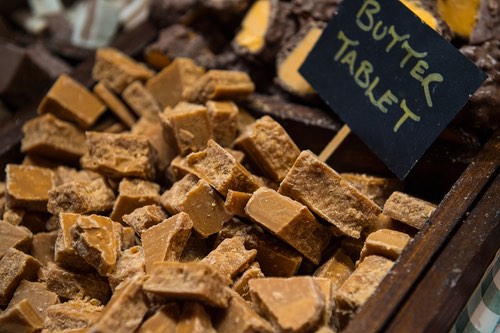 Make Your Own Scottish Butter Tablet
(Source: ©andreaobzerova/Depositphotos.com)
Castor Sugar

In the USA substitute Super Fine sugar, a.k.a. Bar Sugar. In Canada use Super Fine or Berry Sugar. These sugars are finely ground yet not powdered like icing sugars.

1 pint water
1/2 pound butter
4 pounds castor sugar
1-1/2 cups sweetened condensed milk
Flavoring of choice (e.g., vanilla, almond, etc.)
Warm the water in saucepan, melt in the butter, add the sugar, and bring to a boil while stirring. Stir in the milk and simmer for about 20 minutes while constantly stirring to avoid burning. Remove from heat, add flavoring of choice, and beat hard for 5 minutes.
Pour tablet into greased tin and when partly cooled, cut into 5 x 1-inch bars. Wrap cold bars in waxed paper and store in airtight container.

Cranachan / Cream Crowdie Dessert

1/2 cup coarse oatmeal or rolled oats
2 cups fresh raspberries
1-3/4 cups heavy (whipping) cream
2 tablespoons liquid honey
2 tablespoons Scotch whisky
Spread oatmeal on a baking sheet and grill in oven for about 2 minutes (or slowly toast on cast iron pan) until it smells warm and pleasantly nutty.
Crush 1 cup raspberries with a fork. Whip the cream until thick, then stir in honey and whisky. Add the crushed raspberries, stirring gently, then the remaining whole raspberries.
Finally, gently fold in the toasted oatmeal, spoon into serving glasses, and serve at once. This traditional Scottish dessert recipe makes enough for 4 tasty servings.

Traditional Scottish Dessert Recipe

Buckeye Cookery and Practical Housekeeping (1877)

Scottish Fruitcake

A cup butter, two of white sugar, four of sifted flour, three-fourths cup sour milk, half teaspoon soda, nine eggs beaten separately, one pound raisins, half pound currants, a fourth pound citron.
Cream the butter and sugar, add milk gradually then beaten yolks of eggs, and lastly, while stirring in flour, the whites well whipped. Flavor with one teaspoon lemon and one of vanilla extract, and have raisins chopped a little, or, better still, seeded, and citron sliced thin. Wash and dry currants before using, and flour all fruit slightly.
In putting cake in pan, place first a thin layer of cake, then sprinkle in some of the three kinds of fruit, then a layer of cake and so on, always finishing off with a thin layer of cake. Bake in a moderate (375°F) oven for two hours. —Mrs. J. H. Shearer

Traditional Scottish Dessert Recipe

The Bread and Biscuit Baker's and Sugar-Boiler's Assistant (1890)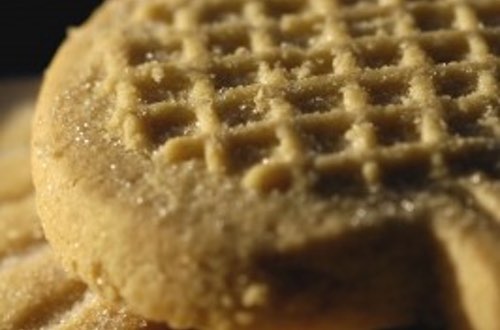 Traditional Scottish Shortbread Round
(Source: ©steve-mann/123RF.com)
Old Fashioned Shortbread Rounds

Take 1 pound of butter, 2 pounds of flour, 8 ounces of powdered sugar. Mix the sugar in the butter, then take in all the flour and thoroughly mix and rub all together till of a nice mellow color and easy to work.
Weigh off the size required, and shape into square or round pieces; dock them on the top, notch them round the sides, put on clean dry tins, and bake in a moderate oven (350°F).

Traditional Scottish Dessert Recipes

With a Saucepan Over the Sea (1902)
365 Foreign Dishes (1908)
Allied Cookery (1916)

Scottish Orange Marmalade
Weigh the oranges and set aside an equal weight of sugar. Put the fruit, whole, into cold water to cover, bring to a boil, pour off the water and add as much more, and simmer until the fruit can be easily pierced with a fork.
Cut the fruit in thin slices, throw away all of the seeds, return to the water, add the sugar, and cook until it jellies, about an your or less. Put into jars for use.
They can be cooked with the same amount of sugar, cutting the skin first into strips, discarding the pith and membrane and seeds, and adding the pulp to the water and sugar. —Traditional Scottish Dessert Recipe from With a Saucepan Over the Sea

Scottish Loaf Cake
Mix 1/2 pound of butter with 1/4 pound of sugar, 1/2 cup of chopped nuts and 1/2 cup of shredded citron; then work in 1 pound of sifted flour with 2 teaspoonfuls of baking powder. Make a loaf a half-inch thick and bake in moderate oven (375°F) until done. —Traditional Scottish Dessert Recipe from 365 Foreign Recipes

Gordon Highlander Gingerbread
Put in a mixing bowl 1/2 a pound of flour, 2 ounces of brown sugar, 2 ounces peel, 3/4 of an egg or 1 small egg, well beaten, 1/2 teaspoonful of soda mixed with 1/4 of a cup of milk, 1/4 ounce each of ginger, mace, and cinnamon, then beat into this slowly 3 ounces of butter that has been warmed in 1/2 pint of molasses. Bake very slowly in a tin lined with buttered paper. —Traditional Scottish dessert recipe from Allied Cookery

Fannie Farmer's Traditional Scottish Dessert Recipe

The Boston Cooking-School Cook Book (1916)

Scottish Fancies
One egg, 1/2 cup sugar, 2/3 tablespoon melted butter, 1 cup rolled oats, 1/3 teaspoon salt, 1/4 teaspoon vanilla.
Beat egg until light, add gradually sugar, and then stir in remaining ingredients. Drop mixture by teaspoonfuls on a thoroughly greased inverted dripping-pan one inch apart. Spread into circular shape with a case knife first dipped in cold water.
Bake in a moderate oven (375°F) until delicately browned.
To give variety use two-thirds cup rolled oats and fill cup with shredded coconut.

Enjoying Traditional Scottish Foods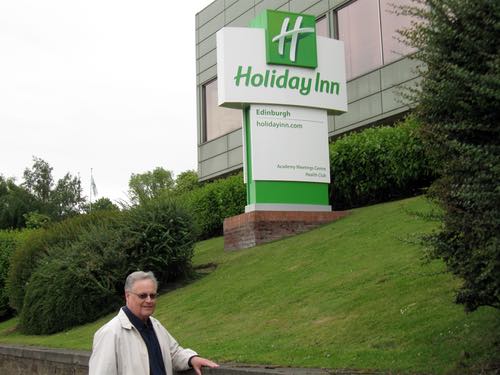 Don Bell at the Holiday Inn® Edinburgh in Scotland
(Source: ©Don Bell)
The Conference
A while back, I attended a Solo Build It (SBI!) Webmasters Conference in Edinburgh, Scotland with my wife Vicki. We met other website owners from the UK and other countries, and I received many helpful ideas on how to improve this recipe site.
However, allow me tell you about the wonderful Scottish food...
Our noon meals at the Holiday Inn® Edinburgh featured an all-you-can-eat Asian buffet that was simply to die for. Not traditionally Scottish but absolutely delicious and reflective of Scotland's trendy taste.
I determined to not overeat yet found myself sneaking back for seconds. The Scottish roast beef entree was too delicious to resist! And after all, this was a working holiday.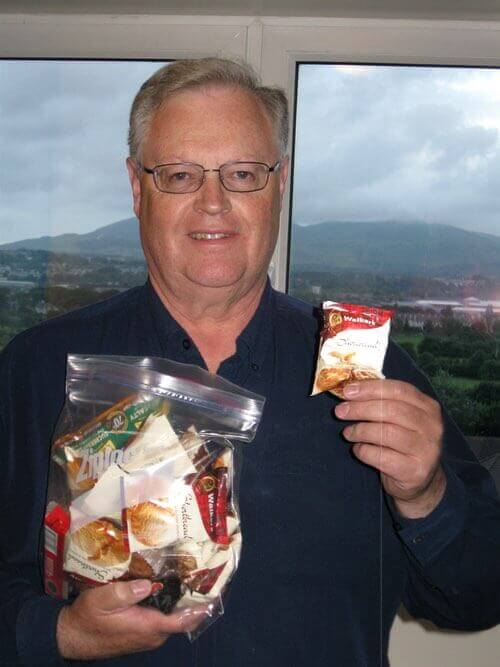 Don Being Tempted by Shortbread Cookies
(Source: ©Don Bell)
At coffee breaks, there were endless packages of Walkers® Pure Butter Shortbread cookies, and their ginger biscuits were equally delicious. Scottish shortbread treats are impossible to resist!
To make your own shortbread, see the traditional Scottish dessert recipe for shortbread on this page and the other easy-to-make recipes for shortbread elsewhere on this site.
One evening, we attended a Scottish Ceilidh (pronounced KAY-lee) at Edinburgh's popular Ghillie Dhu where we enjoyed dining on a traditional haggis with bashed neeps and tatties, chicken breast stuffed with black pudding, followed by a traditional "cranachan" or cream crowdie served with a rich buttery shortbread biscuit.
The traditional Scottish dessert recipes on this page include recipes for Cranachan and shortbreads, so be sure to try them.

Touring Edinburgh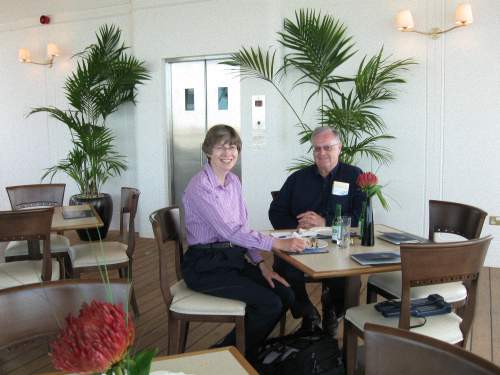 Don and Vicki Enjoying Lunch Aboard HM Yacht Britannia
(Source: ©Don Bell)
While in Edinburgh, do take time to visit the Royal Yacht Britannia. The 412-foot ship once served as a floating palace for HM Queen Elizabeth II on her overseas tours.
Exploring Britannia is a fascinating way to spend a morning and while aboard her, you can enjoy a wonderful lunch in the Royal Deck Tea Room.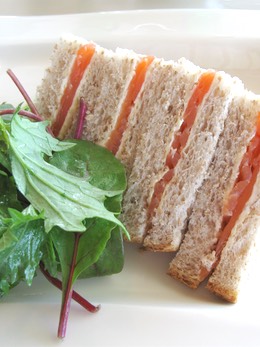 Smoked Salmon Sandwiches
(Source: ©Don Bell)
Apple Pie with Ice Cream
(Source: ©Don Bell)
For instance, a satisfying sandwich of Shetland oak-smoked salmon and cracked black pepper cream cheese on wholemeal bread, followed by a slice of homemade apple pie topped with Porelli vanilla ice cream hit the spot after a morning's site seeing.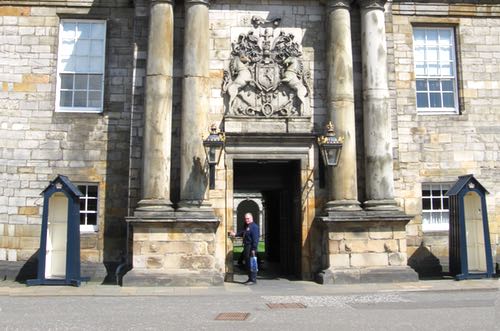 Visiting Holyrood Palace in Edinburgh
(Source: ©Don Bell)
We also visited Holyrood Palace where I got to try some Scottish fruit scones smothered with dairy butter and blackberry jam, with a generous dollop of clotted cream on the side. The scones were large and bursting with fruit and so good tasting! Almost as good as Grannie's.

Enjoying a Fruit Scone at the Palace of Holyroodhouse Cafe
(Source ©Don Bell)
Here's a closer look...

Fruit Scone Served at the Palace of Holyroodhouse Cafe
(Source ©Don Bell)
Doesn't the scone look delicious and inviting? Ready to be split open and buttered? Only the best scones are served at a Scottish palace!
Now, you can enjoy a similar "wee taste of Old Scotland" thanks to the traditional Scottish dessert recipes from Grandma's collection.
After a day filled with walking and sightseeing, we always eagerly awaited our main evening meal, and Edinburgh offers a wonderland of dining experiences.
For instance, we enjoyed a lovely pub dinner of wild venison pie with mushrooms at The Conan Doyle pub. It was so sumptuous that we had no room for a dessert!
However, the following night, we experienced fine dining with braised lamb shanks followed by — you guessed it — a homemade sticky toffee pudding smothered in custard sauce and real whipped cream. Delicious to be sure!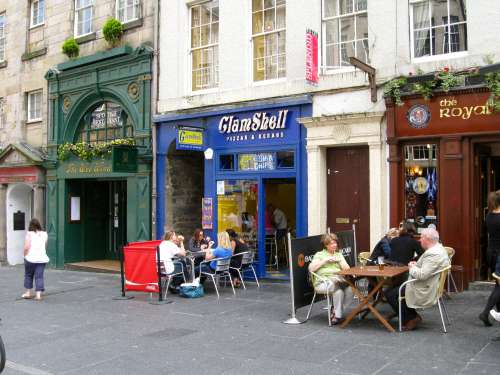 The ClamShell, the Royal Mile, Edinburgh
(Source: ©Don Bell)
Finally, we couldn't leave Edinburgh, Scotland without tasting a battered Deep Fried Mars Bar at the ClamShell, a popular fish & chip takeaway on the Royal Mile.
Tons of calories, but so yummy! It was so filling that we skipped our evening meal and had only coffee before returning to our B&B for a night's sleep.
And before you criticize my lack of restraint, I have included an easy Deep Fried Mars Bars recipe to tempt you. Why not admit it? You're curious to try it.

From delicious clootie dumplings to family favorites like Scottish pancakes served with homemade raspberry jam, you'll love the traditional Scottish dessert recipes featured on my friend May's website. Scotland's Enchanting Kingdom is your passport to the ancient Kingdom of Fife.