Swiss Dessert Recipes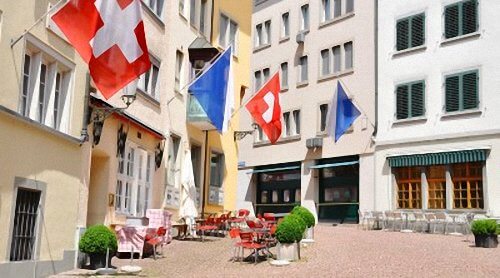 Outdoor Cafe In Zurich, Switzerland
(Source ©alexander-chaikin/123RF)
Authentic Swiss dessert recipes often call for lots of dairy-rich cream, milk, butter, and eggs. That's why these desserts taste so delicious — fresh, wholesome ingredients. You'll love eating the traditional Swiss cake, pudding, and cream desserts. You won't believe how good they taste!


Traditional Swiss Dessert Recipes

These traditional dessert recipes are so very easy to make, and you simply cannot beat their wonderful Old European flavor. They're perfect for serving after a family brunch or dinner. Try them and you'll imagine yourself enjoying a delicious Swiss cake or pudding at an outdoor cafe in Zurich.


Fannie Farmer's Cooking School
Recipe for Swiss Cream Dessert

The Boston Cooking-School Cook Book (1916)


Ingredients: 1/4 lb of macaroons or 6 small sponge cakes, sherry, 1 pint of cream, 5 oz of lump sugar, 2 large tablespoonfuls of arrowroot, the rind of 1 lemon, the juice of 1/2 lemon, 3 tablespoonfuls of milk.

Mode: Lay the macaroons or sponge cakes in a glass dish, and pour over them as much sherry as will cover them, or sufficient to soak them well.

Put the cream into a lined saucepan, with the sugar and lemon rind, and let it remain by the side of the fire until the cream is well flavored, when take out the lemon rind. Mix the arrowroot smoothly with the cold milk; add this to the cream, and let it boil gently for about 3 minutes, keeping it well stirred. Take it off the fire, stir till nearly cold, then add the lemon juice, and pour the whole over the cakes.

Garnish the cream with strips of angelica, or candied citron cut thin, or bright-colored jelly or preserve.

Note: This cream is exceedingly delicious, flavored with vanilla instead of lemon: when this flavoring is used, the sherry may be omitted, and the mixture poured over the dry cakes.

Time: About 1/2 hour to infuse the lemon rind; 5 minutes to boil the cream. Sufficient for 5 or 6 persons. Seasonable at any time.


Simple Swiss Dessert Recipe
for a Traditional Swiss Cake
The Woman Suffrage Cook Book, Second Edition (1890)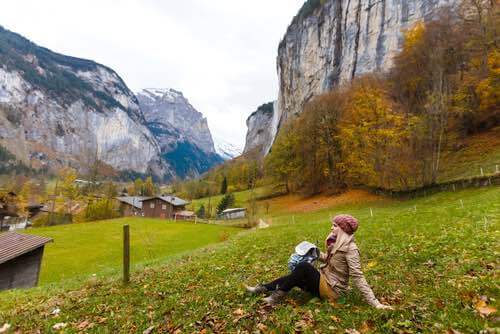 Hiking Break in the Swiss Alps
(Source: ©sinenkly/Depositphotos.com)
One and one-half cups sugar, one cup milk, three cups flour, four tablespoons butter, two eggs, one and a half teaspoonfuls cream of tartar, one teaspoonful soda. —Mrs. B. M. Nichols


Miss Parloa's Swiss Dessert Recipe
for Making Swiss Pudding
Miss Parloa's New Cook Book (1882)


Ingredients: One teacupful of flour, four tablespoonfuls of butter, three of sugar, one pint of milk, five eggs, the rind of a lemon.

Method: Grate the rind of the lemon (the yellow part only, remember) into the milk, which put in the double boiler.

Rub the flour and butter together. Pour the boiling milk on this, and return to the boiler. Cook five minutes, stirring the first two.

Beat the yolks of the eggs and the sugar together, and stir into the boiling mixture. Remove from the fire immediately.

When cold, add the whites of the eggs, beaten to a stiff froth. Have a three-quart mold, well buttered. Turn the mixture into this, and steam forty minutes. Turn on a hot dish, and serve without delay.

Creamy sauce, or a tumbler of currant jelly, melted with the juice of two lemons, should be served with it.


You May Also Like

International Dessert Recipe Collection


Enjoy a

Laugh

to Brighten Your Day!


Listen to Bud Abbott and Lou Costello's "Who's On First?" skit from the World War 2 Special Services Division V-Disk.


(5: 54 min.)


As an Amazon Associate I earn from qualifying purchases.