Traditional Russian Dessert Recipes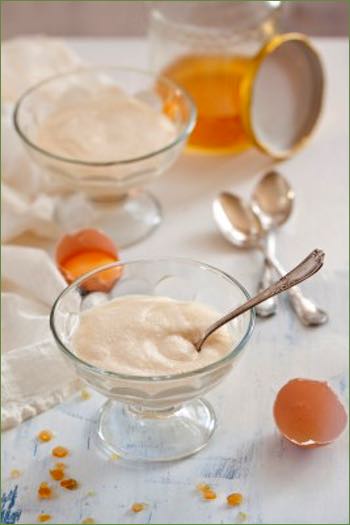 Homemade Russian Honey Mousse
(Source ©larina-natalia/123RF)
Try these traditional Russian dessert recipes. The Russians are known worldwide for their fabulous dessert cakes and pastries, and the traditional iced punch tart with its rich-tasting creamy filling is no exception. You'll find its easy recipe given below.


Russian Honey Mousse
Mom's Recipe Scrapbooks (c. 1920s)


Smooth, creamy and delicious!

Ingredients: 1-1/2 cups honey, 4 eggs, separated.

Preparation: Beat the egg yolks and add the honey gradually until completely mixed. Cook the mixture over a slow fire, stirring constantly, until the mass thickens, then remove from fire and cool.

Next, beat the egg whites until very stiff and combine thoroughly with the honey mixture. Spoon the mousse into serving dishes and chill. Instead of egg whites, whipped cream may be used.


Traditional Russian Dessert Recipe
for Kissel a la Russe
La Cuisine Francaise (1893)


Ingredients: 2 quarts cranberries, 1/2 pound sugar, 4 tablespoonfuls cornstarch (or potato starch), 1 pint cream.

Preparation:

1. Press the cranberries or raspberries through a cloth napkin, pour their juice in a saucepan with 1/2 pound sugar, add 4 tablespoonfuls cornstarch mixed with 1 glassful water, boil the whole for 5 minutes.

2. Pour in a hollow dish and let cool. Serve with cream apart. For five persons.


Russian Dessert Recipe
for Punch Tart / Cake

Aunt Babette's Cook Book (1889)


Bake three layers of sponge cake dough, and flavor it with a wineglassful of arrack (Eastern name for any spirituous liquor). When baked, scrape part of the cake out of the thickest layer, not disturbing the rim, and reserve these crumbs to add to the following filling:

Boil half a pound of sugar in a quarter of a cup of water until it stands. Add to this syrup a wineglassful of rum and the crumbs, and spread over the layers, piling one on top of the other. Frost the cake with a nice icing, flavored with rum.

Another way to fill this cake is to take some crabapple jelly or apple marmalade and thin it with a little brandy. If you haven't either, make a filling of the following:

Grate a large tart apple, add the grated peel of a lemon, one egg, and one cup of sugar. Let this boil five minutes steadily, stirring all the time, and flavor with rum. Spread between layers, and frost with boiled icing, flavored with rum.


Russian Boiled Icing
Take one cup of sugar to the beaten white of one egg. Put the sugar on to boil with two tablespoons of water. When this has boiled clear pour on the beaten white of the egg, stirring constantly until cold. Flavor.


A Traditional Russian Cake

With a Saucepan Over the Sea (1902)


Mix the yolks of 5 eggs and 1/4 pound sugar; add slowly 3 ounces flour, 2 ounces chopped almonds, a spoonful of anise seed, and the whites of eggs beaten stiff. Bake in long narrow tins lined with paper, cut in slices, and dry in the oven until crisp, before serving.


About the Russian Dessert Recipes

You'll love the delicate honey mousse made only with eggs and honey, and the  totally tasty Kissel a la Russe with its sweetened cranberries is especially easy to make. This traditional dish was created by Francois Tanty, Chef to Czar Nicholas II of Russia.

The cranberry kissel is the most famous of Russian kissels. It makes an excellent cranberry dessert to serve at Thanksgiving, Christmas, or on any special occasion. Desserts fit for your Imperial Family!


Celebrating with Russian Desserts

The Russian people are especially generous and welcoming, and they love to celebrate with all manners of delicious baked goods and pastries. Pastry shop shelves are filled with irresistible confectionery and immense layer cakes with creamy fruity fillings, wholly smothered in fluffy whipped cream.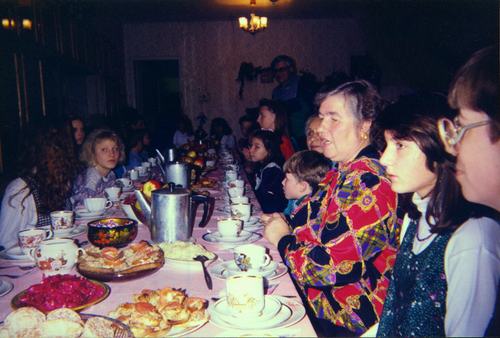 Birthday Celebration at a St. Petersburg Orphanage
(Source ©Don Bell)
While on a humanitarian and personal mission to Russia, my 49th birthday happened to fall on the day we visited a Russian orphanage in St. Petersburg. The occasion was celebrated with homemade cookies, flaky fruit-filled pastries, and irresistible cream cakes, all made by the children and with ingredients supplied by the volunteer workers.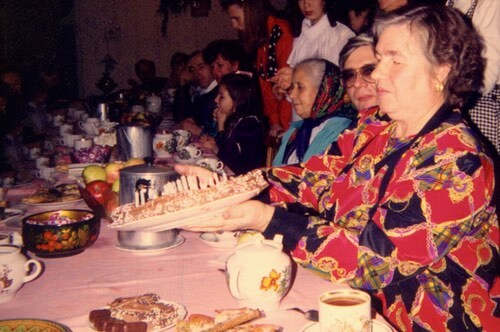 Traditional Russian Birthday Cake with Candles
(Source ©Don Bell)
One of the elderly ladies (seated third from the right wearing a headscarf) presented me with a traditional Russian birthday cake topped with candles. It was so delicious and so greatly appreciated.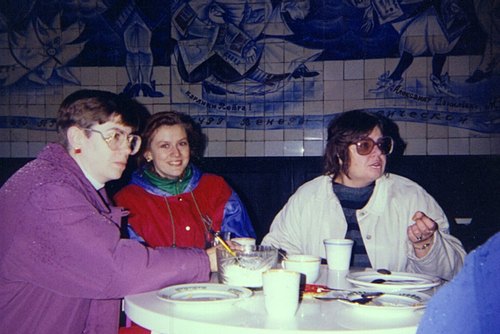 Relaxing in a Coffee Shop in St. Petersburgh, Russia
(Source ©Don Bell)
Earlier that day in a St. Petersburg coffee shop with my wife Vicki and our daughter (above left), we enjoyed eating some creamy pastries as we drank our bold Russian coffees.

Sorry, but we couldn't resist eating the treats before I took the photo, so you'll have to view the display case and imagine what they tasted like. They were simply too tempting to resist!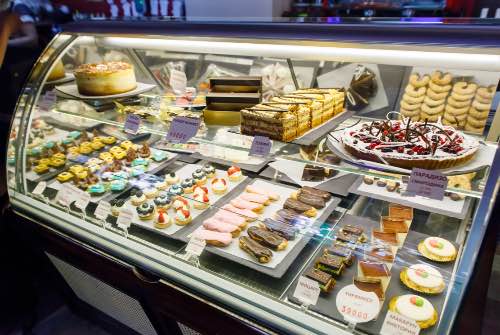 Pastry Display in Russian Coffee-Confectionery Shop
(Source: ©Shebeko)
The Russian dessert recipes on this page will help you to sample some of the delicious treats characteristic of Old Russia.


You May Also Like

International Dessert Recipe Collection


Enjoy a

Laugh

to Brighten Your Day!


Listen to Bud Abbott and Lou Costello's "Who's On First?" skit from the World War 2 Special Services Division V-Disk.


(5: 54 min.)


As an Amazon Associate I earn from qualifying purchases.