German Pancakes
German Pancake Recipes

Imperial Schmarrn Dusted with Powdered Sugar
(Source: ©kunertus/Depositphotos.com)
These traditional German pancake recipes will help to make any meal extra special. These pancakes are more dessert-like than the common North American pancakes that some of us are used to, especially those made with raisins and apples.
You must absolutely try the Imperial Schmarrn dessert. It's an Old World pancake treat to die for!


Traditional German Pancake Recipe

With a Saucepan Over the Sea (1902)


Imperial Schmarrn

German Schmarrn Pancake with Raisins and Almonds
(Source: ©kunertus/Depositphotos.com)
This is an easy-to-make German dessert that's essentially a caramelized fluffy pancake stirred and split apart with a fork into small pieces while frying.

The fried pancake's shredded (Schmarren) pieces are customarily sprinkled with powdered sugar and served hot with fruit preserves or a dessert sauce on the side.

This old fashioned German recipe for Imperial Schmarrn is similar to a Kaiserschmarrn recipe (below) named after the Austrian Kaiser Franz Joseph who was said to be quite fond of the dish.
Be sure to try them both!

For this traditional German pancake recipe, whisk the yolks of 5 eggs with 1 pint of cream, or rich milk, and beat the whites very stiff. Add to the yolks and cream 4 ounces of flour and 1 tablespoonful of sugar, 1 ounce of raisins, and 1 ounce of chopped almonds.
Then add the beaten whites, stir and fry on a griddle with 2 ounces of butter, either whole or in 3 parts. Let it brown; when light, sift it with sugar and serve with preserves or hot vanilla or wine sauce.


Traditional Kaiserschmarrn Recipe

German Cookery for the English Kitchen (1906)


6 eggs
1/2 pint cream
4 ounces currants
4 ounces butter
5 ounces flour
1 teaspoonful salt
Grated peel of 1/2 lemon
4 ounces grated sweet almonds
Mix all ingredients, except the butter, into a dough. Fry this brown on both sides in the butter. Then pull, or cut, into smaller pieces and fry each crisply.
Serve on a hot dish and sprinkle over with sugar. For 6 persons.


Old Fashioned German Pancake Recipes

German National Cookery for American Kitchens (1904)


Apple Pancake  No. 1
Take 2 soup-platefuls of finely sliced apples, cook them until done with sugar, lemon peel and enough wine until there is no more juice.
Then beat the yolks of 6 eggs with a cupful of thick, sour cream, 2 tablespoonfuls of cornstarch, a little salt, and cinnamon, mix the beaten whites through this and bake two cakes on one side to a light brown.
After the second is baked, spread with apples, put the cakes one on the other and put them into the oven for a few minutes, sprinkle with sugar and serve.


Apple Pancake No. 2
Take 12 sour apples, 1/4 pound of butter, 12 crackers soaked in milk, 6 eggs, 1/4 pound of currants, 2 tablespoonfuls of sugar, lemon peel and cinnamon.
Pare the apples, slice and cook with butter over a slow fire until done.
Then pour over the crackers enough milk to soak them, beat 4 eggs to a froth; stir the ingredients with the crackers, adding at last the apples and the whites of the eggs; 2 tablespoonfuls of rum may also be stirred with the apples.
Bake the apple omelette on a slow fire.


Traditional German Pancake Recipes
Allied Cookery (1916)


German pancakes and waffled are so easy to make and so delicious to eat. Why not indulge yourself today? You deserve a treat!

German Pancake Recipe

German pancakes are very good as a dessert. Beat two eggs very light, add one half cup of milk, and stir in flour enough to make a very thin batter. Before thinning it very much, add a teaspoon of baking powder and a pinch of salt.
Bake this mixture, in the form of little griddle cakes, on a moderately hot griddle, and when done, drop currant or raspberry jelly in the center of each, roll them up, and serve with some more of the jelly.


German Waffle Recipe

Mix 1/4 pound of butter with 6 tablespoonfuls of sugar. Add the yolks of 5 eggs, 1/2 cup of milk, 1/2 pound of sifted flour with 2 teaspoonfuls of baking powder, a pinch of salt, and the grated peel of a lemon.
Mix well; add the whites beaten stiff and bake in a well-greased waffle iron. Sprinkle with pulverized sugar and serve hot.


Related Pages You May Like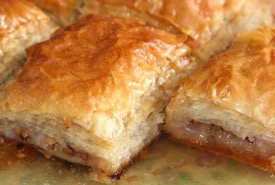 Traditional International Desserts