Old Fashioned Pancake Recipe

Thanks to Grandma's good old fashioned pancake recipes, you'll enjoy making a variety of homemade pancakes and toppings. There's nothing like a hearty stack of pancakes to brighten the day.
And for something truly special, be sure to make Queen Elizabeth's Scottish pancakes, also known as drop scones. They are really easy to make, and they have a delicious Old Country flavor.

Mom's Favorite Old Fashioned Pancake Recipes

Mom's Recipe Scrapbooks (1920s)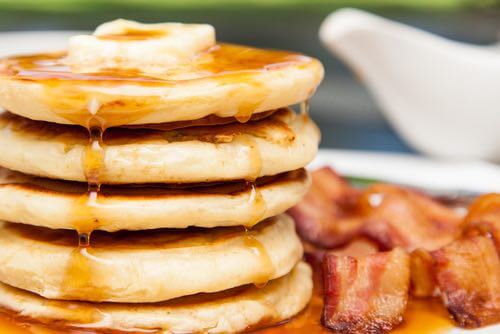 Homemade Pancakes With Maple Syrup and Bacon
(Source: ©adogslifephoto/Depositphotos.com)
Mom's homemade pancakes were often served at breakfast, buttered and drizzled with real maple syrup, or alfalfa honey from our own bees. Life was good on the farm.
Basic Old Fashioned Pancake Recipe

2 cups whole milk or sour milk
3 eggs, whites beaten separately
1 teaspoon baking soda
1 teaspoon salt
Flour enough to make a batter
Mix batter as usual. Beat the whites of the 3 eggs and stir in slowly last thing before baking. Beating the egg whites makes the pancakes fluffier.

Golden Pancakes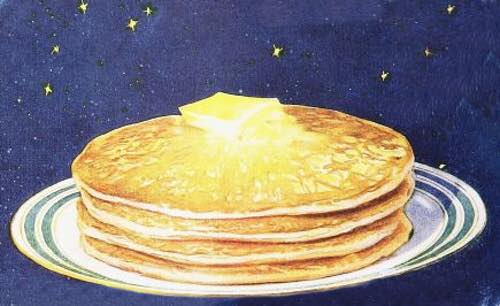 Golden Pancakes Served with Dairy Butter c.1920s
(Source: Adapted by Don Bell)
2 eggs
2-1/4 cups milk
1 tablespoon cooking oil
2 cups all-purpose flour, sifted
2 teaspoons sugar
3 teaspoons baking powder
1/2 teaspoon salt
Beat eggs in large bowl, then add milk, oil. Sift together flour, sugar, baking powder, salt, then add to liquid mixture and beat until smooth.
Bake pancakes on a hot griddle or pan until bubbles form, then turn over and bake on the other side until golden brown. Serve hot with syrup.

Apple Pancakes

For this old fashioned pancake recipe, make as for Golden Pancakes (above), but separating the eggs. Use egg yolks in the batter instead of whole eggs. Fold in about 2 cups grated unpeeled apples.
Beat egg whites stiff and fold in last. Bake as usual. Serve hot pancakes sprinkled with cinnamon syrup, or drizzled with spiced honey, or your favorite pancake syrup.
Cinnamon Syrup

Bring to a boil 1 cup brown sugar, 1 cup water, and 1/2 teaspoon cinnamon in a saucepan. Boil hard for about 10 minutes, until syrupy, then stir in 1 tablespoon butter. Delicious when served with apple pancakes!
Spiced Honey Syrup

Heat 1 cup liquid honey and 1/2 teaspoon mace in a small saucepan, then stir in 1 teaspoon soft butter.
Ginger Pancakes

Mix 3 heaped tablespoonfuls of self-raising flour with a pinch of salt, 1 teaspoonful of ground ginger, 1 well-beaten egg, and sufficient milk and water (in equal quantities) to make a smooth batter, and, lastly, some well chopped crystallized ginger chips. Fry in very hot lard until a rich brown color.
Place on a hot dish, and spread each pancake with lemon curd topping as soon as cooked. These are delicious! It makes an excellent change from the usual old fashioned pancake recipe.

Cornmeal Pancakes

1 cup cornmeal
3/4 cup flour
1/2 teaspoon salt
1 heaping teaspoon baking soda
2 heaping teaspoons cream of tartar
Water enough to make a thin pancake batter
Mix ingredients into a batter and fry pancakes on a hot pan or griddle.

Nut Pancakes

Mix 1/3 cup chopped nuts with 1 cup prepared pancake flour and 1 cup sweet milk or water. Stir until smooth. Bake on hot, greased griddle until surface is covered with bubbles; then turn and bake on other side.

Breadcrumb Pancakes

4 cups milk, scalded
4 cups fresh white bread crumbs
4 egg yolks
1-3/4 cups sifted all-purpose flour
2 teaspoons baking powder
1/2 teaspoon salt
3/4 cup butter, melted
4 egg whites
Pour hot milk over breadcrumbs and let stand until cool. Beat egg yolks in small bowl until thick and lemon colored, then stir into milk mixture.
Sift flour, baking powder, and salt together, add to batter mix. Stir in melted butter. Beat egg whites stiff, then fold gently into batter.
Bake on hot greased griddle or pan. Serve with syrup, honey, or jelly. This old fashioned pancake recipe makes about 40 small pancakes.

Homemade Pancake Toppings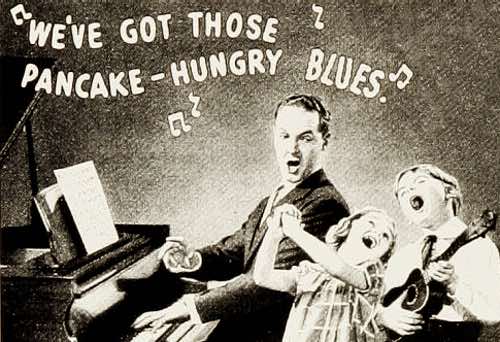 "We've Got Those Pancake-Hungry Blues" c.1920s
(Source: Adapted by Don Bell)
There's nothing better tasting for breakfast or lunch than a stack of hot pancakes. Here's a variety of tasty topping suggestions to use with your favorite old fashioned pancake recipe:

Butter pancakes, sprinkle with powdered sugar and add a few drops of lemon juice.

Maple syrup or brown sugar syrup with a big pat of butter on top.

Sprinkle grated cheese over piping hot pancakes. The cheese will melt and give delightful flavor to the pancakes.

Serve generously topped with your favorite fruit jelly.

Serve buttered pancakes with sweetened crushed strawberries, raspberries, or blackberries.

Fruit sauces and jams make a nice variation for pancakes, sauces such as apple, cherry, pineapple, raisin, rhubarb, or peach.

English-Style Old Fashioned Pancake Recipe

English-Style Pancakes Suggested Serving
(Source: ©monkeybusiness/Depositphotos.com)
How to Make English Crepes

Every family has its pancake day and when it comes, it is really a special event. Some households serve pancakes every other day at breakfast as well as on special occasions.
For those less accustomed to the art of pancake making, there are a few rules that should be kept in mind.
First, it is important to sift the flour and salt, or lift it and let it trickle through the fingers two or three times to aerate it.
Do not beat the eggs, but put them straight into a hollow in the center of the flour with a little milk, and gradually work in the flour from the sides, adding a little more milk by degrees. But, never make the batter too moist at first, or it is almost impossible to beat the lumps out of the flour.
Beat until the batter is full of air bubbles then add the rest of the milk gradually. All batters must stand for at least an hour to allow the starch grains in the flour to swell and soften.
English-Style Crepes

For thin, English-style crepes, choose a perfectly clean, small frying or omelet pan, put in a little lard, dripping, or butter, make it hot, pour it away, and wipe the pan out with soft paper.
When ready to fry the pancakes, put in a piece of lard, or butter, the size of a walnut, make it hot, stir the batter, and take up 4 tablespoonfuls (1/4 cup) and pour it quickly into the pan.
Allow it to run all over the pan, and when set, and pale brown on one site, slip a knife round the edges of the pancake, and toss or turn it over, and let it brown the other side.
When cooked, turn pancake onto a sugared paper, sprinkle with squeezed lemon juice and sugar, roll up, and keep hot while the rest of the batter is fried in the same manner. Add fresh lard to the pan for each pancake.
A useful pancake batter is made with 2 eggs, 1 pint of milk, 1/2 pound of flour, and a pinch of salt. This can be made richer by adding more eggs and less milk, or by adding cream.
Plain batter is made by adding a teaspoonful of baking powder to the flour, and an ounce of oiled butter, 1 pint of milk, and no eggs.
Oiled Butter: Put two ounces of fresh butter in a saucepan, so it melts gradually, until it becomes an oil; then pour it off carefully from the residue remaining in the pan.
Crepes Serving Variations

Serve English Crepes with a Favorite Jam
(Source: ©Tonicav/Depositphotos.com)
Spread a little warmed jam in each crepe before rolling it. Fruit stewed with sugar until stiff, like a marmalade, may also be spread on the crepe before rolling it. Orange juice may sprinkled to replace lemon juice.
Homemade Crepes Topped with Fresh Berries in Season
(Source: ©amberto4ka/Depositphotos.com)
Serve your homemade crepes unrolled with a sprinkle of lemon juice and sugar and topped with fresh berries in season.
The Queen's Old Fashioned Pancake Recipe
(U.S. National Archives and Records Admin.)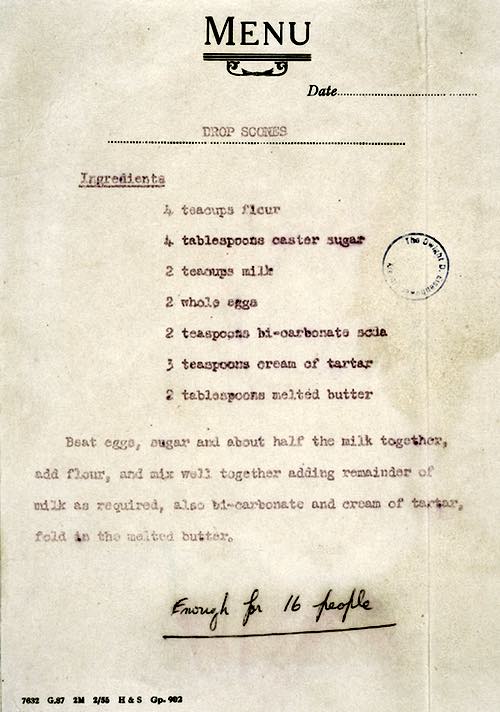 Drop Scone Recipe from Her Majesty Queen Elizabeth II
(Source: U.S. National Archives and Records Administration)
Queen Elizabeth made these tasty homemade pancakes for President Dwight D. Eisenhower during his August 1959 visit to Balmoral Castle in Scotland.
Her Majesty later enclosed a copy of her favorite old fashioned pancake recipe for making Scottish drop scones along with a handwritten letter to Eisenhower, in January 1960.

Scottish Drop Scones

Scottish pancakes (a.k.a. drop scones) are similar to the North American pancake, but as my Grannie would say, they are usually made a wee bit thicker and a wee bit smaller.
Castor Sugar

In the USA substitute Super Fine sugar, a.k.a. Bar Sugar. In Canada use Super Fine or Berry Sugar. These sugars are finely ground yet not powdered like icing sugars.

Ingredients:
4 teacups flour
4 tablespoons castor sugar
2 teacups milk
2 whole eggs
2 teaspoons bicarbonate of soda
3 teaspoons cream of tartar
2 tablespoons melted butter
Beat eggs, sugar, and about half the milk together, add flour, and mix well together adding remainder of milk as required, also bicarbonate and cream of tartar, fold in the melted butter. Enough for 16 people.
Her Majesty added the following handwritten instruction in her letter:
"Though the quantities are for 16 people, when there are fewer, I generally put in less flour and milk, but use the other ingredients as stated.
"I have also tried using golden syrup or treacle instead of only sugar, and that can be very good too. I think the mixture needs a great deal of beating while making, and shouldn't stand about too long before cooking."

Reduced Recipe for 4 Servings

1 cup flour
1 tablespoon sugar
1/2 cup milk
1 egg
1/2 teaspoon baking soda
1-1/4 teaspoons cream of tartar
1/2 tablespoon melted butter
The U.S. National Archives and Records Administration has the Queen's original handwritten letter to President Eisenhower in its collection.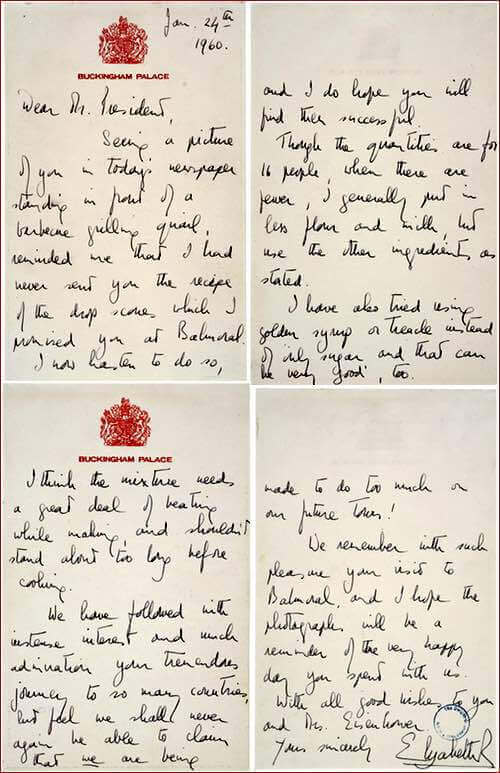 Her Majesty's Letter to President Eisenhower, 1960
(Source: U.S. National Archives and Records Administration)
Enjoy Her Majesty's old fashioned pancake recipe. Make a huge pile of delicious golden pancakes for yourself and your family tonight!

The following YouTube video from British Pathe shows highlights of Eisenhower's 1959 visit to Britain including scenes filmed at Balmoral Castle where he enjoyed Scottish pancakes (drop scones) with the Queen and the Royal Family.

You Might Like This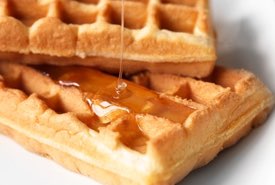 Old Fashioned Waffles