Fastnachts Recipe
Here's a traditional German Fastnachts recipe for making those delicious Old World doughnuts that everyone raves about. Fastnachts are also called Fasnacht Kuchen in parts of Germany.
These delicious deep-fried donuts are traditionally served in Carnival season or on Shrove Tuesday, the day before Ash Wednesday and the start of Lent. But, believe me, you'll love to eat them at any time of the year!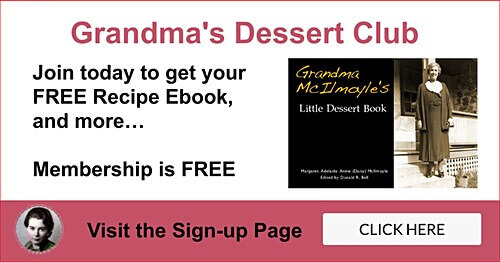 Frau Schmidt's Best German Fastnachts Recipe
Mary at The Farm and Book of Recipes (1915)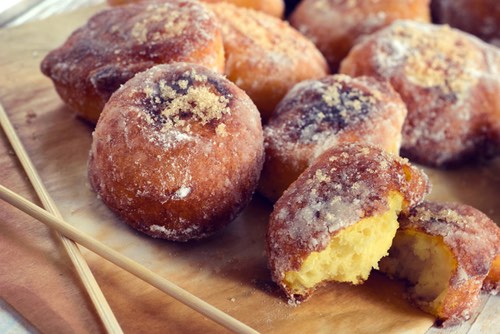 Make Mouth-Watering Homemade Fastnacht Doughnuts
(Source: ©urozunic/Depositphotos.com)
Mary's liking for bright, energetic Frau Schmidt was not greater than the affection bestowed on Mary by the Professor's wife who often entertained Mary with tales of her life when a girl in Germany, all of which Mary never tired listening.
One of the things in which Frau Schmidt particularly excelled was cakes raised with yeast. She had been given a number of these favorite German Fastnachts recipes by her mother, all of which she offered to Mary.
One traditional German Fastnachts recipe she particularly liked was "Fast Nacht Cakes" (Fastnacht Kuchen) which the Professor's wife baked always without fail on Shrove Tuesday (Fast Nacht day), the day before the beginning of Lent.
This rule was as "unchangeable as the law of Medes and Persians," and it would have been a very important event, indeed, which would have prevented the baking of these toothsome delicacies on that day. —Excerpt from Mary at the Farm

Fastnachts are part of the German culture, and they became popular in North America through the influence of Pennsylvania Dutch settlers.
The making of Fastnachts in the German tradition emptied the pantry of fat, lard, butter, and sugar on Fastnacht Day, also known as Shrove Tuesday or Fat Tuesday, the day before Lent.
Typical Fastnachts are made round or square, with or without holes, sometimes with a small slit in the center of each piece, and deep fried.
These traditional German donuts are enjoyed dusted with powdered confectioners' sugar or sprinkled with vanilla sugar, cinnamon sugar, lemon zest, orange zest; or they may be left plain, glazed with a sugar icing, or filled with fruit jam.
The type of jam filling is left to one's preference, apricot jam and raspberry jam being the traditional favorites. Some Pennsylvania Dutch people enjoy them when sliced in half and the halves spread with molasses.
Fastnachts are similar to the delicious Berliner Pfannkuchen jelly doughnuts (Berliner doughnuts) and the deep-fried Polish Pączki (pronounced Punch-key) that are round and filled with fruit jelly or a cream filling.

Traditional German Fastnachts Recipe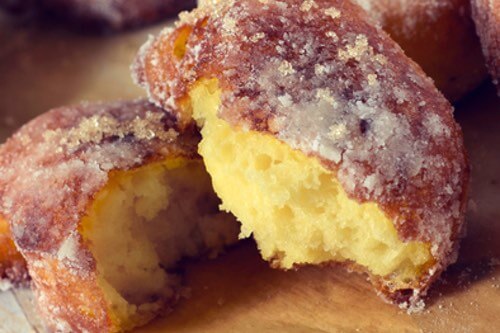 Homemade Fasnacht Kuchen Made without Holes
(Source: ©uroszunic/Depositphotos.com)
Yeast Cakes

Yeast cakes have been sold in different sizes formerly. So, it's easiest to calculate the dry yeast needed based on how much flour is called for in the original recipe.
For instance, up to 4 cups flour (1 pound, or 1 quart), use 1/4 ounce (2-1/4 teaspoons) active dry yeast, and so on.

3/4 quart (3 cups) milk
2 quarts (8 cups) flour
1 yeast cake
2 eggs
1/2 cup butter
3 tablespoons honey
Without fail, every year on Shrove Tuesday, or "Fast Nacht" (Fast Night), the day before the beginning of Lent, these cakes were made from this traditional German Fastnachts recipe.
Quite early in the morning, or the night before, the following sponge was set to rise in a large bowl:
The scalded, lukewarm milk, mixed into a smooth batter with 1 quart of flour; add 1 Fleischmann's® yeast cake, dissolved in a very little water.
Beat well together, set in a warm place to rise overnight, or several hours, and when light and spongy, add the following, which has been creamed together: Eggs, butter, a little flour, and the honey.
Beat well, and then add the balance of the remaining flour, reserving a small quantity to flour the board later. Set to rise again, and when quite light roll out on a well-floured board, cut into circles with a doughnut cutter, cut holes in the center of cakes (optional), let rise, and then fry in deep fat (375°F); dust with icing sugar and cinnamon, if liked.
These are regular German doughnuts and are never very sweet. If liked sweeter, a little sugar may be added. From the batter made using this German Fastnachts recipe, Mary made 18 fried cakes, or Fastnacht Kuchen, as the Germans call them.

Cinnamon Buns and Dutch Cakes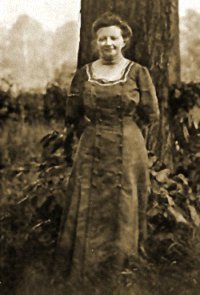 Frau Schmidt
As consistent with the versatility of most classic recipes, Frau Schmidt also made from the same German Fastnachts recipe dough one dozen cinnamon buns and two Dutch cakes.
The Fastnacht dough not being very sweet, she sprinkled rivels (similar to tiny dumplings) composed of sugar, flour, and melted butter, generously over the top of the "Dutch cakes."
The dough for Fastnacht doughnuts, or fried cakes, should always have a small amount of extra flour added than dough for "Dutch cakes" or buns; baked in the oven. If too soft, they will absorb fat while frying.

Bucks County Doughnuts

About nine o'clock in the evening, a batter was mixed composed of the following ingredients:
1 cup milk
1 cup hot water
1 teaspoon of sugar
1 cup yeast **
1 pinch of salt
3-1/2 cups of flour
(** Or one cake of Fleischman's® yeast dissolved in one cup of lukewarm water)
Stand in a warm place until morning. Then add 1/2 cup of soft butter and 1-1/2 cups of powdered sugar, creamed together, and from 3 to 4 cups of flour. The dough should be as stiff as can be stirred with a wooden spoon.
Set to rise in a warm place; when light and spongy, roll out on a well-floured bake-board and cut into round cakes with a hole in the center. Let rise again, and when well risen fry a golden brown in deep fat (375°F) and sift over confectioners' sugar.
This traditional German Fastnachts recipe will make 45 doughnuts. These are good and economical, as no eggs are used in this recipe.

Grandmother's Doughuts
1 cup sugar
2 teaspoons butter
1/2 grated nutmeg (1 teaspoon nutmeg)
Pinch of salt
2 eggs
1 cup whole milk
4 cups (1 quart) flour
2 teaspoons baking powder
Cream together 1 cup sugar and 2 teaspoons butter, 1/2 a grated nutmeg, and a pinch of salt. Add 2 eggs, beaten without separating egg yolks from whites, and 1 cup of whole milk.
Then add 4 cups of flour, prepared as follows: Measure 1 quart of unsifted flour and sift twice with 2 generous teaspoons of baking powder. Use this to thicken the batter sufficiently to roll out and use about 1 extra cup of flour to flour the bake-board.
Turn out one-half the quantity of dough onto a half cup of flour on the bake-board. Roll dough half an inch thick. Cut out with round cutter, with hole in center, and drop into deep, hot fat.
When fat is hot enough to brown a small piece of bread while you count 60, it is the right temperature for doughnuts (about 375°F).
The smooth dough should be as soft as can be handled. When cakes are a rich brown, take from fat, drain well on coarse, brown paper, and when cool dust with confectioners' sugar and place in a covered stone jar (or sealed container).
Never use fat as hot for frying doughnuts as that used for frying croquettes, but should the fat not be hot enough the doughnuts would be greasy. These doughnuts are excellent if made according to this family's recipe.

German Fastnachts Recipes

Pennsylvania Dutch Cooking

Fastnachts / Raised Doughnuts
Grandma's Tip
You can always substitute your favorite vegetable oil for the fat, using enough oil as your deep fryer calls for, but using fat or lard does lend its old fashioned flavor.

For the Sponge:
1 cake yeast
2 cups lukewarm water
4 scant cups sifted flour
At night, break and soak yeast in lukewarm water for 20 minutes. Mix yeast mixture with flour to a thick batter. Cover with a clean thin kitchen towel, let rise in warm place overnight until doubled.
For the Dough:
1/2 cup shortening
3/8 cup sugar
1-1/2 teaspoons salt
2 eggs
1/2 teaspoon ground nutmeg
5 cups or more of flour
In the morning cream together the shortening, sugar, and salt. Add this to the risen sponge, with the beaten eggs and spice. Stir in enough flour as mixture will readily take up, making a rather soft dough. Mix well. Let dough rise until at least double in bulk.
If desired, stir down and let dough rise again until nearly doubled.
Turn onto floured baking sheet or board, pat or roll until 1/3 inch thick and cut with doughnut cutter or sharp paring knife. Cover to prevent drying and let rise until doubled.
Fry in deep hot fat about 375 degrees Fahrenheit. (A slotted spoon works well to handle doughnuts safely while deep frying.) If no thermometer is at hand, test temperature with 1-inch square of bread, which should brown in 1 minute.

German Potato Doughnuts
3/4 cup sugar
2 eggs
1 cup mashed potatoes
1/2 cup sweet milk
2-1/2 cups flour
1-1/2 tablespoons shortening
1/2 teaspoon salt
1/8 teaspoon nutmeg
1 tablespoon baking powder
Mash potatoes and beat in a large mixing bowl, add melted shortening, beaten eggs and milk. Sift dry ingredients together and add to the liquid potato mixture. Dough should be soft yet firm enough to roll.
Separate dough into 2 parts and roll each out to thickness of 3⁄4 inch. Cut with circular doughnut cutter and cook in deep fryer (365°F) to golden brown. Drain on absorbent paper towels laid on a cooling rack.
Dust with powdered sugar or sugar and cinnamon mixture. This German Fastnachts recipe makes delicious treat for serving on special occasions or anytime!