German Fastnacht Recipe
Here's an easy German Fastnacht recipe to make those delicious German doughnuts that everyone raves about. Also called Fast Nacht Kuchen, these delicious deep-fried pastries are traditionally served on Shrove Tuesday, the day before the start of Lent. But, believe me, you'll love to eat them anytime!

Frau Schmidt's German Fastnacht Recipe
Mary at The Farm and Book of Recipes (1915)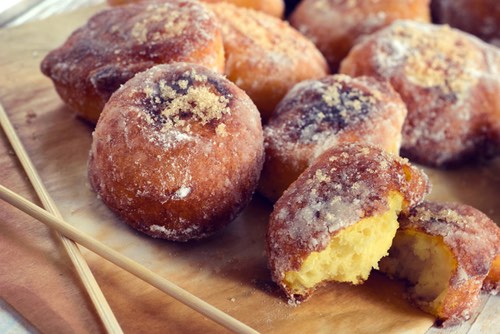 Make Mouth-Watering Homemade Fastnachts
(Source: ©urozunic/Depositphotos.com)
Mary's liking for bright, energetic Frau Schmidt was not greater than the affection bestowed on Mary by the Professor's wife who frequently entertained Mary with tales of her life when a girl in Germany, to all of which Mary never tired listening.
One of the things in which she particularly excelled was cakes raised with yeast. Frau Schmidt had been given a number of these valuable recipes by her mother, all of which she offered to Mary.
One recipe she particularly liked was "Fast Nacht Cakes" (Fastnacht Kuchen) which the Professor's wife baked always without fail on Shrove Tuesday (or "Fast Nacht" day), the day before the beginning of Lent.
This rule was as "unchangeable as the law of Medes and Persians," and it would have been a very important event, indeed, which would have prevented the baking of these toothsome delicacies on that day. —Excerpt from Mary at the Farm

Traditional Fastnacht Recipe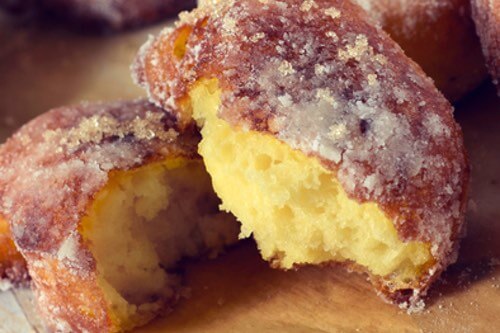 Homemade Fasnacht Kuchen Made without Holes
(Source: ©uroszunic/Depositphotos.com)
Traditionally, the making of Fastnachts emptied the pantry of fat, lard, butter, and sugar on Shrove Tuesday, the day before Lent.
Made round or square and deep fried, they are enjoyed dusted with powdered sugar or cinnamon sugar, and they may be made plain or filled with fruit jam.
Fastnachts are similar to the Pfannkuchen (German Berliners) and the deep fried Polish Pączki (pronounced Punch-key) that are round and filled with jelly or a cream filling.

Yeast Cakes

Yeast cakes have been sold in different sizes formerly. So, it's easiest to calculate the dry yeast needed based on how much flour is called for in the recipe.
For instance, up to 4 cups flour (1 pound, or 1 quart), use 1/4 ounce (2-1/4 teaspoons) of dry yeast, and so on.

3 tablespoons honey
3/4 quart milk
2 quarts (2 pounds or 8 cups equivalent) flour
1 yeast cake
1/2 cup butter
2 eggs
Without fail, every year on Shrove Tuesday, or "Fast Nacht," the day before the beginning of Lent, these cakes were made. Quite early in the morning, or the night before, the following sponge was set to rise:
The lukewarm, scalded milk, mixed into a smooth batter with 1 quart of flour; add 1 Fleischmann's® yeast cake, dissolved in a very little water.
Beat well together, set in a warm place to rise overnight, or several hours, and when light, add the following, which has been creamed together:
Eggs, butter and lard, a little flour, and the honey. Beat well, and then add the balance of the flour, reserving a small quantity to flour the board later.
Set to rise again, and when quite light roll out on a well-floured board, cut into circles with a doughnut cutter, cut holes in the center of cakes (optional), let rise, and then fry in deep fat; dust with pulverized sugar and cinnamon, if liked.
These are regular German doughnuts and are never very sweet. If liked sweeter, a little sugar may be added.
From this batter Mary made 18 fried cakes, or Fastnacht Kuchen, as the Germans call them.
Cinnamon Buns & Dutch Cakes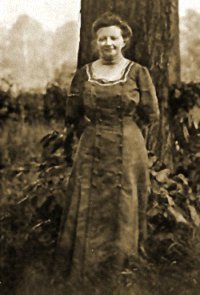 Frau Schmidt
As consistent with the versatility of most old fashioned cake recipes, Frau Schmidt also made from the same German Fastnacht recipe dough one dozen cinnamon buns and two Dutch cakes.

The dough not being very sweet, she sprinkled rivels (similar to tiny dumplings) composed of sugar, flour, and butter, generously over the top of the Dutch cakes.
The dough for Fastnacht doughnuts, or fried cakes, should always have a little more flour added than dough for Dutch cakes or buns; baked in the oven. If too soft, they will absorb fat while frying.
Related Pages You Might Like